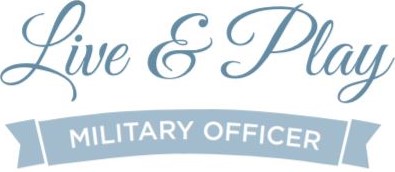 (This content originally appeared in the June 2020 issue of Military Officer, a magazine available to all MOAA Premium and Life members. Learn more about the magazine here; learn more about joining MOAA here.)
By Todd Gilchrist
Since 1969, the people of Virginia have known that the Southeastern state is for lovers, thanks to an advertising slogan that Forbes and Advertising Age have called one of the most iconic of the last half-century.
More than 400 years after being established as the first permanent English colony in the U.S., the state has grown from a pivotal location for so many important events in early American history into a contemporary haven for cultural and economic activity attracting both partand full-time visitors.
Virginia's climate is warm and humid, offering verdant mountains and greenery to explore during the summer months of the year at one of many National Park Service units, including the storied Appalachian Trail. The Blue Ridge Mountains, which extend from Pennsylvania to Georgia, form a beautiful backdrop and getaway for residents of cities like Lynchburg, with camping and hiking options.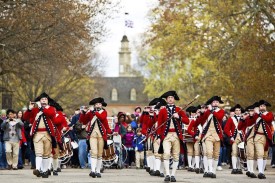 Sponsored Content: In the middle of Virginia's Historic Triangle, discover life on your own terms in a serene, wooded setting close to the beach, shopping, arts, culture and entertainment. Just minutes from Colonial Williamsburg and the College of William and Mary, you'll find great neighbors at Patriot's Colony who share the same life experiences and leave rank at the gate. Patriot's Colony, sponsored by Riverside Health System, is built on 90 wooded acres. Residents enjoy an indoor saltwater pool, fitness and recreational facilities, flexible dining options, a tavern, on-campus health care facilities, and much more. Call 866-557-8814 or visit patriotscolony.org for more information.
The Chesapeake Bay, an important threshold for Italian and Spanish explorers in the early 1500s, has benefited from restoration efforts since the 1990s to repopulate its waters with shellfi sh and crab species, even as it offers gorgeous blue waters for fishing, crabbing, swimming, and sailing.
If you prefer your water recreation man-made, you can visit the 19-acre Ocean Breeze Waterpark in Virginia Beach, with Caribbean-themed slides and wave pools. Alternatively, the Virginia Aquarium & Marine Science Center catalog and exhibit sea flora and fauna of the region with hands-on exhibits and an 800,000-gallon aquarium.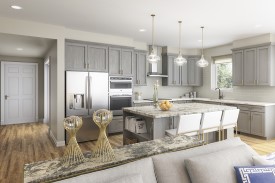 Sponsored Content: Falcons Landing is a premier Life Plan Community welcoming officers from all branches of service, retired or honorably discharged, as well as federal employees who have served at GS-14 or above, their spouses, and surviving spouses. We are proud to present 24 new luxury apartments in our Terrace Home expansion. Blending the finest aspects of both apartment and cottage living, you'll see a new approach to senior living, designed for those who love natural light, open fl oor plans and outdoor living space — perfect for entertaining family and friends or simply relaxing. Falcons Landing is a community for those who enjoy the best things in life: great neighbors, first-class service, amenities, and abundant social activities. Call (703) 404-5151 to reserve your Terrace Home apartment today! Visit www.FalconsLanding.org for more information.
The area's history is synonymous with the foundations of the country, offering opportunities to visit locations such as Colonial Williamsburg, where buildings from the American Revolution are either preserved or carefully, painstakingly recreated; Mount Vernon, the site of George Washington's home for 45 years, featuring design and architectural elements overseen by the president himself; Thomas Jefferson's Italian-inspired mansion Monticello, which he personally designed; and Colonial National Historical Park, containing both Jamestown and Yorktown, where the Revolution ended.
Slightly more contemporary military-themed locations include Arlington National Cemetery, where many well-known Americans are buried, including President John F. Kennedy. It also includes the Tomb of the Unknown Soldier and the Iwo Jima Memorial, which recreates the famous Joseph Rosenthal photo of the sailor and five Marines who raised an American flag on Mount Suribachi in World War II. Arlington is also the site of the Women in Military Service for America Memorial, which pays tribute to women who served in the U.S. military.
Sponsored Content: In regions of Virginia rich in history, culture, and diversity, with area attractions such as parkways, national parks, battlefields, museums, and performing arts centers, you'll find Sunnyside Communities: three award-winning Life Plan Communities in Virginia — Sunnyside, King's Grant and Summit Square — with over 100 years of experience in senior living. Two communities are nestled in the heart of the Shenandoah Valley, and the other is at the foothills of the Blue Ridge Mountains, with major cities nearby. Recognized locally, regionally, and nationally, the communities have received awards for whole-person wellness programming, the highest ratings for quality of care, and "Best of Virginia" awards in Virginia Living magazine. They offer a variety of affordable living choices such as villas, cottages, garden and patio homes, and apartments. Learn more at sunnysidecommunities.com.
Virginia boasts a wide variety of income sources, including military, local and federal government operations, farming, and other businesses. Federal agencies like the CIA and DoD are both located in Northern Virginia, offering possible options for servicemembers who want to transition into other areas of government work.
Even with nominal spending on the arts, Virginia enjoys a thriving arts scene, offering music, art, literature, and more.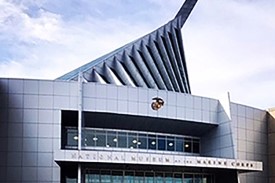 Sponsored Content: Marine Corps Base Quantico hosts the National Museum of the Marine Corps, while the National Museum of the Army is coming soon to Fort Belvoir. Just minutes from both, you'll find The Fairfax. Our retirement living community is the perfect destination for all military retirees and their spouses. People who have chosen to call The Fairfax home love the proximity to a variety of military bases and the amenities they offer. For more information, call (703) 286-2626 or visit RetireFairfax.com/MOAA.
Although the state doesn't feature any major sports teams, there are a number of minor league teams, and some Major League Baseball teams (including the Nationals, Red Sox, and Yankees) set up farm teams in Virginia to cultivate talent.
Meanwhile, the state's educational system ranks in the U.S. top five, with Virginia students consistently outranking national testing averages, and supplying them with as many as 169 colleges and universities and colleges to choose from after graduation.
MOAA Knows Why You Serve
We understand the needs and concerns of military families – and we're here to help you meet life's challenges along the way. Join MOAA now and get the support you need.