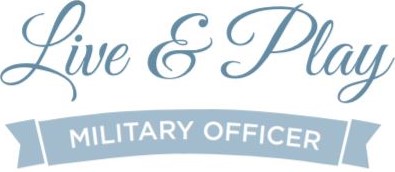 (This content originally appeared in the June 2020 issue of Military Officer, a magazine available to all MOAA Premium and Life members. Learn more about the magazine here; learn more about joining MOAA here.)
By Christina Wood
Florida is about 500 miles long and 160 miles across at its widest point. To give you some perspective, Columbus, Ohio, is 476 miles from New York City. Put another way, it's quicker to drive from Florida's capital — Tallahassee — across Georgia and South Carolina to Raleigh, N.C., (9 hours and 17 minutes) than it is to drive from Tallahassee to Key West (10 hours and 8 minutes).
Florida's size and unique shape provide room for a diversity of attitudes and attractions. While the drive may be longer, with all the state has to offer, you'll find it can be time well-spent.
Tallahassee and Key West are 434 miles apart as the crow flies; 638 miles if you're driving. But when it comes to everything from culture to climate, they are worlds apart.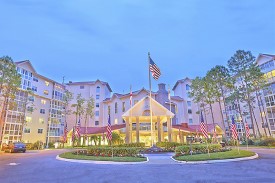 Sponsored Content: Sun City Center, Fla., affords easy access to shopping, beaches, performing arts, sports arenas, the airport, MacDill AFB, and VA health care. Nestled on a 140-acre nature preserve in Sun City Center is Freedom Plaza, a continuing care retirement community for those who choose to pursue their dreams in an engaging environment with the added peace of mind knowing that, if needed, health care is available on site. Enjoy golf on our own Freedom Fairways, tennis, or pickleball, or join one of the many other outdoor activities offered. Residents have priority access to fully staffed health care centers on campus. There is a safety net of services and support offered through our comprehensive health care centers, including skilled nursing, rehab, assisted living, and memory care. Learn more at FreedomPlaza.com.
Tallahassee is located in the Florida Panhandle, which should be considered part of the Deep South. So is Pensacola, where you'll find the National Naval Aviation Museum. The museum has a vast collection of military aircraft and artifacts as well as flight simulators and an IMAX theater. From March through November, you can also catch the Blue Angels practicing.
In Key West, on the other hand, anything goes! The last of a string of tropical islands off the tip of Florida, it is the southernmost point in the U.S. A Keys adventure can include diving, snorkeling, fishing or swimming with a dolphin. You can tour Ernest Hemmingway's house and see the descendants of his six-toed cats. But no visit would be complete without spending time exploring freewheeling Duval Street; Sloppy Joe's, the legendary bar where Hemmingway drank, is a good place to start. And taking in the sunset from Mallory Square, with its lively array of street performers, is a local tradition.
No matter where you are in the Sunshine State, you're never far from the beach. Florida's coastline stretches 1,350 miles, making it the longest of any state in the contiguous U.S. You can watch the sun rise over the Atlantic waves on the east coast, enjoy a leisurely drive to the west coast, and arrive in plenty of time to see it set over the Gulf of Mexico.
Sponsored Content: Set your course for purpose and contentment. Just minutes from the Atlantic Ocean, Fleet Landing offers five-star senior living in a welcoming, friendly community. Our military heritage inspires excellence on every level: luxurious residences, exceptional dining and amenities, and classes, clubs and events of every type imaginable. Here, residents lead full and vibrant lives with peace of mind, knowing Life Care is there if their health needs change. For over 29 years, we've earned the trust of Northeast Florida seniors including military retirees, and their families. Discover Fleet Landing — senior living at its best. Learn more about our CARF-accredited, not-for-profit community and brand-new neighborhood, Beacon Pointe. Call (877) 915-0378 or visit www.FleetLanding.com.
Life on Florida's Gulf Coast tends to move at a more relaxed pace than on the east coast. On Sanibel Island, much of which is a national wildlife refuge, the most popular activity is shelling. Serious collectors travel from around the world to see what they can find, while other beachgoers simply enjoy picking up whatever beautiful or unusual shell catches their eye.
The pace really picks up on the east coast of Florida, where the hard sands of Daytona Beach first attracted race car drivers in the early 1900s. Today, the Daytona International Speedway is home to the Daytona 500, one of NASCAR's biggest events.
A little farther down the coast, the neon lights of Miami beckon and the light show at the new Guitar Hotel, part of the Seminole Hard Rock Hotel & Casino complex in Hollywood, shines six high-powered beams that mimic the strings of a guitar 20,000 feet into the sky.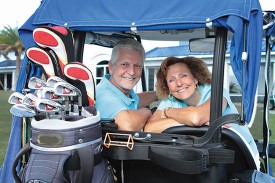 Sponsored Content: Between the adventure on Florida's Space Coast and the history of its Treasure Coast, find Viera, a community in North Melbourne. A haven for military retirees, Indian River Colony Club (IRCC) is a 453-acre, 55-plus community with 774 owned homes and a generous maintenance plan, operated as a not-for-profit organization owned by its members and managed by professional staff. With a mission to maintain a viable, aff ordable, and active retirement community with quality service and amenities to its members, features include a championship golf course, the At Ease Club, a large community pool, and a fitness center, as well as a 24-hour manned security gate with roving patrol. Known as "the place patriots call home," IRCC is home to many military veterans and like-minded civilians. Call (877) 503-7353 or visit ColonyClub.com/moaa for your retirement duty station.
If you want to explore the state's wild side, the nightlife in South Florida has nothing on what you might find in Everglades National Park or the Big Cypress National Preserve, which is known to harbor the elusive ghost orchid as well as the endangered Florida panther.
If you're more comfortable with the idea of running into a mouse than meeting an alligator, Orlando is the place for you. According to Visit Orlando, no destination on earth has more theme parks.
Elsewhere in Florida, the Kennedy Space Center Visitor Complex at Cape Canaveral celebrates the important role Florida has played — and continues to play — in the country's space program, from NASA's earliest days to the latest SpaceX launch.
Agriculture is big business in the Sunshine State, too. Florida produces more than 70% of the country's supply of citrus fruit. The state is the world's leading producer of grapefruit and is second only to Brazil in the production of orange juice. Some citrus groves welcome visitors. Growers sometimes even let you pick your own oranges.
Tourism is Florida's leading industry. Mile after mile of sundrenched beaches, diverse natural beauty, and an assortment of museums, historic attractions, and other cultural gems, as well as a host of entertaining opportunities, generate more than $110 billion annually.
MOAA Knows Why You Serve
We understand the needs and concerns of military families – and we're here to help you meet life's challenges along the way. Join MOAA now and get the support you need.