MOAA Councils and Chapters
Meeting the membership challenge by helping chapters recruiting more chapter members is a top priority for MOAA. Chapter Recruiting focuses on chapter membership vice national membership.
Common Join Form (Fillable PDF) / Common Join Form (Microsoft Word document)
Chapter recruiting just got easier with MOAA's Common Join Form which incorporates the enrollment requirements for MOAA membership and chapter membership. We've included detailed instructions on how to add your chapter's name and logo on a Fillable PDF or Word Document. To access the instructions for both of these formats please access these links: (1) Fillable PDF Instructions and (2) Microsoft Word Instructions.
Letter from COL Terri Coles, USA (Ret)
A personal message about the Chapter Recruiting program from MOAA's senior director of Council and Chapter Affairs, COL Terri Coles, USA (Ret).
2019 Chapter Recruiting Program Guide
Chapter Recruiting is MOAA's new nationally sponsored chapter recruiting program. More tools and better information to chapters will help recruit chapter members more effectively.
Recruiting Materials
To help with your recruiting efforts, we have provided tools and materials for your use. Also included are frequently asked questions, program awards and incentives, success stories and instructions on how to work your potential-member lists.
Chapter Recruitment Tracker
Check out how your chapter is doing with recruiting new members. This tracker will be updated weekly.
Bridge to MOAA National
Check out these programs to help recruit and retain both chapter and national MOAA members.
Retention Incentives
Chapters must retain at least 80 percent or more of their members, as determined by national MOAA.
Virtual Chapters
Learn more about joining, or starting, a chapter based on subject matter interest, not geography.


MOAA has resources and information to help council and chapter leaders. We welcome you to take advantage of the many assets we have to offer.

Chapter Rescue Checklist and Chapter Closing Checklist
These recently developed checklists will provide step-by-step guidance on the process of a last ditch rescue effort from our MOAA National senior director or program director. Before closing an affiliate chapter, MOAA National and State Council leaders would like to assist chapter leaders who are feeling leadership fatigue and also having trouble recruiting new members. See "Chapter Rescue Checklist" to assist with these efforts. If a chapter has made the final decision to close its doors, the proper procedures on closing the chapter and informing MOAA National is also provided here. See "Chapter Closing Checklist."
Council and Chapter Leadership Workbook
You must log in to view the workbook
Council and Chapter Policies and Procedures Guide
MOAA national has compiled a guide of best practices for its chapters. This guide provides detailed information and suggestions regarding the formation, organization, and management of MOAA state councils and local chapters.
Webinars
To better facilitate the health and vitality of the council and chapter system, national MOAA facilitates periodic training webinars to address key council and chapter management issues. All training webinars are recorded and available for viewing here by chapter and council leaders. Login is required.
USAA Sponsorship for MOAA
As part of the USAA/MOAA affinity association, USAA provides sponsorship funding to support councils and chapters with various community service projects and programs.

Sign Up For Electronic Funds Transfer
In an effort to speed up the distribution of incentive money earned through the Chapter Recruiting program, national MOAA requests maximum participation by council and chapters with the electronic funds transfer (EFT) program.

Forms & Guidelines
Find useful forms, new information, and guidelines for running a successful chapter here.

Community Involvement
Want to know how you can make a difference in your local community? Find information on how you can get your chapter involved in community activities, plan a fundraiser, or start a chapter or council scholarship here. Already have a great idea?
Council and Chapter Communications
Find great resources for all of your council and chapter website and newsletter needs here!
Surviving Spouse Liaisons
Provide your chapter and surviving spouses the latest information from MOAA National concerning this category of membership. Find out how surviving spouse members can help your chapter. As an essential group who epitomizes Never Stop Serving, surviving spouses are an integral part of MOAA.
Please review this guide prior to updating your members/officers. This guide provides step by step instructions on accessing the new Committee Module (CM), adding new members and updating members/officer positions to your membership roster. The updated webinar with Near Real Time training is accessible using this link. You must log in to use the CM database tool.

Committee Module Administrators will have access to the most current monthly recruitment list and no contact report.
Council and Chapter Presidents currently have access to update their membership rosters using the Committee Module (CM). To access the CM, you must log in first.
To add brand-new members who are not MOAA members, use this link. You can add up to five people using this form. Please note: Eligibility for Basic (free) members must include a valid email address.
Recent Changes
We've made some recent changes to how Council and Chapter news is sent. View the links below for more.
The MOAA Newsletter is your source for the latest Council and Chapter happenings and news. Each member can set the frequency and interest areas for this product. Chapter leaders and members will always see something related to chapter content in every edition.
The Affiliate will be sent to Council and Chapter leadership on an as-needed basis.
News Resources for You
Catch upon the latest news sent out through The MOAA Newsletter, tailor your preferences or learn more about our White Label newsletter.
Council & Chapter News
---
The latest information from The MOAA Newsletter.
Email Preference Center
---
The MOAA Newsletter was created to ensure you get the information most important to you. Tailor your newsletter by clicking on the categories you are interested in and indicating how often you would like to hear about them. Don't worry – you can update your preferences as often as you like.
White Label Template
---
Want to share timely, relevant information with your local chapter but don't have the resources? We're here to help. Each month, MOAA headquarters will provide an updated Chapter Newsletter Template for you to use.
MOAA Store
MOAA has a new easy-access online store. Visit the MOAA Exchange today, or call toll-free at (866) 860-9293 to place an order.

NOTE - you will need to create and use a store account to purchase items.
Logos
The MOAA logo is an immediate representation of our brand and it is important that our Chapters use the logo, the MOAA seal, and each approved variation of the logo in accordance with MOAA's brand guidelines. These guidelines are outlined in MOAA's brand book.
To save the graphic files below, move your mouse over the image, right-click (command-click on a Mac), and select "save image as." Once you download the file, you may adjust the image size.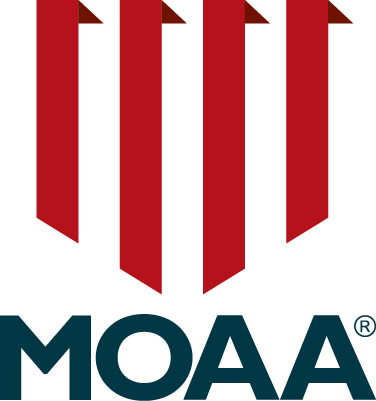 Find information on Council and Chapter Awards as well as JROTC/ROTC here.
Col. Marvin J. Harris Communications Awards Contest
Each year, national MOAA holds a communications award contest to identify those councils and chapters that do an outstanding job communicating with their members. There are two categories of competition: Print/E-Newsletter and Website. Beginning in 2019, all submissions will be electronic. Specific requirements and submission instructions are available here.
2019 Colonel Steve Strobridge Legislative Chair/Liaison Award
National MOAA will recognize one MOAA council or chapter Legislative Chair/Liaison, who has demonstrated superior service in support of the national and/or state legislative agenda. Read more about the award criteria and access the nomination form. (Award criteria and nomination form will download as a Word document.)
MOAA Certificates of Recognition and Pins
National MOAA has certificates available that have been spe­cially printed for various types of recognition of individuals. Find out more here.
MOAA Levels of Excellence Award
Each year, councils and chapters may request to be recognized for one of two Levels of Excellence awards, find out more here.
MOAA ROTC/JROTC Awards Program
Please review this document to get all the guidance you need for MOAA's ROTC and JROTC awards programs. Find out how many MOAA medals you are allowed to request per school each year.

Order ROTC/JROTC Awards Here
Order and purchase awards through the MOAA Store for your chapter.
Find information on great upcoming Council and Chapter events, as well as information on previous events that you might have missed.
Storming the Hill 2019
The annual MOAA event where members meet with congressional leaders to advocate on behalf of uniformed officers.
Council and Chapter Leadership Workshop (formerly Chapter Leaders' Symposium)
The regional Chapter Leaders' Symposiums are being replaced with a new leadership training model. Find out more here.
Council Presidents' Seminar
Information on the 2019 seminar.
Whether you are considering chapter membership or renewing, now is the time to add your voice to the thousands of other MOAA members making a difference on the legislative front and in their communities. MOAA's chapters are critical in helping us do this by building grass roots support for MOAA's legislative goals in their congressional districts.

But that's not all our chapters do. MOAA chapter members are our ambassadors in their communities, supporting countless programs that are making a difference in the lives of others. MOAA's chapter membership is a great way to hear more about opportunities for camaraderie with your fellow officers, local networking, advocacy, community service and much more.
Learn more about reasons to join a chapter.

For those considering chapter membership and would like to see which local chapter may be right for you, view all councils/chapters located in a particular state.
Join MOAA National if you aren't a member already!
Step by Step Guide