The following first appeared as part of Live & Play, a special section in the June issue of Military Officer magazine. The magazine is available to all MOAA Premium and Life members. Learn more and access the digital edition here; learn more about joining MOAA here.)
By Todd Gilchrist

Not only is Washington one of the most progressive, wealthiest states in the country, but it consistently ranks high in terms of life expectancy and low unemployment.

Seattle serves as its cultural mecca, not only thanks to landmarks like the Space Needle or the Frank Gehry-designed Museum of Popular Culture and Chihuly Garden and Glass — there's also the Seattle Aquarium, Olympic Sculpture Park, and Benaroya Hall, where music and theatrical performances are regularly held.

For a fascinating time capsule of a bygone time, visit Leavenworth, a town recognized as a Bavarian village where residents can be seen in lederhosen or other traditional clothing. It's a gateway to great outdoor recreation destinations like Icicle Gorge and Alpine Lakes Wilderness, where there are great hiking destinations.

There are also great getaway locations like Sol Duc Hot Springs, where a resort offers visitors the opportunity to use mineral pools and spas, and a nearby campground allows room for tents and recreational vehicles.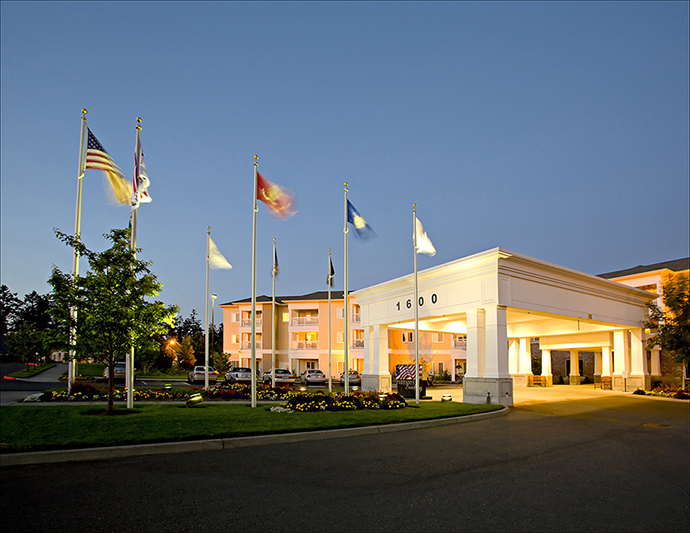 Sponsored Content: Located on scenic Puget Sound and surrounded by the natural beauty of the Pacific Northwest, you'll find Patriots Landing. Convenient to VA health care and Joint Base Lewis-McChord, minutes from Tacoma, and less than two hours from Seattle, Patriots Landing is proud to serve residents with a sense of duty and honor second to none. Our founder, Gene Lynn, envisioned this special community where you are surrounded by family, friends, and those familiar with a military lifestyle. Our community has a well-earned reputation for offering a wide spectrum of lifestyle choices, from independent cottage living to memory care. Residents and their loved ones enjoy peace of mind, knowing they will be cared for as their health needs change. With dozens of activities each week, there is always something fun to do in our exceptional, resort-style community. We've got you covered as you live retirement, your way. Interested? Visit us at PatriotsLanding.com/MOAA.

The Future of Flight attraction in Mukilteo offers tours of the Boeing Factory. For a decidedly wackier tour, visit Marsh's Free Museum in Long Beach, home to dozens of oddball attractions like Jake the Alligator Man. And if you can stomach it, visit the Seattle Gum Wall, crafted from plenty of prechewed pleasures.
Live & Play State Listing