The following first appeared as part of Live & Play, a special section in the June issue of Military Officer magazine. The magazine is available to all MOAA Premium and Life members. Learn more and access the digital edition here; learn more about joining MOAA here.)
By Amanda Miller

Alabama boasts natural beauty and history for visitors to enjoy. Highlights include:
Russell Cave National Monument, which was occupied for 12,000 years, from the time of the earliest people to inhabit North America until about 1650. It affords a peek inside Alabama's underground. Just an hour's drive to the southeast, Cathedral Caverns State Park invites guests in to walk around.
Huntsville, a.k.a. "Rocket City," where U.S. rocket development started in the 1960s and continues today. Visit the U.S. Space & Rocket Center for a tour, or register in advance for one of Huntsville's frequent job fairs catering to people with a security clearance.
Fort Morgan, which Union troops took back in 1864 while unleashing "one of the most intense bombardments of a single fort recorded during the Civil War," according to the Alabama Historical Commission. On the peninsula outside Gulf Shores, the fortification — and its beaches — are open to guests.
A stretch of shoreline on Mobile Bay that might be the only place in the world where a variety of fish, shrimp, and crabs regularly rush the bank in a writhing mass, while locals scoop up a harvest.
A classically styled statue topped by a big black beetle in Enterprise, which commemorates how the residents there averted America's agricultural boll weevil disaster by planting peanuts instead of cotton.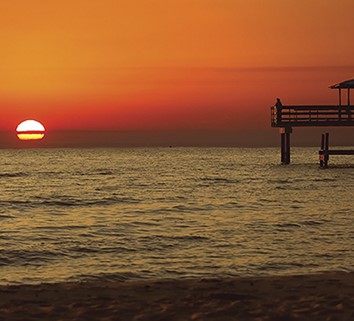 Sponsored Content: As a retirement destination, Alabama is a bit of a hidden gem. But if you ask anyone who has decided to live their golden years in the Heart of Dixie, you'll quickly learn what makes it a fantastic retirement destination. From the quiet beaches of the Gulf Coast to the metropolitan and educational amenities of Huntsville, there are opportunities to recreate, learn, and explore in retirement. Play a round of golf, visit the U.S. Space and Rocket Center in Huntsville, or explore the 5 Rivers Delta Center in Spanish Fort. See for yourself what activities, amenities, and benefits are available in Alabama, and get more information about Acts Retirement-Life's Alabama campuses, Magnolia Trace and Westminster Village. Learn more at AboutActs.com/Honors.

Live & Play State Listing