The following first appeared as part of
Live & Play
, a special section in the June issue of
Military Officer
magazine. The magazine is available to all MOAA Premium and Life members. Learn more and access the digital edition here; learn more about joining MOAA here.)

By Latayne Scott


Thinking of starting a business? According to CNBC.com, Arkansas is the
second-cheapest state
in the U.S. Centrally located and home to many Fortune 500 companies, CNBC says this state also has the
lowest cost of doing business
.
Listen out for "Wooooo, Pig! Sooie!" Arkansas sports fans are hog-wild about the University of Arkansas' athletic teams, the Razorbacks. Fayetteville, the university's hometown, also features the world's largest porcine, a 35-foot-high statue of a blue-eyed dancing hog with its own crazy creation myth.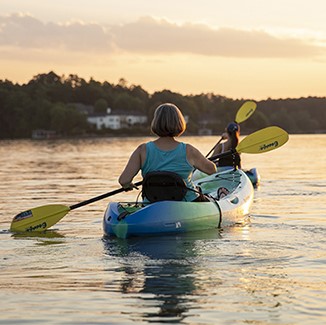 Sponsored Content: Reimagine your life in Arkansas! The Natural State is well-known for its spectacular views and scenic waterways. Experience the rush of first-class mountain bike trails or the exhilaration of soaring at 300 feet through the forest and bluffs of the Ozark Mountains on a zip line. Enjoy outdoor adventures while never being far away from award-winning museums, world-renowned art galleries, and some of the best barbeque in the world. Arkansas welcomes our nation's military retirees with a host of benefits, including tax incentives and a low cost of living (the fourth-lowest in the nation). Visit Arkansas.com/relocate for more information. Come find your Arkansas!
Sam Walton's Walmart got its start with one humble storefront in Bentonville, but the legacy of one of the state's largest employers lives on at the Crystal Bridges Museum of American Art, founded by Alice Walton and the Walmart Foundation. Here, in one of the largest collections of American art under one roof, are works by Andy Warhol, Norman Rockwell, Georgia O'Keeffe, and others.
If you find a diamond, you can take it home with you from the Crater of Diamonds State Park, the only source of natural diamonds in the U.S. open to the public. Over 75,000 diamonds have been found.
Another "hidden gem" is Trip Advisor's top Arkansas destination: Garvan Woodland Gardens, which is owned by the University of Arkansas. This 210-acre botanical garden is the only one in the U.S. located on a body of water, and it's only six miles from Hot Springs National Park.
At Mystery Mansion in Little Rock, people of all ages use clues to get out of escape rooms with themes ranging from scientific conundrums to hidden treasure. But don't worry! They'll still let you exit.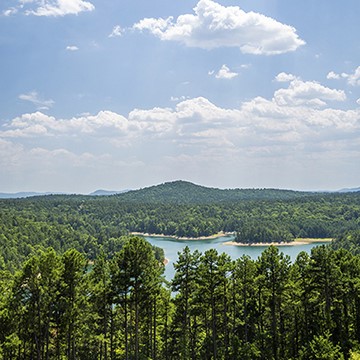 Sponsored Content: With countless parks, mountains, rivers, and lakes, it's no wonder Arkansas is known as The Natural State. At its heart, nestled in the breathtaking Ouachita Mountains, is Hot Springs Village, the largest gated community in the U.S. Whether you prefer the fairways, waterways, or trailways, there's never any shortage of ways to have a great day in the Village! The community has veterans service organizations like the American Legion Post 123, VFW Post 10483, and the Hot Springs Village Chapter of MOAA. Two full-service veterans hospitals operate in central Arkansas, and VA clinics operate throughout the state. The community is home to a veterans memorial, which features a "Walk of Honor" containing more than 3,600 bricks with veterans' names and branch of service. Interested? Learn more here.

Live & Play State Listing