The following first appeared as part of Live & Play, a special section in the June issue of Military Officer magazine. The magazine is available to all MOAA Premium and Life members. Learn more and access the digital edition here; learn more about joining MOAA here.)

By Christina Wood
The Peach State has many must-see attractions, including:
The Bear on the Square Mountain Festival, an Appala­chian Heritage Festival held in Dahlonega featuring bluegrass and old-time music, storytell­ing, a juried Artists Market Place, traditional mountain crafts, and more.
The Georgia Aquarium, home to tens of thousands of animals swimming in more than 10 mil­lion gallons of water.
Andersonville, an infamous Confederate prisoner of war camp during the Civil War, en­compasses the 13,000 graves of the Andersonville National Cemetery and the National Pris­oner of War Museum.
Sponsored Content: From the National Infantry Museum and Columbus B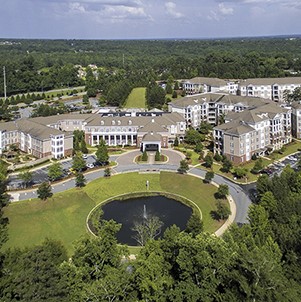 otanical Garden to The Columbus Museum and River Center for the Performing Arts, there's a lot to see and do in historic and culturally rich Columbus, Ga. Located in Columbus, just minutes from Fort Benning, Spring Harbor is southwest Georgia's only continuing care retirement community. Nearly 50 percent of the community's residents are retired military veterans and spouses, and it's easy to see why: Spring Harbor provides gracious, maintenance-free living with the promise of Life Care and amenities including an indoor pool, bistro, library, and theater on its 40-acre campus. Resi­dents also can enjoy shuttle service and planned outings to the area's top restaurants, shopping destinations, and attractions. Interested? Learn more here.
Fifteen barrier islands; you can only reach four of them by car. The others are unspoiled natural escapes accessible only by boat.
The Old Soldiers Day Celebra­tion, which the City of Alpharet­ta and the American Legion have hosted for nearly 100 years. The celebration, which is always held on the first Saturday in August, includes a patriotic concert and parade.
Live & Play State Listing