(This article originally appeared in the February 2020 issue of Military Officer, a magazine available to all MOAA Premium and Life members. Learn more about the magazine here; learn more about joining MOAA here.)
Brig. Gen. Charlie Duke, USAF (Ret), braced himself as Apollo 16 descended to the moon's crater-covered surface in April 1972.
On edge after noticing strange vibrations in the command module engine, the crew was forced to pause their descent and circle the moon for several hours as they waited for guidance from Mission Control in Houston. Scientists back on Earth analyzed data — and finally permitted Apollo 16 to proceed toward the moon.
"Pete, 16 here," said Duke, relaying a message from Apollo 16 to Donald "Pete" Peterson, the communicator at Mission Control. "Looking through the telescope at the Earth. It's sure apparent that we live on a pretty planet. The colors are … more vivid than any of the photographs."
Nearly 50 years later, Duke is part of a small — but growing — fellowship of military officers who have united the country through space exploration.
Officers on the Moon
The budget deal signed by President Donald Trump in December gives NASA about $22.6 billion for this fiscal year, though not all of that is earmarked for exploration. The agency continues to target 2024 for a manned return to the moon, but budgetary hurdles could delay that mission.
Depending on funding, NASA is poised to continue its mission drawing from a roster stacked with military experience. Twenty-one of NASA's 38 astronauts are either servicemembers or veterans. Of those training to become astronauts, seven of the 11 are servicemembers. The exact crew for a potential lunar mission hasn't been selected yet.
Test pilots, who are largely trained in the military, are particularly appealing to NASA. They have a unique set of skills that overlaps with astronaut tasks, such as the ability to stay calm and focused during unprecedented missions.
"I think it's significant," says NASA Administrator Jim Bridenstine, who left the Air National Guard as a major. He believes the chances are good that a military officer will be part of the upcoming mission. "Some of them are test pilots. Some of them just come from the military, and that's an attractive training that we know they've been through. We've got Navy SEALs, we've got helicopter pilots, we've got all kinds of different military folks that are in the astronaut corps."
For instance, Lt. Col. Drew Morgan, USA, was set to be aboard the International Space Station at the time of publication to conduct experiments and perform spacecraft maintenance.
'On the Shoulders of Giants'
One of the astronauts who could be selected for a lunar mission is Col. Shane Kimbrough, USA (Ret), a MOAA Premium Member who has completed six spacewalks and spent more than 39 hours outside of the orbiting International Space Station. He's developing the spacecraft for the crew that will go to the moon.
"Of course, I would love to be putting a boot print on the moon, but I'm not sure if that's in my future or not," he says.
Kimbrough was just a toddler when Lt. j.g. Neil Armstrong, USN, and Col. Edwin E. "Buzz" Aldrin, USAF (Ret), first walked on the moon. That day stuck with him and inspired him to become an astronaut. Kimbrough was selected by NASA in 2004, after serving as an Army aviator with a deployment in support of Operation Desert Storm.
At NASA, Kimbrough has worked with dozens of astronauts who, like him, got their start in the military. Scientists, astronauts, and engineers dating back to Armstrong and Aldrin are part of the cadre of military officers who have performed space missions.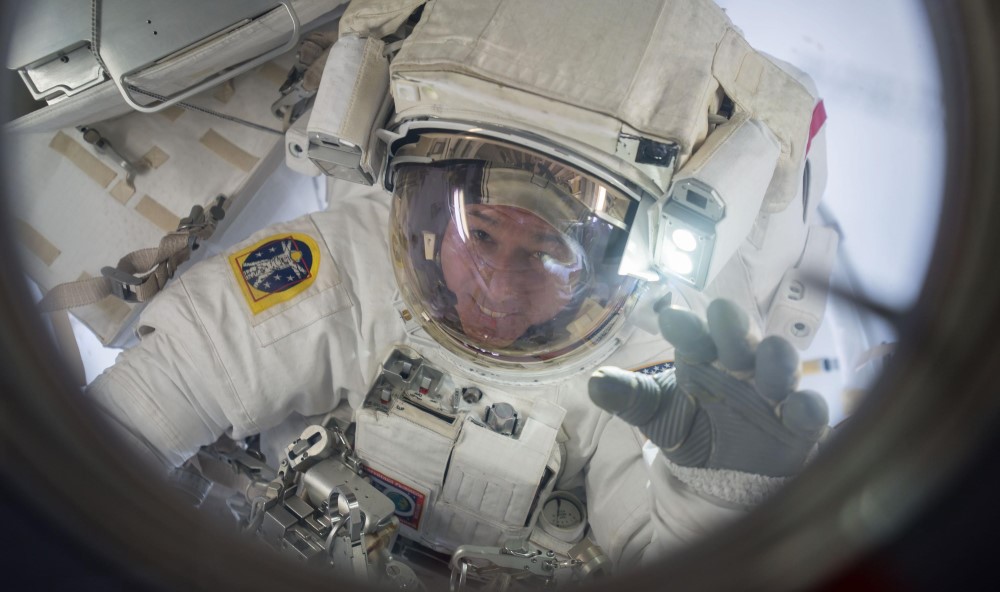 Astronaut Shane Kimbrough is seen floating in the Quest airlock at the end of a 2017 spacewalk outside the International Space Station. (NASA photo)
"The ones of us who are here now are standing on the shoulders of giants, in a way," Kimbrough says. "All those folks — back in the Apollo days and Gemini days and Mercury days, where a majority of the astronauts were military — they were really laying the groundwork. They were doing things that nobody ever thought we could do — and that's get off the planet and do that successfully. Even though the mission is different now … it's really special to be part of the military family here."
In 2016, Kimbrough honored all servicemembers in a video he recorded from the International Space Station for Veterans Day.
"As I orbit the Earth at an altitude of 250 miles, I am constantly in awe of the sight of our planet below," Kimbrough said in the video. "I am equally awestruck by those brave Americans who served, and who are currently serving around the world in the U.S. armed forces in the defense of our freedom."
[RELATED: Meet the Military Members of NASA's Newest Astronaut Class]
A New Space Race
The idea of servicemembers on space missions gained national attention in recent months as Trump's plans for a Space Force — a sixth branch of the military, organized within the Air Force — took root. The National Defense Authorization Act (NDAA) signed by Trump in December formally establishes the branch, but its duties won't include space exploration. That remains NASA's job.
NASA is planning its return to the moon with U.S. astronauts as other countries have also been attempting lunar landings.
In January 2019, a Chinese lunar orbiter touched down on the moon. An uncrewed Indian spacecraft followed suit in September 2019; it is believed to have crashed as it attempted a lunar landing.
For the U.S. lunar mission, one of the biggest challenges NASA faces is funding, but Bridenstine says he recognizes the need to stay ahead of other countries to maintain a stronghold on space exploration. It's an investment, Bridenstine says, recalling the U.S. provided more funding in the Apollo era, partly because NASA had to invest in research to develop technology to make that space exploration possible. He also defended the recent funding request by noting the return on investment is considerable, including important technologies such as GPS navigation.
[RELATED: Some of NASA's Newest Astronauts Are Military Officers. And They May Be Heading to Mars]
'Bringing Us All Together'
Duke fondly recalls his time with NASA. He is the youngest person to walk on the moon, completing a mission in 1972 to collect samples from the moon so geologists could study its composition.
Duke, a MOAA member and fighter interceptor pilot, was on the second-to-last crewed mission to the moon. That earned him the distinction of being one of just 12 men to walk on the moon.
"Your emotions were awe and wonder and excitement and thrill," Duke says. "After all this training, that wonder and excitement never left me for the 72 hours we were on the lunar surface. It's hard to imagine an experience like this down here on Earth."
The lunar missions might have been at the forefront, but not far from the minds of Americans was the Vietnam War. Had NASA released him from service, Duke says he was ready to volunteer to fly fighter pilot missions in Vietnam.
"I think [the Apollo program] pulled America together when we realized we were in a race with the Russians, and it meant a tremendous advantage for us to win that race," Duke says. "In our country, compared to Vietnam, which was dividing our country, Apollo ... was bringing us all together."
Duke completed a three-year tour in Germany with the Air Force when NASA selected its first class of astronauts. His next assignment with the Air Force was to complete advanced studies at the Massachusetts Institute of Technology (MIT), where he met NASA astronauts who encouraged him to attend test pilot school.
Duke says test pilot school put him back in the cockpit, which he had desperately craved ever since he had been diverted to the classroom at MIT.
Eventually, Duke saluted the American flag planted on the moon to recognize the 25th anniversary of the Air Force.
"A special salute from me to the United States Air Force on their silver anniversary this year," Duke said, relaying a message to Mission Control. "From one of the boys in blue that's pretty far out right now."
[RELATED: A View From Above: Watch MOAA's Interview with Col. Nick Hague ... in Orbit]
Military Life on Mars
The next class of astronauts, which is packed with military talent, could mesmerize the world with a trip to Mars.
"We want to use the moon as the proving ground so that ultimately, we can get to Mars," says Bridenstine. "I would say it's a significant probability that when we land on Mars, it will be a military test pilot that is the first. I'm not saying that's the case, but certainly there are qualities there that are necessary, and we know that the military delivers those."
It's been 47 years since the U.S. last executed a crewed mission to the moon. None of the astronauts in NASA's latest training class were alive then, and neither was Bridenstine.
"My entire generation has missed out on these kinds of stunning moments in history," Bridenstine says. "When we think about Apollo 11, it was literally the entire world that watched it. So I think we have to be committed to making sure we don't miss yet another generation. Now the moon is important because it's that milestone, but the destination is Mars and that's achievable."
Bridenstine remains optimistic and enthusiastic about what he believes will be the next achievement in space.
"Mars is the goal," he says. "Make no mistake, Mars is the goal. So if we can set into motion the elements to accomplish these things, I think it's going to inspire not just the next generation, but many generations to come."