Just days after North Korean leader Kim Jong Un threatened an "unimaginable" nuclear strike against the U.S., thousands of military families in South Korea practiced evacuating the country.
The exercise, called Courageous Channel, has been a routine part of life for South Korea-based military families for decades. Dependents report to stations with their personal travel documents in tow, just as they would if the State Department ordered them to leave South Korea during a real crisis. Some families also are asked to don protective gear they'd wear in the event of a chemical weapon attack and fly all the way to Japan so troops can practice a full withdrawal.
While the training is routine, there's reason to be concerned about the threats facing military families in the region: North Korea has launched more than a dozen missile tests this year, including two that flew over Japan in the span of a month. Bellicose rhetoric between Pyongyang and Washington also is on the rise, with Kim referring to President Donald Trump as "deranged" and a "gangster fond of playing with fire." Trump, who in turn calls Kim "little rocket man," warned the North Korean leader his continued provocation would be met with "fire and fury."
South Carolina Republican Sen. Lindsey Graham, a retired Air Force officer and member of the Senate Armed Services Committee, said Dec. 3 that he's urging Pentagon leaders to stop sending military families to the Korean peninsula.
"South Korea should be unaccompanied tour," Graham said on CBS's Face the Nation. "It's crazy to send spouses and children to South Korea, given the provocation in North Korea. So I want them to stop sending dependents. And I think it's now time to start moving American dependents out of the South Korea."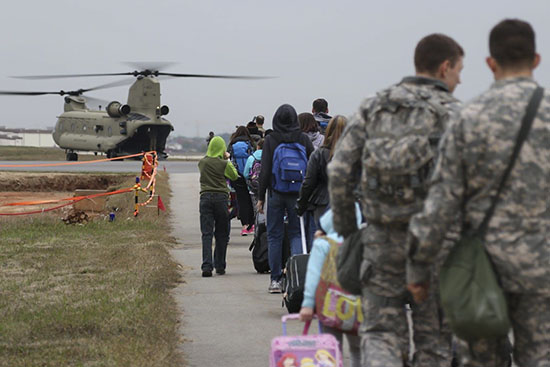 Other military officers with extensive experience in the region argue that there's good reason to keep U.S. military families rotating through South Korea. Accompanied tours send a strong message to everyone on the peninsula, said Gen. Walter "Skip" Sharp, USA (Ret), a MOAA board member who served as commander of U.S. Forces Korea (USFK) from 2008 to 2011.
"The fact that we've got 28,500 troops with a number of them having their families there in Seoul, Pyeongtaek, Osan, and other places shows the U.S. is really committed," Sharp said. "That is a deterrent, I firmly believe. And I firmly support it."
Gen. John Tilelli, USA (Ret), who commanded USFK in the late 1990s, agrees. Moving dependents off the peninsula would be disruptive not only to military families, but also to South Koreans.
"Knowing this is an alliance, any moves such as that might trigger actions you don't want to trigger," said Tilelli, a former chair of MOAA's board of directors. "So I think in that context, families on the peninsula … are a stabilizing effect."
ON THE FRONT LINES
Kim says he intends to develop a ballistic missile that can reach anywhere in the world - but North Korea already is able to strike much closer. Places like Guam, Hawaii, and Japan, all of which house U.S. military personnel and their families, have been on alert.
However, those in South Korea are in Kim's closest reach. "The most significant risk, which has always been there in Korea, is that [USFK] is unable to evacuate families before a major conflict breaks out," said Carl Baker, a retired Air Force officer and executive director of the Pacific Forum at the Center for Strategic and International Studies.
The timing of this year's Courageous Channel was preplanned and was not in response to North Korean provocations or other real-world circumstances, said Col. Chad Carroll, a spokesperson for USFK.
With families just 35 miles from Korea's DMZ, it's vital to prepare for the worst. "Readiness is the key to successful execution, which is why we conduct two exercises a year," Carroll said. "During this exercise, training [was] focused on both the unit and individual-level administrative tasks, leading to a higher state of readiness for a real-world situation."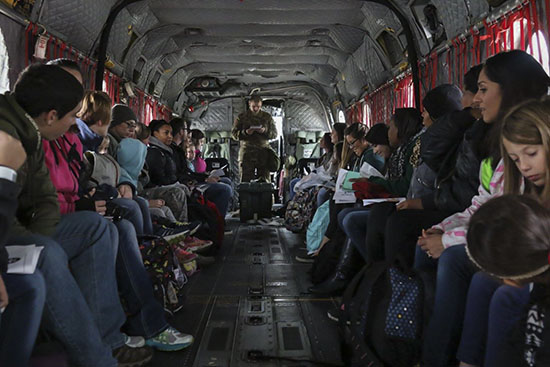 The U.S. and other nations watch North Korea's movements carefully. What's more concerning is a scenario that starts small and escalates rapidly - say, a shooting on an artillery post at the DMZ that leads to South Koreans firing back. "That," Sharp warns, "could heat up fairly quickly.
"That's actually much harder than us saying, 'OK, we see them moving these forces around, we see them moving engineer units to try to get ready to go through the DMZ,' and things along those lines that we look for - anything that gives an indication that they're going to war," Sharp said. "Then you have some time to say, 'OK, it's time to move, folks.' "
If a crisis erupts with little to no warning, it's much harder to move everybody out of harm's way quickly, Sharp added.
When things on the peninsula heat up, all eyes turn to military leaders. When that happens, information is the best tool, Tilelli said. Troops and their families need to be able to trust that commanders will provide them with information or evacuate them in the event of crisis.
Lt. Gen. John D. Johnson, USA (Ret), assumed command of Eighth Army in Korea in 2010, right around the time North Korea fired dozens of artillery shells at one of its islands, killing two South Korean marines. Johnson said he was as open and honest as he could be with the military families in his charge.
"There are lots of opportunities for misinformation or misunderstanding to cause more anxiety than is necessary," Johnson said. "Using all available means to communicate with soldiers, families, and the broader community was absolutely paramount."
To reassure families and keep them informed, Johnson turned to social media, unit formations, Armed Forces Network, and Stars and Stripes.
"The key was - as always in these situations - to tell the truth as you know it and be absolutely transparent," Johnson said. "People will trust you because you're consistently communicating." Sharp said leaders in South Korea always are setting the example - even when they don't realize it. After the November 2010 attack on the island, Sharp's daughter and son-in-law and their kids were supposed to spend Christmas in South Korea.
"They came, and what was interesting is there were a lot of families watching my daughter's Facebook page to see if she was still coming," Sharp said.
A REASSURING PRESENCE
Defense officials have made some previously accompanied tours unaccompanied when they believed families could be at risk.
In 2004, hundreds of dependents were told to leave Bahrain after credible intelligence reports surfaced that Americans there could be kidnapped by terrorists. Last year, Turkey-based troops were ordered out of that country due to security concerns tied to the Islamic State of Iraq and Syria.
"We understand this is disruptive to our military families, but we must keep them safe and ensure the combat effectiveness of our forces to support our strong ally Turkey in the fight against terrorism," Gen. Philip Breedlove, the head of U.S. European Command, wrote in a statement at the time.
Baker said a similar move in Korea could have ripple effects in a region of the world where the U.S. is trying to build partnerships.
"While arguments about the value of accompanied tours in Korea ... have been made over the years, making that [change] now would send a very negative signal to South Korea and would likely serve as a source of tension in the alliance," Baker said.
Having so many dependents based in South Korea shows the U.S. is committed to the countries' partnership and the defense of the peninsula, Johnson added.
"How much stronger can our commitment to the alliance be than to have our own families there with us with the clear potential to live in a dangerous situation?" Johnson said.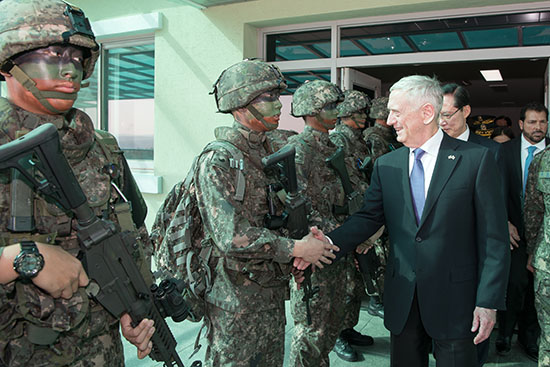 Sharp agrees and warns making tours unaccompanied would send a bad message to the North, too.
"North Korea will think we're really going to war, and that could speed up their attack timeline," he said.
Sharp compares it to basing U.S. troops and their families on the East-West German border at the height of the Cold War. Russia was right next door, and there were a couple of nights when he thought he might be going to war.
"But I think the families there and the commitment to defend West Germany deterred that," he said. "The families are all part of that."
Having families present also tends to boost morale and decrease disciplinary problems, Baker said.
Troops spend a lot of time away from their families, so it's a good thing anytime they don't have to be separated, Johnson added. "We want strong families," he said. "I think it's clear if you look at statistics that soldiers enlist, but families reenlist. We want to keep soldiers close to their families and keep them focused."
Keeping tours accompanied also allows soldiers, sailors, airmen, and Marines to stay in Korea longer. Two- or three-year tours mean less turnover, and that kind of continuity makes it easier for U.S. and South Korean troops to operate together, Johnson said.
That kind of capability would be essential if the worst happened, and U.S. and Korean forces had to respond to a traditional, chemical, or nuclear weapon attack.
THE END GAME
The U.S. has underestimated Kim's capabilities for years, Sharp said. But the North Korean leader is smart, learns from missile test failures, and has loyal people who follow his orders without question. That, combined with his erratic behavior, makes it impossible to know what he'll do next. One thing is clear, though: He wants a true ballistic missile and nuclear capability.
"He believes that is needed in order to be able to ensure his regime's survival," Sharp said. "He thinks nobody would dare attack him if he has the capability to strike anywhere in the world."
While the U.S. and South Korea are prepared to respond "very strongly" in the event of an attack, Sharp said, it's important to consider a different outcome: North Korea could collapse, and sooner than many think. More information about the outside world is getting in through millions of cellphones, DVDs, USB sticks, radios, and TVs. And as the country is hit with more sanctions, Kim won't be able to pour as much money into military capabilities.
For an economy that's already in terrible shape, added economic stress could lead North Koreans to begin questioning Kim's endgame. That, along with continued pressure from the international community, could force Kim to change his ways.
Or it could lead to North Korea's collapse - and the U.S. needs to brace for that possible outcome, too, Sharp said.
"China believes if there's a collapse, the U.S. forces are going to be right on their border," Sharp said. "Or that all the infrastructure they've tried to put in place in North Korea up near their border will be taken away from them, and they won't have any port rights."
The U.S., South Korea, and other countries should work through how a refugee crisis would be handled and who would govern North Korean cities in the event of a collapse. "The U.S. and South Korea already [do] some training for instability," Sharp said. "But I think, as we saw in Iraq and other places, a whole-of-government [approach] is needed in order to be able to stabilize a crisis like that."
"Some of that [preparation] is going on, but I think a lot more could happen," Sharp added. "There could be - and should be - a whole-of-government exercise for a collapse situation."