Report Contents
President's Letter
From Lt. Gen. Dana T. Atkins, USAF (Ret), MOAA President and CEO:
This has been a year of teamwork and superb performance throughout MOAA. The tumult of the year — ranging from a pandemic to social unrest against the backdrop of a dramatic election cycle — challenged everything we did and how we did it. Despite the challenges and uncertainty, our staff not only persevered but also thrived while remaining safe, healthy, and secure.
High performance and forward thinking turned 2020 into a positive year on every front for our association. We continued to excel at our core mission of legislative advocacy, receiving a Top Lobbyist Award by The Hill for the 14th consecutive year. Our work affected numerous facets of the lives of our uniformed services community. For example, our efforts had a direct impact on halting the downsizing of military treatment facilities, despite the cancellation of our annual spring lobbying event on the Hill. Staff and our membership coordinated to meet with every legislator and gain concurrence to allow more time for a thorough review of this potential change to service-earned health care benefits. MOAA also led the charge to eliminate the health-threatening problems in privatized housing and return power to military families who occupy the housing.
[RELATED: How MOAA Members Joined Forces for a Successful Virtual Storm]
While the pandemic accelerated the adoption of certain technologies and routines around the world, our Information Technology (IT) team already prepared us to be agile and more secure. The groundwork initiated by our IT team enabled us to convert to full-time telework virtually overnight, without
changes needed to our hardware, software, or protocols. Multiple departments joined forces to continue improving our website. For example, council and chapter leaders now have access to data to improve their ability to recruit and manage their members. Now, this same team of IT experts is shepherding modernization of our association management system as well as technology upgrades to enhance tracking and maintaining membership data.
[RELATED: MOAA's Councils and Chapters Homepage]

We also have leveraged technology to increase engagement, specifically through virtual programs with our Transition Center and Marketing team. Our Transition Center team developed an enriching calendar of events and provided support in a well-rounded way; our membership and future members responding by attending these events at a rate higher by a factor of 10 than in previous years. Additionally, Marketing developed advertising campaigns that amplified a full spectrum of MOAA messaging and relevance simultaneously in all key media platforms.
These changes, which we will continue to incorporate, allowed us to stay current, adapt to changing societal expectations, and position ourselves as germane with thought leadership on issues pertinent to the uniformed services community. Year over year, we are seeing increases in our retention
and upgrade rates through our long-term, multifaceted approach.
Through the upheaval of 2020, we saw individuals in our uniformed services community not faring well. We chose to act and make a difference. Our Development team launched a campaign to address urgent individual needs emerging from the pandemic. The donations generated were immediately
granted to individuals to impact lives positively and directly. Other organizations, such as the Elizabeth Dole Foundation, shared the grants with their communities and broadened even further the net impact of those supported. This effort exemplifies officership and is making a profound difference.
[RELATED: Donate to MOAA's COVID-19 Relief Fund]
This 2020 edition of our annual Stakeholder's Report details the achievements and explains how your commitment to MOAA makes a difference to servicemembers and veterans.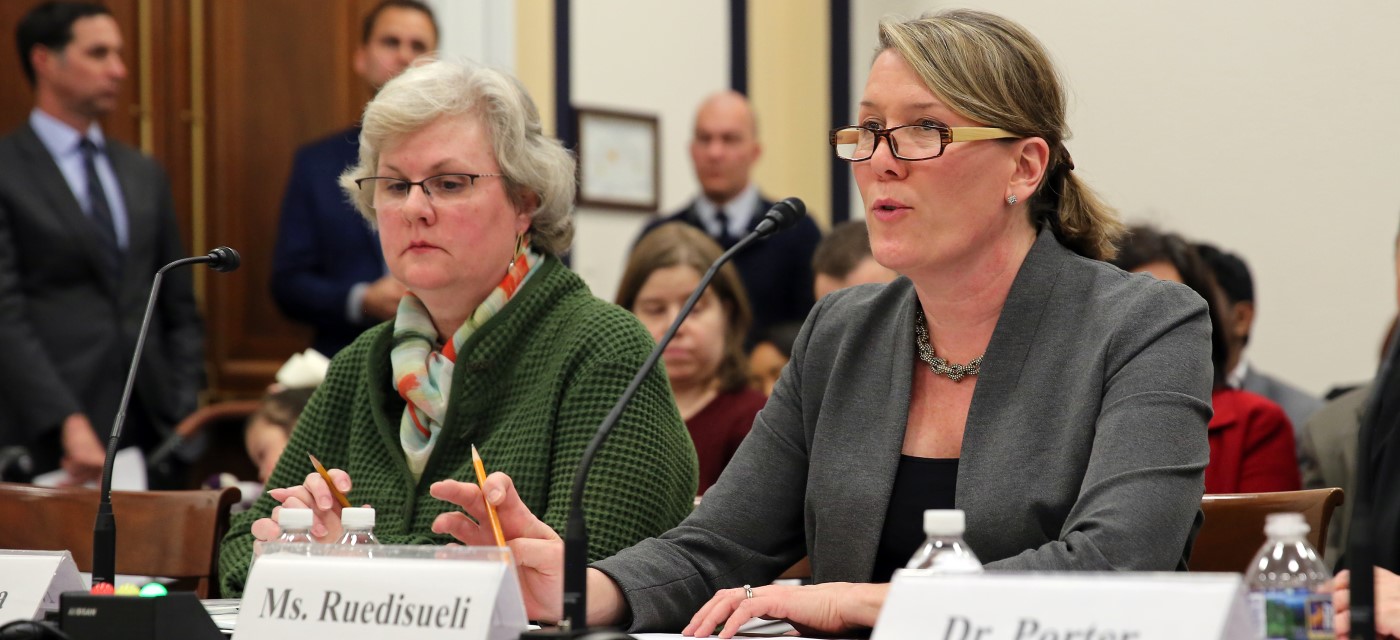 Karen Ruedisueli, MOAA's director of Government Relations for health affairs, testifies at hearing on the Exceptional Family Member Program. (Photo by Jennifer Milbrett)
Advocacy
MOAA closed on another successful year even during a highly turbulent and unprecedented final session of the 116th Congress. We navigated national elections and an austere fiscal climate to stave off legislation that would jeopardize service-earned benefits for both the uniformed service and veteran communities.
Equally challenging were efforts to shape legislation that worked in favor of the uniformed services and their families, with a flurry of bills finalized at the last bell of this session following the passage of the FY 2021 National Defense Authorization Act (NDAA) and even into January when the president signed landmark legislation for veterans via the Johnny Isakson and David P. Roe, M.D. Veterans Health Care and Benefits Improvements Act of 2020.
We achieved some notable "wins" in the NDAA: MOAA led the fight to halt medical billet reductions and continued to shine a light on military housing issues, specifically gaining funding and implementation of the Military Housing Tenant Bill of Rights. Of course, we are pleased to have influenced a 3% military pay raise for all uniformed services personnel and language to establish the "Safe to Report" policy for sexual assault cases across all branches of the armed services.
Other significant accomplishments were:
Impacted TRICARE Select enrollment fee reinstatement

period, which was extended to 180 days.



Chaired the Hiring Our Heroes child care working group

to find solutions to affordability and accessibility of quality child care for military families. Secured vital provisions to address child care concerns in both the House and Senate versions of the FY 2021 NDAA, including innovative improvements for family child care providers, reassessment of cost and fee assistance, and report language to assess implementing flexible spending accounts for servicemembers.



Supported the Commissioned Officer Association of the U.S. Public Health Service (USPHS)

and its efforts to temporarily change USPHS leave policy, allowing those servicemembers to accrue more than 60 days of leave with the same 2023 expiration date as the other services — approved via continuing resolution legislation.



Worked with the U.S. Department of Health and Human Services

to re-establish the USPHS reserve component through the CARES Act.



Influenced both House and Senate NDAA versions

and the Senate Veterans' Affairs Committee to grow support to get bladder cancer, hypothyroidism, and Parkinsonism added to the list of conditions linked to Agent Orange exposure. Our outreach to the Senate and other veterans service organizations helped ensure the provision was voted into the Senate's final version of the NDAA by a vote of 94-6 and carried in the final bill. This much-needed benefit will be available to 34,000 Vietnam veterans.



Collected servicemember, retiree, and military family feedback about COVID-19 challenges

and relayed these insights to the Defense Health Agency, which resulted in telehealth coverage enhancements, including audio-only appointments, and waived telehealth appointment copayments during the COVID-19 national emergency.



Advocated for additional emergency funding for the VA

to meet national emergency response requirements in the wake of the COVID-19 pandemic. Such efforts included:

Calling on the secretaries of the departments of the Treasury and Veterans Affairs to make it easier for recipients of VA payments to receive stimulus money.
Asking lawmakers to secure health care relief for adult children of veterans who do not have the health care coverage afforded to most Americans through private or federal health care programs.
Securing $17.2 billion for the Veterans Health Administration to hire new staff and make sure existing personnel have the resources they need to deal with the evolving needs of the pandemic. The funding has also been used to add beds, provide overtime pay, and purchase needed supplies such as ventilators, pharmaceuticals, and personal protective equipment, as well as funds directed at helping homeless veterans, providing telehealth services, and support to state veterans homes.



Secured financial assistance

through impact aid for schools that have a significant number of military dependent students.



Supported the Major Richard Star Act,

which addresses the 42,000 combat-related individuals forced to retire for medical reasons before completing a 20- year career (known as Chapter 61 retirees) and their lack of concurrent receipt of both retirement pay and disability compensation. While not in this year's NDAA, it will remain one of our first priorities with the 117th Congress.
[RELATED: Concurrent Receipt Resources and Advocacy Updates]
In addition to these accomplishments, we continue our efforts to advocate for members of all the uniformed services:
Legislation such as the Pay Our Coast Guard Act

would protect Coast Guard members' pay in the event of a lapse in appropriations or government shutdown. This provision is currently in the Senate version of the Coast Guard Authorization Act but was regrettably removed from the House version due to cost.



The COVID-19 stimulus relief package

, the CARES Act, was signed into law March 27 and is included in the U.S. Public Health Service Modernization Act. This legislation provides a ready reserve corps to fill additional commissioned corps requirements for emergency response missions.



MOAA also sponsored

, along with our partners in The Military Coalition, legislation addressing statutory authorities lacking in the NOAA commissioned corps — most prominently an increase to 500 authorized strength from the current ceiling of 321.
With the federal deficit soaring through $27 trillion, funding for military and veteran benefits will be a challenge. Health care for various constituencies is in the crosshairs. We are working to ensure servicemembers, families, and retirees maintain access to quality care.
On our radar for 2021 are efforts to secure grandfathering for those who might have already made Arlington National Cemetery their choice for their final landing. We also seek non-contiguous expansion to allow for
continued ground burials well into the future.
MOAA continues to connect with DoD officials at the highest levels and stay engaged with key staff leaders on the House and Senate Armed Services and Veterans committees and their subcommittees. The Government Relations team wasted no time getting to work with the new Congress and administration to relay our priorities.


Membership
Strides toward strengthening our membership base for long-term success and stability for the organization were made even in today's uncertain environment. MOAA has not slowed its marketing strategy; if anything, we've leveraged the current environment to showcase why MOAA membership is more important than ever.
We recognized an increase in overall membership from December 2019 to November 2020, with membership at 350,000. Despite having all live outreach events — a primary source of new BASIC members — canceled from March through December, we increased this pipeline for paid membership with the addition of thousands of BASIC members.
Our Membership and Marketing team recruited new PREMIUM members during a series of holiday promotional campaigns (i.e., July Fourth, Labor Day, Black Friday, and New Year's), with more than half of respondents opting for a multiyear membership commitment. In addition, our PREMIUM membership renewal rates continued to rise — exceeding our goal and further reaffirming the effectiveness of our engagement and outreach efforts.
Other positive signs for the future health of paid membership include:
Renewal rates of PREMIUM members rose

— a full 3% over 2019 renewal rates.

Upgrades from BASIC to PREMIUM exceeded 2019 levels by 12%

, as the result of more aggressive campaigns to move members into paid membership.

The number of PREMIUM members upgrading to LIFE status exceeded our goal

, and we gained several hundred brand-new LIFE members, further strengthening MOAA's LIFE membership base.
Today, paid membership represents about two-thirds of MOAA's membership, and we're working diligently to increase this percentage as we all know membership dues, along with other sources of income, help to power our advocacy engine, allow us to protect and defend the military community, and provide value to our members.
We have achieved an uptick in brand awareness of MOAA within the military community by expanding and optimizing Officer to Officer, our national advertising campaign. Amid the pandemic, the team pivoted quickly and was able to introduce a series of COVID-19-related videos and later film new material with strict safety guidelines in place. With a focus on brand awareness first, we saw great improvements across all major key performance indicators within our advertising campaign:
Clicks:

We recognized a substantial increase year over year in the number of clicks on our ads. Optimizing our strategy put our ads in front of a stronger audience.

Click-Through Rate (CTR):

Strong-performing video ads resulted in more people clicking through to learn more. CTRs were up significantly year over year.

Page Views:

Total page views relating to the campaign increased drastically year over year. By driving a larger audience to campaign web pages, we exposed more people to MOAA's mission and the value of membership.
Another big moment came when we debuted a new television commercial in the fall on streaming services such as Roku, Hulu, and Amazon. We also rolled this commercial out during the Army-Navy game and the Army-Air Force game. As a part of our media plan, we secured media buys for the 2021 Super Bowl in select markets with a high concentration of uniformed services.
Our email and other media campaigns saw success as we expanded holiday programs, digital efforts, direct mail, and ongoing success in email solicitations. Additionally, we launched a new influencer campaign, initially featuring retired Air Force Col. Nicole Malachowski, the first female Thunderbird pilot, and later showcasing other influential military officers and spouses to promote the value of membership and encouraging them to spread the word in their circles.
Awareness is growing, and our metrics demonstrate engagement by current and prospective members. Overall, MOAA members should remain encouraged about the health of the organization.



Engagement
When we trigger engagement, there must be a variety of meaningful and valuable programs and offerings. And while the Member Support, Membership and Marketing, and Communications teams tend to be the most visible actors in our engagement efforts, nothing happens — especially in a remote working environment — without the support of a robust IT backbone and the talented professionals that keep us connected to our stakeholders.
The engagement umbrella includes four areas of focus: development of member products and services, MOAA's Transition Center and Member Service Center, The MOAA Foundation and the MOAA Scholarship Fund, and communication and audience growth. We see significant accomplishments in each area:
1. Products and Services
A significant component of the member services and benefits we offer members is our close relationship with our affinity partners. These multiyear relationships are structured to improve current member benefits and identify new opportunities to bring more value to our members, as well as providing non-dues revenue to help fund association operations.
We finalized a new agreement with USAA, which was extended for another five years. Our partnerships with Mercer, our insurance administrator, and Voya, our life insurance carrier, will continue for another six and five years, respectively. In other insurance offerings, we recognized growth in our active service discharge group term life insurance and our pet insurance offering, which are up by 85% and 30%, respectively.
[LEARN MORE: MOAA Insurance | MOAA Vacations]
Members also benefit greatly from our strong partnership with MOAA Vacations. As many of you know, MOAA Vacations began offering signature travel events in 2019, and they were a tremendous success and met with rave reviews. So successful, in fact, that we planned three signature events for 2020 — all of which, unfortunately, were postponed due to COVID-19. We anticipate a turnaround in this area beginning summer 2021 as we introduce signature travel once again.
[RELATED: Planning Your 2021 Vacation? Consider a Cruise With MOAA]
2. Transition and Member Services
Our teams are engaging with MOAA members, spouses, and military community members through weekly lectures, webinars, career management and financial education assistance, and real-time support through our Member Service Center. The Transition Center team connected with nearly 52,000 members and prospective members during the year. Additionally, the Member Service Center team averaged more than 1,000 member and prospective-member engagements weekly.
With the shutdown of live events near the end of the first quarter, the Transition Center team tripled their virtual facilitation schedule. This COVID-19-inspired innovation will continue to be incorporated into the organizational DNA for increased agility. Our expanded virtual presence offset the loss of in-person transition and finance events and netted the association at least 1,200 new members. In addition to traditional facilitations focused on career transition preparation, understanding military benefits, and financial education topics, we expanded our offerings to include public speaking, leadership development, federal job search strategies, military caregiver support, and various health care and wellness topics.
[RELATED: MOAA's Upcoming Events and Webinars]
Among the many accolades received from seminar attendees in 2020, this post-event critique from a transitioning Army general officer stands out: "The best three days in 39 years!"
Other highlights of the year include:
Launching a collaboration with industry leader Indeed.com to replace the outdated legacy job board system.
Conducting seven executive transition seminars and 11 flag and general officer transition seminars, also a revenue generator.

Selection as a finalist

for the U.S. Chamber of Commerce's Military Community Non-profit Leadership Award, recognizing excellence supporting veteran and military spouse employment and economic
opportunity.
3. The MOAA Foundation and the MOAA Scholarship Fund
The MOAA Foundation and Scholarship Program are also principal elements of our engagement strategy. The highlight of philanthropic efforts in 2020 was the introduction of the COVID-19 Relief Fund and the amazing response from our membership to meet the need. This demonstrated a great willingness to support impactful military community-focused philanthropy under the auspices of The MOAA Foundation. Both programs advanced this year.
THE MOAA FOUNDATION
Records in fundraising were achieved through this impactful effort that raised $250,000 in donations. The funds were used to provide emergency financial relief to those struggling financially due to COVID-19 (giving preference to those not eligible for support from the service relief societies), grants to MOAA chapters providing relief support in their local communities, and virtual events focused on professional development, benefits, and financial information for the broader military community.
The launch of this campaign was the most successful in MOAA charity history, bringing in over $60,000 in one day for the COVID-19 Relief Fund. Because of this positive donor response, The MOAA Foundation was able to immediately disburse 11, $5,000 COVID-19 Relief Grants to MOAA chapters already supporting relief efforts in their local communities. This resulted in
33 chapter grants awarded in 2020, totaling more than $130,000, the most given to MOAA chapters in one year.
The remaining funds were given in the form of grants, up to $500 per household, to military and veteran families seeking emergency financial assistance due to COVID-19. This effort elicited many emotional responses from recipients and may represent an enduring engagement opportunity post-pandemic where our association, acting on behalf of our members, can provide emergency financial assistance in times of crisis to those who need it most.
THE MOAA SCHOLARSHIP FUND
In 2020, the MOAA Scholarship Fund team, despite the challenges of teleworking and limitations on personal visits, raised more funds from individual donors than in 2019. They also added several families to the Legacy Circle through planned giving activities, ensuring a continuing stream of support. Expanded social media outreach and an updated giving platform all have enhanced the donor experience.
[RELATED: MOAA's Educational Assistance Programs]
The Educational Assistance programs increased grants to students by more than $500,000 for the 2020-21 school year. They also worked closely with the IT department to securely receive promissory notes from prospective recipients through an online upload process. This improved workflow allowed staff to continue to work remotely. Further, the team updated the application for the 2021-22 school year to include information on chapter membership opportunities with the goal of encouraging these memberships.
4. Communications and Audience Growth
We were not hindered in our ability to share the important work of the military community during the pandemic. Our multiple communication channels were strong and active. From exclusive details of the COVID-19 response to frequent updates detailing how military benefits and health care were affected, we remained a vital information source for our members and the broader military community. We see it in the quality as well as growth in audience metrics.
[RELATED: On the Front Lines: USPHS Officers and the COVID-19 Pandemic]
This was underlined by Adm. Brett P. Giroir, USPHS, assistant secretary for health, when he tweeted two separate times to praise Military Officer magazine efforts showing one of the most comprehensive articles into how the U.S. Public Health Service was involved in the pandemic response. Health and Human Services Deputy Secretary Eric Hargan also joined a chorus praising our coverage.
Military Officer magazine remains dynamic and compelling — and received some of the highest honors in the industry along with some of the most robust set of honors in years for all our platforms, including video. Readers on all platforms are enjoying new features such as Member Spotlight and our expanded use of editorial cartoons.
There are new special sections such as the TRICARE Guide and exceptional special features such as the WWII Flyover informational feature also presented in an interactive form online.
In growing awareness of MOAA, the Communications team secured exclusive Q&As with the presidential candidates on issues critical to the military community, equally presented and heralded for its insight and balance. This effort and MOAA were cited in major publications such as Stars and Stripes and Military Times, on public radio, and quoted in mainstream media — among the first of a few efforts of this kind produced in the election cycle. After the election, the material was again cited.
The team also continues to land big-name exclusive interviews, such as Tom Hanks; Montel Williams; and Tim Gunn, America's fashion expert.
Another key channel is The MOAA Newsletter — our email product with a circulation of more than 314,000. It too earned a national award and continues to boast an "open rate" of more than 30% — exceeding industry averages of 24.9%. This product is consistently delivered and an outstanding value for our members. The variety of content is available to members weekly, biweekly, or monthly — by their individual choice.
The newsletter is a significant driver of member eyeballs weekly and engagement to our new website, which is also dynamic and continued to evolve this year. We see no negative impact from the pandemic, as MOAA.org page views are increasing at 31%, now well over 7 million page views for the year. Only a couple years ago, this number hovered at 4 million. Readers are coming and often returning thanks to our improved website, offering headlines based on user habits and enriched by our committed team of writers and editors. This evolving website experience is critical to attracting and retaining future members.
Communications played a crucial role in our advocacy events in April and its pivot to a virtual campaign. The content distribution prepared members to conduct and record video conference meetings with staff on the Hill. Our landing page, www.moaa.org/moaastorms, showcased articles helping to drive take-action letters to Congress. Government Relations reports that 19,000 letters were sent. Social media was essential, with lawmakers tagged in about 450 tweets, also focusing on military treatment facilities in their districts or states.
All of this earned a reach of nearly 400,000 streams. A video message by Col. Dan Merry, USAF (Ret), MOAA's vice president of Government Relations, was a standout.
When it comes to social media, MOAA outranked bigger veteran service organizations on Facebook, our largest social channel with 92,000-plus followers. We were the top "engager" among these organizations 90% of this year. This means one of our posts is seen by more people than groups larger than us. An individual example is a COVID-19 post thanking our frontline
servicemembers was shared 600 times into feeds where hundreds and thousands of followers and organizational feeds with tens of thousands of followers highlighted it to their followers. It was also heralded by the National Institutes of Health and posted in their building.
On a smaller scale, success was had in a concerted effort to grow membership in our MOAA Surviving Spouse and Friends Facebook group, a private team of widows, widowers, and supporters whose strength is leveraged to improve military family and survivor benefits.
The expansion of video is made possible by every member of the team getting involved in producing videos that are informational and engaging. They range from motion graphics to explanations of issues and news reports on advocacy, as we did to support the Major Richard Star Act. We share excerpts from some of the big-name interviews to attract a digital audience and promote what PREMIUM and LIFE members see in their magazine.
[SEE MORE: MOAA.org/Videos]
These advancements enrich our storytelling and bring to life the stories in Military Officer for the next generation. We pushed forward experimenting with podcasts this year, producing a first series: DD-214 Discover What's Next. This initial effort offered career transition advice, and we will keep innovating this product as we have with our other video productions over the past two years.
Behind it all is new technology and collaboration across all MOAA business units, executing content and distribution strategies, driving significant increases in web traffic, and positive trends in nearly all key metrics such as pages viewed per user session and time a user stays on the site.
Council and Chapter Affairs
MOAA's nationwide network of 33 state councils and nearly 400 local chapters continues to make major contributions in support of the association's legislative advocacy, membership growth, and local community engagement efforts, despite the challenges of a continuing public health crisis.
Our state councils and local chapters have led the way to serve the military and veteran community in impactful ways. This work was chronicled in the October 2020 issue of Military Officer and in the Foundation and the
Scholarship Impact Report published in December.
[RELATED: Military Officer Issues and Archives | Impact Report]

Community Outreach Grants were distributed to 23 local chapters and state councils in 2020, totaling $84,000 and representing continuing growth of this program that began with six chapters and $25,000 in 2017. Additionally, The MOAA Foundation funded 11 chapter-managed COVID-19 emergency economic relief grants and 18 chapters also nominated deserving individuals in their local communities for foundation-funded individual emergency relief grants.
Our volunteer leaders in the field continued to adjust to stay connected with their members and the national team. Our headquarters team, board members, and Surviving Spouse Advisory Council helped us connect with
more than 400 volunteer leaders through one live and two virtual chapter leaders' workshops, and professional sales training was delivered to 40 of our council and independent chapter leaders. We hope to resume live meetings and engagement events later in 2021.
Further, we expanded our virtual chapter network with the addition of a virtual chapter focused on supporting commissioned officers in the U.S. Public Health Service. Nearly 500 national MOAA members are affiliated with our three virtual chapters, which offer a chapter membership opportunity based on common interests and support membership recruitment efforts of nurses, USPHS officers, and surviving spouses.
Other highlights include:
Increased the number of chapter members

affiliated with the national association while holding steady at 12% the percentage of national members affiliated with the chapter system.



Initiated a program to provide financial support

to council presidents to defer the cost of virtual meeting software. At least 50% of our council and chapter leaders have embraced virtual meeting tools and kept their members engaged throughout the year.



Through close collaboration with the Government Relations




team

, council and chapter members reached 100% of the 535 congressional offices to make the case in support of MOAA's legislative priorities. This was the engine behind our virtual spring advocacy event.



Participation in annual awards programs has also increased.

For the 2019 competitive cycle, 173 councils and chapters received communication awards (up from 156) and 171 councils and chapters received management excellence awards (up from 167).



A state-focused legislative consortium

, consisting of more than 80 members and under the direction of volunteer leadership, is meeting quarterly to share best practices for support of state-level legislative
advocacy issues.
Financial
MOAA's financial and organizational posture continues to improve despite outside factors and industry headwinds. Revenue remains positive, with some areas showing negative impacts from business drawbacks due to COVID-19. Close management of expenses has offset most of these challenges, as it has for some lost advertising revenue year over year generated from Military Officer magazine.
Our investment portfolio of approximately $147.6 million is steadily growing from our balance of $132.1 million at the end of 2019. Our portfolio returned 11.11%, compared to the projected return of 6% on an annualized basis. MOAA's portfolio has generated a net increase in value of approximately $16 million year to date. MOAA increased total assets to $160 million for the year up $14.5 million from 2019.
Dues revenue remains stable thanks to strong retention numbers of existing membership while an incremental dues increase last year takes full effect.
Advertising revenue was lower, by nearly $330,000 or 15% down compared to goals, primarily due to a few frequent advertisers holding back and bankruptcy of another long-time advertiser. This dampens the outlook for advertising revenue into 2021, but new projects are being launched to help offset and digital advertising sales keep advancing.
Our association continues to benefit from the expertise of our investment advisors at Goldman Sachs and our board investment committee, who are leading this strengthening of our financial position to secure the future of our association. We also received an unmodified opinion (our financial statements and materials complied with the accounting standards being used as well as applicable regulation) on our independent audit from Clifton Larson Allen (CLA) for our 2019 consolidated financial position. The 2020 financial statements currently are under audit by CLA, to be completed by
the spring board meeting.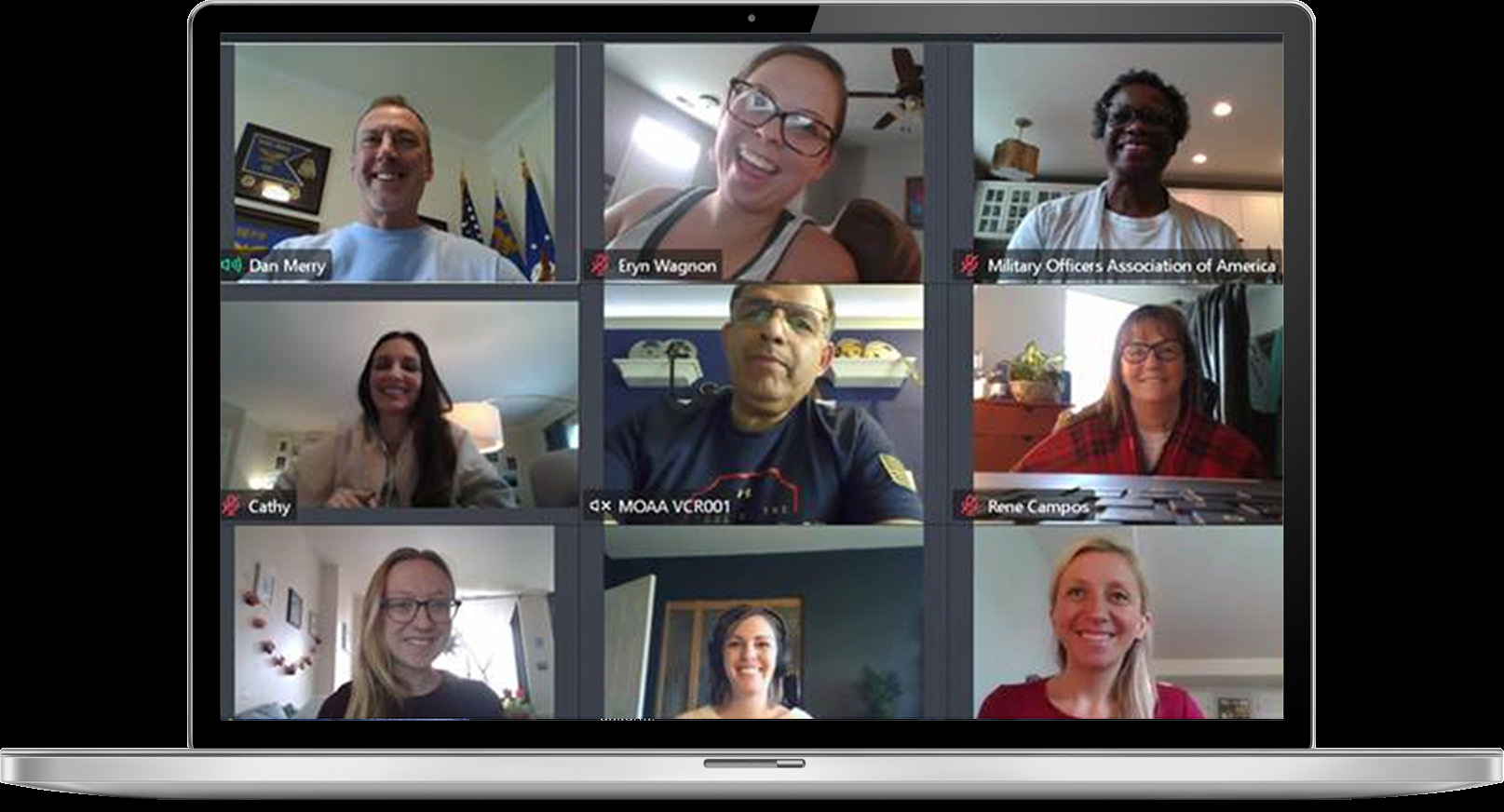 MOAA staff members have leveraged technology to stay connected and focused on their mission while working remotely.
Organization
Technology successes in 2020 enabled our staff to continue seamlessly working toward completion of strategic plan goals even within the quarantine due to COVID-19. In addition to transitioning all staff to remote work with one week's notice, we continued the technology roadmap execution as planned. The focus remained on improving member experience and supporting goals to increase membership numbers and revenue. The investments in technology and infrastructure — along with the financial position — helped MOAA provide a safe and secure working environment.
We leveraged Microsoft Teams software for a virtual work environment and to keep everyone connected. Our IT team provided additional training for many virtual tools and kept our digital assets secure and free of any incursions.
Staff turnover was the lowest in years, near 8% and down from 17%. We have kept all training at the forefront and saw six promotions from within. We continue to adapt for a more digital future with new roles focused on web design, data management, multichannel communications, and digital marketing. We also are proud to have four headquarters team members with Certified Association Executive designation, the highest level.
2020 highlighted that we as a nation need to do better with equity, diversity, and inclusion. We reflect on how MOAA also can do better; the same goal is articulated in Department of Defense Diversity and Inclusion Management Program. We see progress in our ranks and acknowledge — like many Americans — more work needs to be done. In our association, we have actively sought to build a team and membership base that reflects the diversity of today's uniformed services. Our goal is to inculcate equity, diversity, and inclusion into our culture. From our Currently Serving Advisory Council and Currently Serving Spouse Advisory Council, we have suggestions and feedback to use and leverage.
In Closing
MOAA remains essential to preserve the pay and earned benefits of servicemembers and advocate for a strong national defense. We do this work on behalf of all members of the military community and all those serving in the uniformed services, as well as veterans and their families and surviving spouses. It is our honor to do this impactful work in partnership with our 350,000 members and live the mantra Never Stop Serving.