By Col. Nicole Malachowski, USAF (Ret)
Since I was 5 years old, I had wanted to become a fighter pilot. Fast-forward to 1998, when after years of perseverance and training, I achieved that dream. I became an F-15E fighter pilot in the U.S. Air Force. After several operational assignments, I developed another dream—I wanted to become a Thunderbird pilot.
Only six pilots fly in the airshows each year, and I quickly learned that achieving that new dream meant that I would be the first woman Thunderbird pilot. I was very fortunate to earn that slot, too. Over my two years as a Thunderbird pilot, I flew in over 140 public performances.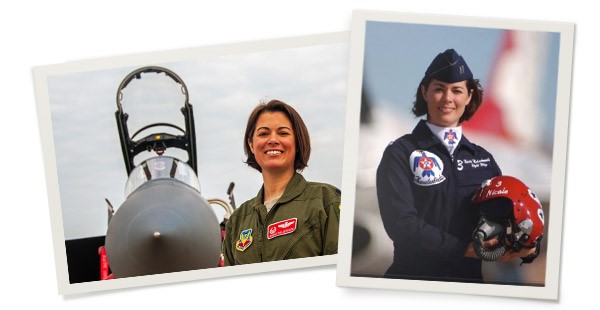 My career dramatically changed in 2012, when I developed a serious illness related to a tick bite that would go undiagnosed for several years. Unfortunately, due to the damage caused by my tick-borne infections, I was medically retired prematurely from the U.S. Air Force career that I loved. My physical and mental recovery continues to challenge me every day. While the experience certainly redirected my life, now, through my professional motivational speaking and consulting, I encourage others to harness their own personal resilience, resurgence, and reinvention.
Early on in my career, a friend at Seymour Johnson Air Force Base first suggested that I join MOAA as a PREMIUM member. But it wasn't until I got sick that I realized how valuable my membership was and I made the decision to commit for life. MOAA's staff experts helped me navigate my healthcare benefits, and MOAA provided me with vital insurance coverage when I was unable to get supplemental coverage elsewhere. For my kids, my MOAA membership will mean discounts on college preparatory classes and an opportunity to access special scholarships and interest-free student loans.
However, beyond those direct benefits, I also understood how important Veterans Service Organizations are to our military servicemembers and their families, and I'm so proud to support MOAA's advocacy work. They are leading the way on Capitol Hill, and I know my membership helps MOAA advocate for others like me.
Join me and support MOAA's crucial mission for our country.
Upgrade Your Membership
Not yet a MOAA member?
Join Now