(This content originally appeared in the June 2020 issue of Military Officer, a magazine available to all MOAA Premium and Life members. Learn more about the magazine here; learn more about joining MOAA here.)
By Todd South
In times of peace and war, they were there.
In the ports plagued by foreign illness, they were there.
In mosquito-infested swamps, poverty-ravaged rural lands, and squalid urban settings, they were there.
They have been there in some form for more than 200 years of U.S. history, but perhaps like never before, the Commissioned Corps of the U.S. Public Health Service (USPHS) was — from Day One — uniquely there on the front lines of the COVID-19 pandemic crisis.
The sometimes-overlooked service has a fraction of the uniformed officers of the military branches but packs an outsize punch in fighting disease and other invisible threats.
The fight that unfolded over the first half of 2020 saw its ranks deploy across oceans to care for and comfort Americans afflicted with or exposed to the deadly virus. Early on, a team flew to Japan to meet with passengers aboard the Diamond Princess, a cruise ship that saw its own deadly outbreak.
When those passengers made it to U.S. shores, Commissioned Corps officers were there to assess their conditions, shelter them, and shuttle them to quarantine or treatment.
[RELATED: MOAA Interview: Former USPHS Chief Medical Officer on Pandemic Response]
And as the virus poured through every strata of American society, they were there, heading up aid for first responders in New York City, an epicenter of contagion.
In smaller communities, at county medical centers, they helped those same overwhelmed first responders get their own tests, ease their worry, and connect them with the vast resources of a multilayered network across federal, state, regional, and local lines.
'Not a Matter of If, But When'
Adm. Brett Giroir, the Public Health Service's top-ranking officer, became the assistant secretary for health at the U.S. Department of Health and Human Services in early 2018. He heads efforts as the COVID "testing czar" for the federal government.
Giroir, a lifelong medical professional with work experience in government and academia in pediatric care and physician-scientist research, said he'd known of the Corps for a long time but came to know the USPHS better while working at the Defense Advanced Research Projects Agency.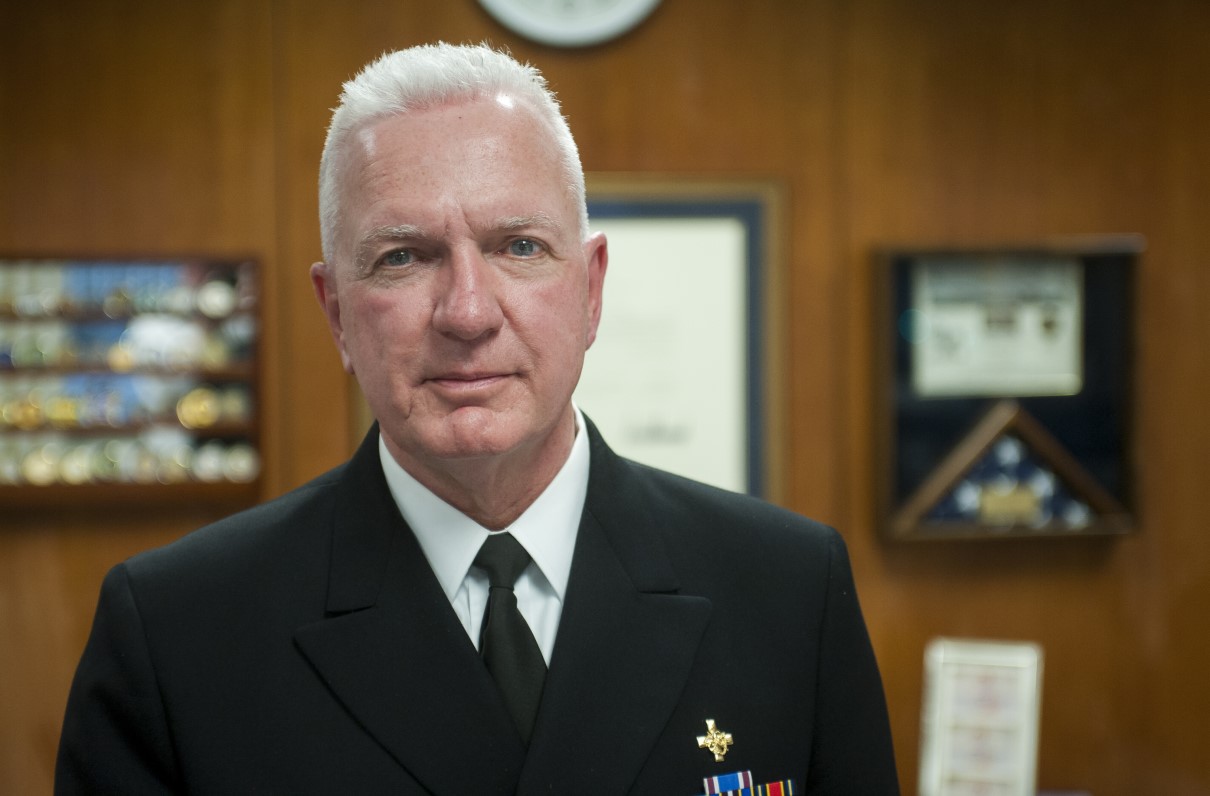 Adm. Brett Giroir, the USPHS top officer, began to prepare the service for a "full range of deployments" two years ago, bringing its 6,100 uniformed officers up to a 97 percent deployment readiness level. (Photo by Rod Lamkey Jr. for MOAA)
Though he knew the service's storied history of responding to bubonic plague, yellow fever, and countless other epidemics and pandemics, he said the service still needed to modernize its efforts.
[RELATED: USPHS Ready Reserve Corps Becomes Law With the CARES Act]
So, two years ago, they began to prepare the service for a "full range of deployments," bringing its 6,100 uniformed officers up to a 97% deployment readiness level.
"It was also clear that a global infectious disease was absolutely real. Look at Ebola, H1N1. It was not a matter of if, but when," Giroir told Military Officer.
At the end of February, as COVID-19 began to quickly spread, the Corps developed COVID Clinical Strike Teams, ranging from 62 to 124 members.
As of early April, the service had deployed 1,750 officers to respond to COVID. More were expected and a phased plan of deployments had been drawn up in February, Giroir said.
"We knew early on this had the potential to get pretty bad," he said.
Faces of the Fighters
Early in the crisis, Corps officers traveled to California to assist with the passengers coming off the Diamond Princess from Japan, where the virus had engulfed the ship.
Lt. Cmdr. Lauren Singleton had completed an internship with USPHS as she finished college in 2006. She put her environmental medicine training to use fighting foodborne illness and contamination, while also assisting on rabies, West Nile virus, and Rocky Mountain Spotted Fever surveillance in Arizona.
In her day job, she inspects food manufacturers for the U.S. Food and Drug Administration. But she is also trained as a member of one of the Corps' Rapid Deployment Force teams.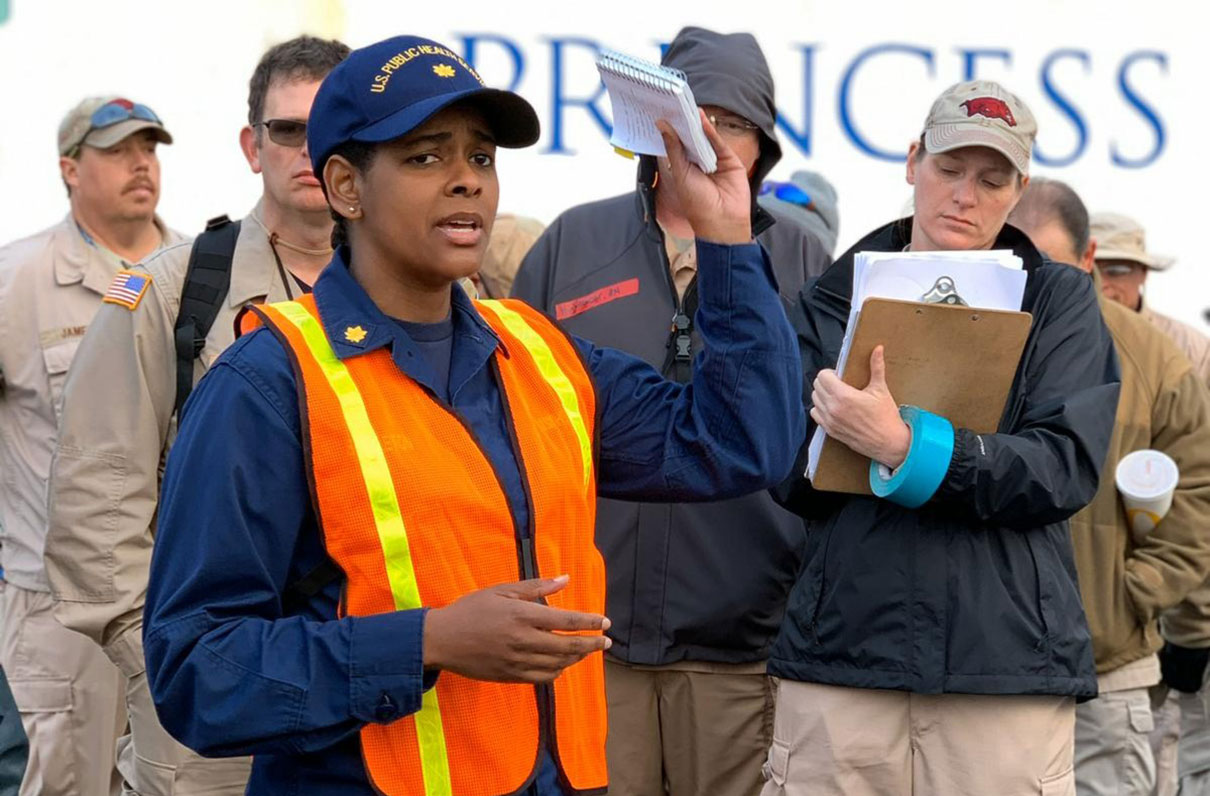 Lt. Cmdr. Lauren Singleton served as a safety officer in California during the early days of the pandemic, helping to assess cruise ship passengers exposed to the virus. (Courtesy of USPHS)
Singleton has deployed for multiple hurricane responses and to Liberia for the 2014-2015 Ebola virus outbreak.
"That deployment gave me the training, experience, and confidence in my personal protective equipment [PPE]," said Singleton. "Learning how to don and remove PPE ... was insanely critical with Ebola."
For the COVID-19 mission, she served as the safety officer in California, assessing danger areas and any risky behavior — not only to keep cruise ship passengers safe as they were tested and sent to their destinations, but also to monitor the health of the first responders.
Like Singleton, Lt. Cmdr. Mike Muni has deployed to hurricanes and the Ebola outbreak. He has done work in substance abuse prevention and maternity care in his regular role. But he has also picked up the public affairs mantle and put his public health administration education to good use.
Muni was helping to communicate vital information at the California mission with the cruise ship passengers and then quickly shifted to work as site lead for HHS at the Montgomery County, Pa., testing site, when Military Officer interviewed him in April.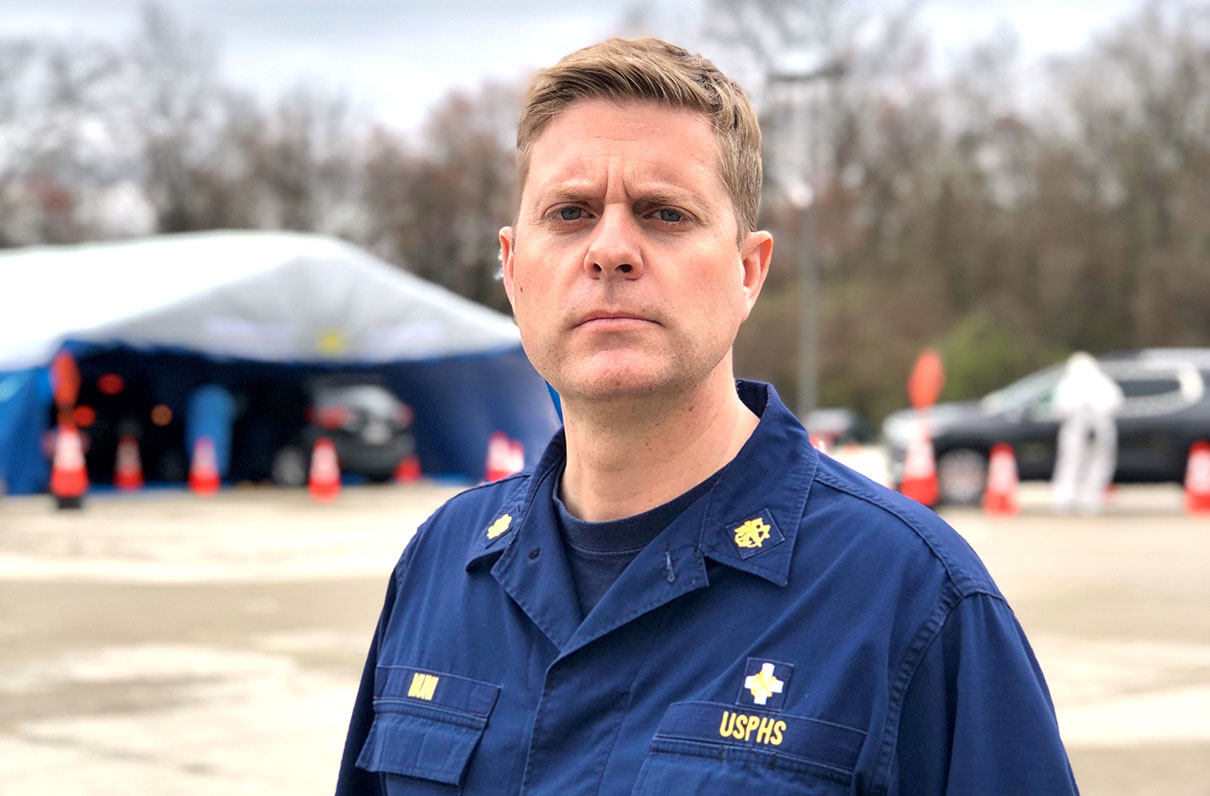 Lt. Cmdr. Mike Muni has served in the aftermath of hurricanes and during the Ebola outbreak. During the COVID-19 pandemic he led assignments in California and Pennsylvania. (Courtesy of USPHS)
For the Pennsylvania mission, he was reaching all levels of responders and services.
"It's like this perfect storm of converging resources, all just wanting to work together," Muni said.
And he's seen the results from what the Corps can bring to this kind of battle.
"It's just really rewarding to stand there and have a deputy chief of police walk up and say to me, 'I have a police officer whose spouse tested positive. He's not feeling well. Can he get tested?' "
"Absolutely, that's why we're here," Muni replied.
Capt. Renee Pazdan came to the Corps after serving for nearly a decade as a neurologist in the Army. It was 2010, and she had three small children. She decided to leave the armed forces, but she still wanted to serve.
Her work on early traumatic brain injury treatment among evacuated U.S. troops from Iraq and Afghanistan while serving at Landstuhl Regional Medical Center in Germany coincided with a new joint DoD and USPHS program to treat such trauma.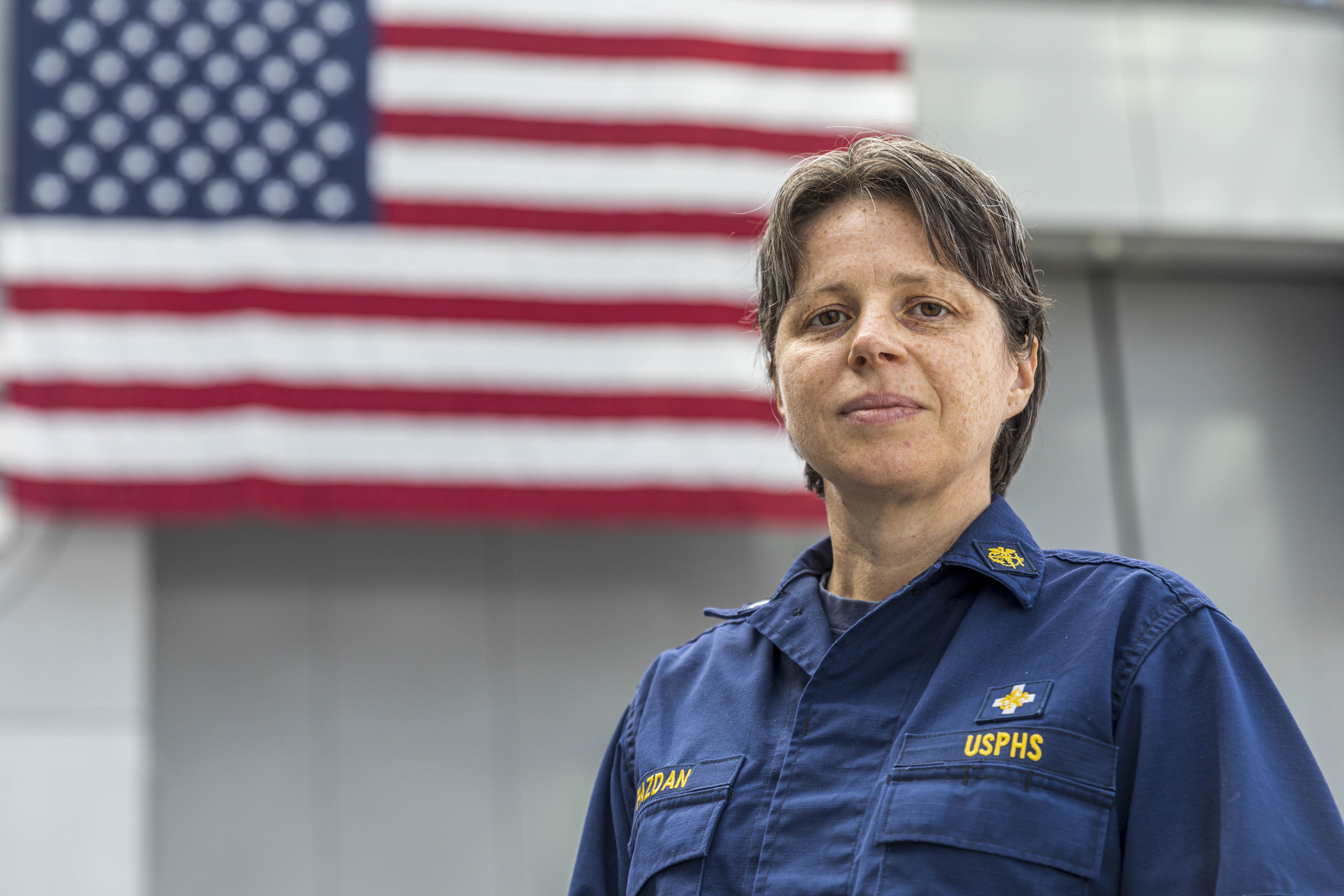 Capt. Renee Pazdan deployed in the spring as chief medical officer at the Javits Convention Center in New York City. She described the mission there as "awe-striking." (Courtesy of USPHS)
A deployment to assist in the U.S.-Mexico border mission linked her up with a Rapid Deployment Force team, and she later became a full member. What followed were further deployments to hurricane responses and ultimately to where she was serving in early April at the Javits Convention Center in New York City.
At that time, she was serving as chief medical officer for what started as a 250-bed facility that later ballooned to take on as many as 2,500.
What she experienced responding to the coronavirus surprised even this battle-hardened medical professional.
"It's honestly unbelievable, awe-striking," she said in April. "When we walked into this building, ... I thought about what our work here means and how we must make this work despite the chaos, the work, the fear, and the sadness. The multiple agencies here are putting 120% effort in, and all of us are stepping up to make this work."
She couldn't discuss many details of the work she was doing at the time, but she said the variety of skill sets and backgrounds on display from local, state, regional, and federal personnel was striking.
As Pazdan went about her day-to-day work amid the hardest hit city in the U.S., she said she always tries to find joy in little things, especially how her position can help others.
"We've had several physicians from the community whose hospitals are struggling right now. They come here and they are so grateful," she said. "They have an appreciation for what we are bringing to their community, and we have an appreciation for what they have been battling for weeks on the front lines."
The Enduring Mission
Col. Jim Currie, USA (Ret), outgoing executive director of the Commissioned Officers Association of the USPHS and a MOAA member, is proud of the way the Corps he's represented has shown their fighting spirit, but it doesn't surprise him.
When the Ebola outbreak happened, the Corps needed 300 officers to go to Liberia on a rotational basis, he said. In the first week, 5,000 volunteered.
"A soldier runs to the sound of guns; a civilian runs away from it. It's the same thing with the [Public Health Service]," he said. "They run to where disease is; they try to protect the public."
Even as the pandemic subsides, the Corps will be there, he said. They'll continue to treat patients and first responders, test for new cases, and monitor the state of the virus, should it flare up again.
They'll be the ones to put America back to work, Giroir said.
Scientists with USPHS at the CDC and NIH are working on treatments and vaccines. In the months to come, they'll scrutinize the lessons learned and review what went right and wrong in the response.
And this won't end with COVID-19, Giroir said.
"The crises of the next century certainly could be kinetic, but more and more likely, they will be a public health situation," he said.
But, if the more than a century of history and current response is any indication, the Corps officers will remain ready at those front lines.
"If I am called to deploy again, I would do so without hesitation," Singleton said. "This is why I joined the PHS. This is a crisis like we've never seen before."
Former Sgt. Todd South, USMC, is a journalist. He is a veteran of the war in Iraq.
Why Should You Join MOAA?
MOAA provides resources for officers from all uniformed services and their families throughout all stages of their careers, including after they've taken off the uniform. Learn more about the benefits of membership.
Already a MOAA member? MOAA has hundreds of chapters around the country. Get involved in your community by finding the one closest to you and joining today!