While most people are living under stay-at-home orders, military nurses on different sides of the world are boosting the fight against COVID-19.
"For so many years, we have been the supporting personnel to ensure our soldiers get the best care they can to return them to duty or send them to a higher level of care so that they can continue healing, whether in or out of the Army," said Col. Melissa Mitravich, commander of the 411th Hospital Center in Kuwait. "Now we are on the front lines, and our medical personnel have stepped up and taken the lead without any difficulty."
More than 62,400 personnel from the DoD are supporting COVID-19 relief, according to the Pentagon.
[MORE FOR NATIONAL NURSES WEEK: MOAA Life Member, Retired Chief Flight Nurse Reflects on Her Family's Service]
In Kuwait, 411th Hospital Center soldiers have added a new function to their routine: COVID-19 testing. The Army Reserve unit, made up of soldiers from several East Coast states, has been "adopted" by the MOAA Uniformed Services Nurse Advocates Virtual Chapter (MUSNAVC).
"In regards to daily life, very little has changed; nurses have always performed duties as appropriate," said Mitravich, a MOAA member and reserve liaison to MUSNAVC Board. "If anything has changed, more (personal protective equipment) is utilized with any patient with respiratory symptoms until COVID can be ruled out."
The hospital is focused on treating American troops, but it also treats coalition partners as well as some contractors and DoD civilians. Within 45 minutes, hospital staff are able to determine whether a person has tested positive for the virus.
There have been no cases of the virus in the area, which Mitravich attributes to the stringent medical safety measures military personnel are following.
[DONATE: MOAA's COVID-19 Relief Fund]
Despite the personal risks, Mitravich has served more than 30 years in the military and continues to look out for her patients.
"While I've had many roles, it wasn't until I was a battalion commander – and now a hospital center commander – that I have truly felt like I have made a difference," she said. "I have direct impact in the lives of both officers and enlisted. I can help them develop as leaders and ensure they are doing the same for their soldiers. I have the ability to influence areas outside of my unit and develop relationships that benefit not only my soldiers, but patients that are seen by us and those around base."
Staff with the 411th Hospital Center at Camp Arifjan, Kuwait, perform an initial coronavirus screening. (Photo via Col. Melissa Mitravich)
Bragg Battles the Virus
Stateside, military nurses across the country are taking steps to care for their comrades.
At Womack Army Medical Center at Fort Bragg, N.C., the largest Army installation in the country and home of America's contingency corps and special operations, two major nursing units have tweaked operations to care for troops and their families. Among Womack's robust COVID-19 efforts, the urgent care and emergency room teams have become screening and testing sites, the ICU has shared bed space so doctors can treat non-critical care patients, and case managers have teamed with public health experts to establish a call center to alert patients to test results.
"There are a lot of additional expectations for the medical community to help the operational community understand what's expected and how to effectively manage the disease across the enterprise and to keep our military personnel not only safe, but also ready for what their follow-on missions are," said Col. Sarah Williams-Brown, chief nursing officer at Womack and member of MOAA's MUSNAVC. "We understand with our military community, readiness is paramount. And we try to keep those soldiers ready for the next fight, the next mission. And also help to clear their mind so that they could be assured their families are also taken care of in the midst of all this."
[LATEST NEWS AND GUIDANCE: MOAA.org/Coronavirus]
As the chief nursing officer at the one of the Army's busiest hospitals, Williams-Brown doesn't handle the day-to-day items, but rather empowers nursing leaders to contribute to decision-making processes. She steps in to help make difficult decisions and calls on experts when needed.
When COVID-19 reached North Carolina, she said she was impressed how quickly the nursing staff developed and executed an operational plan to treat ailing patients.
"This is an important mission because, truthfully, not only do our patients who are not military, but definitely our patients who are soldiers and their family members, depend on us to provide them the greatest quality care that they can receive, and with so many uncertainties, any place that we can make a difference is what's going to be most important," Williams-Brown said.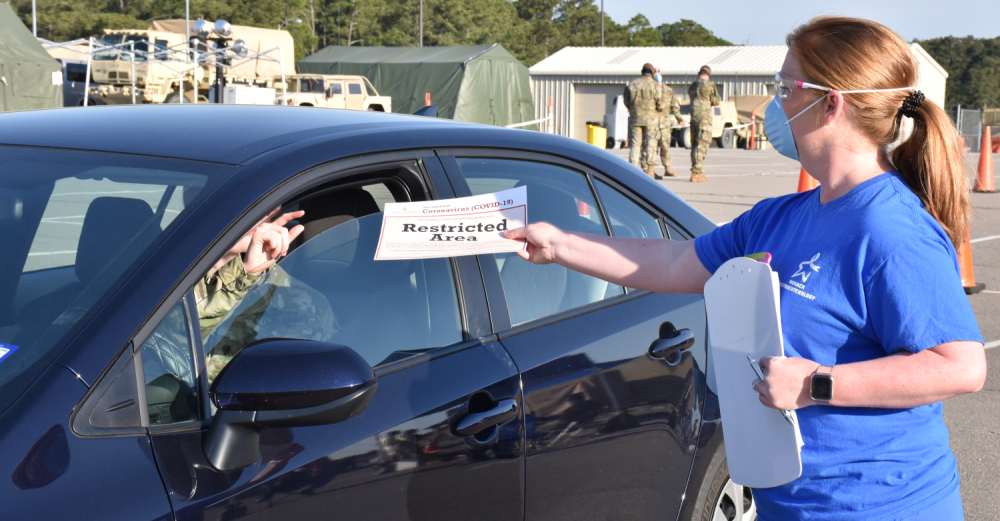 Jenna Goode, a Womack Army Medical center registered nurse, demonstrates the process potential patients will take when entering the Fort Bragg, N.C. drive-thru testing site. (Courtesy Womack Public Affairs)
About MUSNAVC
Since its establishment in 2016, MOAA's Uniformed Services Nurse Advocates Virtual Chapter has connected online and over the phone to discuss legislation, strategic plans, and personnel benefits. The group has grown to 246 members in 43 states and Puerto Rico.
Membership is open to current or former uniformed service nurses. Interested in joining? Contact Col. Jeri Graham, USA (Ret), MUSNAVC president, at musnavc@gmail.com