(This article by Kristin Davis originally appeared in the February issue of Military Officer, a magazine available to all MOAA Premium and Life members, and is republished here as MOAA marks National Nurses Week. Learn more about the magazine here; learn more about joining MOAA here.)
Maj. Eunice Taylor, USAF (Ret), can trace her family's military service to the Civil War, when her great-grandfather was a private in the 32nd United States Colored Infantry Regiment. Her father, a college graduate and science teacher named James Robert Taylor, enlisted in the Army in July 1941. His country summoned him first to the freezing Alaskan wilderness and then to Papua New Guinea and the Philippines in the Pacific theater.
James Taylor's brother, William, was fighting near Cinquale Canal on the coast of Italy in February 1945 when his company came under heavy enemy fire. A letter from the War Department reported him missing in action; he was later declared dead and reinterred at Arlington National Cemetery. His last letter home, a poignant missive penned from a tent on Christmas Eve, hung on his mother's wall for the rest of her life, and every Memorial Day, the family took a flag to his graveside.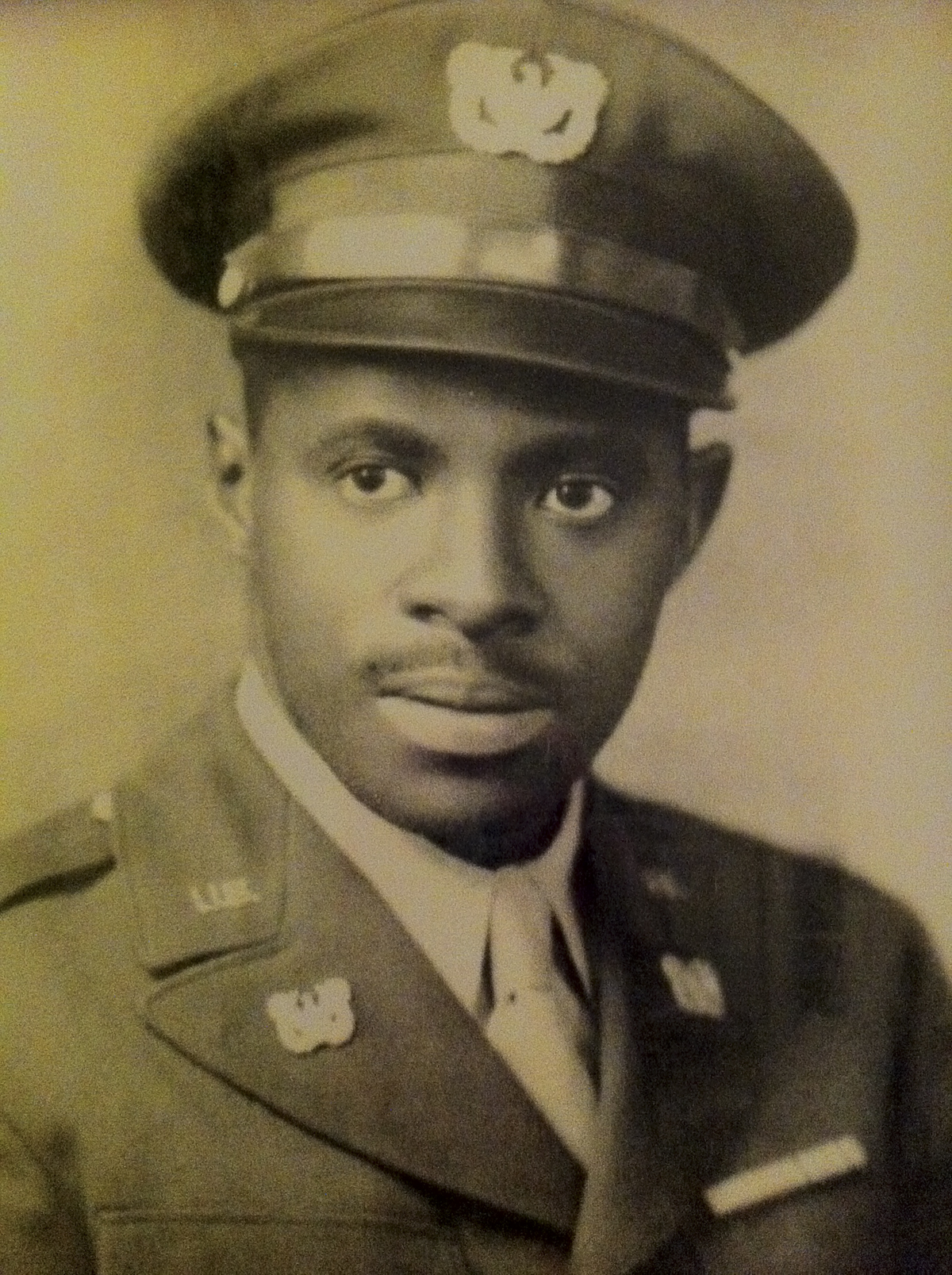 Yet as a child, Eunice Taylor didn't believe her father (pictured) or uncle fought in World War II. None of the movies she watched or magazines she read commemorating battles and anniversaries featured an African American in uniform.
Only later, through research and her own career as an Air Force chief flight nurse, did she truly understand her family's sacrifice.
Q. African Americans have fought for their country since the nation's founding. Why is it important to tell these stories?
A. Many men and women of color showed up to serve our country. It took a lot of courage, stamina, determination, critical thinking, and restraint. You rarely hear those stories or struggles. In many cases, they were fighting a two-front war — the enemy of the country and the enemy within.
They fought for a country that, in many respects, wouldn't fight for them. They did it for their flag, their country, the person next to them. When you're in the foxhole, you don't ask what color you are. You ask if you've got a gun and bullets, and can you shoot to kill. Most men of that era thought if they served their country, they would finally receive equal treatment. But for most of them, it just didn't happen — until much later.
Q. What was your father's experience as a warrant officer in the Army?
A. He was assigned to the 95th Engineer Battalion, one of three colored regiments charged with developing the Alaska-Canadian Highway. They were segregated from the other U.S. troops. Daddy said at times it was like living in jail because they were restricted to their living areas and duty stations. ... While things were austere, they had a mission to perform: to build a road.
After Pearl Harbor, Daddy shipped out to Hawaii and eventually the Philippines as [Gen. Douglas] MacArthur was moving forward. He would have followed MacArthur to the ends of the earth. ...
He left the military in the 1950s when Virginia schools closed their doors rather than integrate. Daddy said, "What am I fighting for if my kids can't go to school?" It was time. There was no bitterness, but it was a crossroads. Daddy died in 2002 at age 88.
[RELATED: James 'Maggie' Megellas, World War II Hero and MOAA Life Member, Dies at 103]
Q. Why did you join the Air Force?
A. I was a Red Cross volunteer at Walter Reed Army Medical Center as a teenager when I met a man on an elevator. He said his name was Jimmy Doolittle.
That night, Daddy asked about our day. When I told him who I met, he explained who he was. I checked out a book called Thirty Seconds Over Tokyo. I was so impressed with that type of critical thinking, of going out there and never thinking about yourself. I wanted some of that.
Q. What was your career like?
A. I graduated from Freedmen's Hospital School of Nursing in Washington, D.C., in 1973. ... I began my career as a clinical nurse at Lackland Air Force Base, Texas. When I retired in 2001, I was associate director of the Aeromedical Evacuation Division at Scott Air Force Base, Illinois. My tours of duty were great. I got everything I asked for and some I didn't.
Q. What was the best thing you did in the military?
A. Early in my career, seeing women in flight suits was not very common. We got ribbed a lot. Being medics, not everybody thought we were "real" military people. But when things happened, air evacuation was the tip of the spear. ... It was nice to know that when the guys were out flying, we had their backs. During Black Hawk Down, I was the senior nurse on duty. Getting geared up for that was the best thing I remember doing.
[RELATED: Video: Meet 'Walkin' Wally': MOAA Member, 87, Still on the March at West Point]

Q. What is the greatest lesson your father taught you? The military?
A. Daddy taught me never to disgrace your family, your religion, your country, the flag you stand for, or your god. You respect those things, and you respect people.
The military taught me all people want the same thing — to have a life, to raise their children, to leave them something, to be happy. They want peace of mind. No matter where you go, people want to be treated as human beings.
Join MOAA Today
Not a member of MOAA? When you join MOAA, you become part of the strongest advocate for past and present members of the uniformed services, and their families.
Already a MOAA member? MOAA has more than 400 chapters around the country. Get involved in your community by finding the one closest to you and joining today!