Most weeks, Lt. Col. Bruce "Woody" Caine, USA (Ret), is plunged somewhere in the 2.5-acre historical replica of a Brown Water Navy support base during a Tet Offensive.
He's one of the most active volunteers at Patriots Point Naval & Maritime Museum in Charleston, S.C., giving 350 hours of his time last year to educate visitors about the Vietnam War. A small group of people usually is crowded around him, entranced with his memories from service as an Army infantry officer in Mekong Delta in 1968.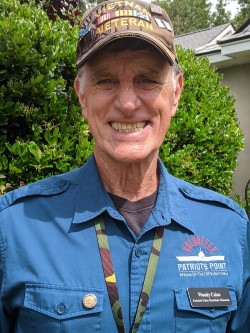 "It's the power of storytelling that this is all about," said Caine, a MOAA Life Member. "I want to be able to share stories and help people understand. I believe it's very important to represent a couple of generations of U.S. servicemembers who never got the proper recognition they deserved when they came home from Vietnam."
Caine retired from the Army in 1992, capping off 26 years of service ranging from leading rifle platoons in Germany to teaching at Vanderbilt University in Tennessee.
[RELATED: 5 Vintage Military Books to Check Out This Spring]
Caine received his Army commission as the Vietnam War was ramping up. After finishing airborne school, he was sent to Germany, where a significantly understaffed roster meant he got a taste of many different jobs.
"It was a wonderful education because I had these remarkable sergeants who I trusted to teach me what I needed to know," he said. "You learned things they never teach you in school."
Caine was sent to Vietnam in 1968, which would become known as the deadliest year of the war. In fact, one of the museum visitors, a 7-year-old girl, watched the museum's brief video explanation of the war and asked Caine why he didn't die.
Caine, struck by her question, kneeled down to talk with her.
"I said, 'Because I was lucky.' Let me tell you one of my lucky stories," Caine recalled from the encounter.
And that's when the small crowd of people filing out of the museum theater paused to listen to Caine, as they usually do.
[RELATED: Retired Admiral Guides the Navy Memorial]
Caine served as commander of a Combat Assistance Team for a Vietnamese infantry battalion in the Mekong Delta from 1968 to 1969. The town is along Vietnam's southernmost point and the prime location for agriculture that was critical to their livelihood. It was protected from destruction by the enemy with help from U.S. troops.
"I learned so much from my Vietnamese commander," Caine said. "He taught me so much about what it means to be a leader in high-stress situations. I was very fortunate to have that opportunity in a capacity that allowed me to be helpful and also to be trained and developed as a military officer."
Caine chats with visitors honestly about his service. There were traumatic experiences, but he chooses to remember the positive experiences, like helping to deliver a baby in a mud hut, teaching Vietnamese soldiers from the city how to swim across rivers and canals, and teaching English to Vietnamese citizens who wanted to advance their education.
After the war, Caine went on to serve in several other roles, including as an instructor for ROTC programs and educator for universities and military colleges. But even in retirement, Caine never stopped serving. In 2019, Caine was named Outstanding Volunteer of the Year at Patriots Point Maritime Museum, a tribute to his lifetime of service to others.
Now he greets museum visitors at the Vietnam Experience Exhibit. Whenever a Vietnam veteran wanders through, he presents the veteran with a pin.
"We meet with veterans all the time," Caine said. "I try to make it into a little ceremony. It is absolutely amazing how people have come to recognize their honorable service."
Protect Your TRICARE Benefits
Tell Congress to make sure servicemembers and their families get access to care they need.