When NASA astronaut Doug Hurley returned to Earth in 2011 after piloting the space shuttle Atlantis to the International Space Station (ISS) in the shuttle program's final mission, he assumed he'd made his last spaceflight.
It was his second shuttle mission, following countless missions as a fighter pilot and test pilot for the Marine Corps. But now, the retired colonel is putting a spacesuit back on for a return to orbit – this time on a commercial spacecraft.
"I certainly didn't expect to fly again," Hurley said May 2 during a NASA press conference about the May 27 launch. "It's a great honor to be part of this mission. It's just amazing after all this time to be less than a month away from launch down in Florida."
Hurley, a MOAA member, joins fellow officer Col. Bob Behnken, USAF, to form the two-man crew of SpaceX's Crew Dragon from NASA's Kennedy Space Center. It will be the first crewed launch from the United States since Hurley and three crewmates lifted off aboard Atlantis on July 8, 2011.
[RELATED: The First Person to Walk on Mars Could Be an Officer]
Hurley retired from the Marine Corps in 2012 after 24 years in uniform. He served as a fighter pilot and test pilot, and was selected to be a NASA astronaut in 2000.
In 2009, Hurley piloted the space shuttle Endeavour to the ISS; when the crew arrived, they were part of a record-breaking international team of 13 astronauts working on the station.
Hurley piloted Atlantis two years later, then went on to become assistant director for NASA's Commercial Crew Program. He was asked not just if he would fly again, but fly on a commercial vehicle.
"And at that point, I thought that was probably an exciting thing to do," Hurley said. "I think Bob and I are very humbled to be in this position in order to do that."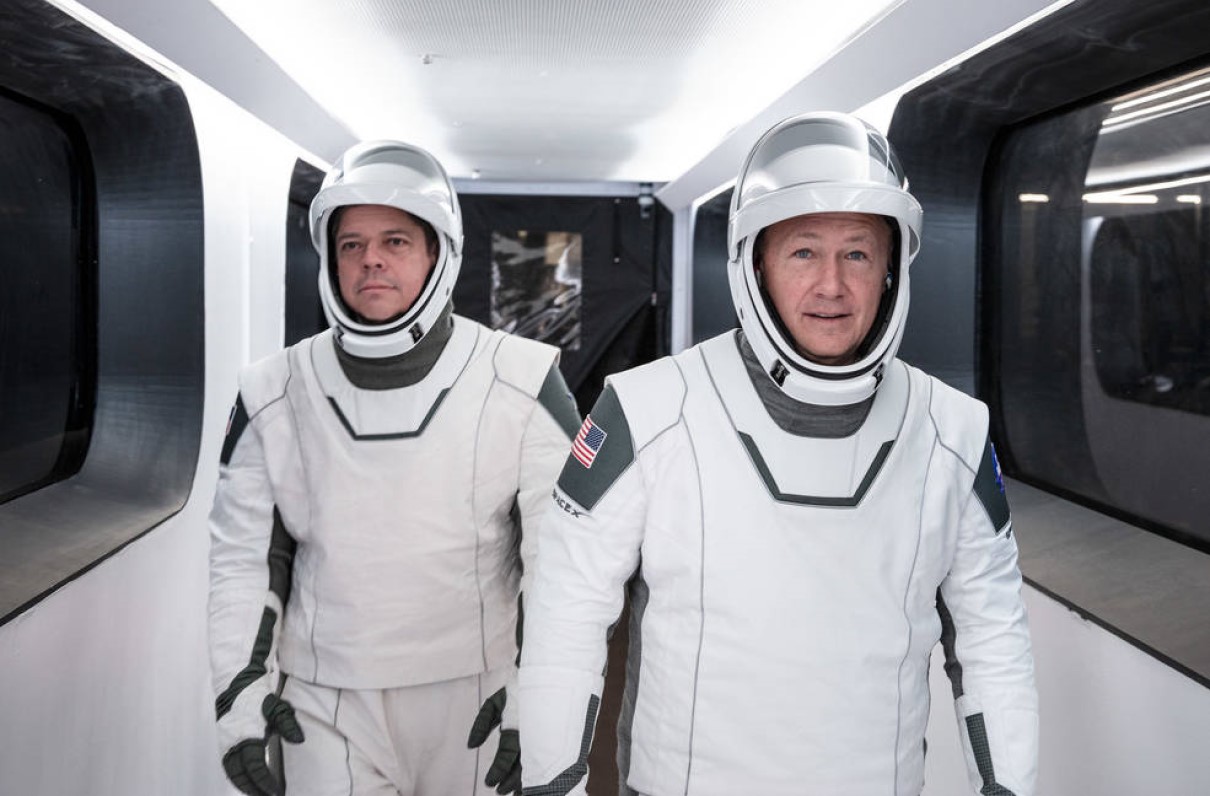 NASA astronauts Col. Bob Behnken, USAF, left, and MOAA member Col. Doug Hurley, USMC (Ret), walk through the crew access arm connecting the launch tower to the SpaceX Crew Dragon spacecraft during a dress rehearsal at NASA's Kennedy Space Center in Florida on Jan. 17. (SpaceX via NASA)
The Commercial Crew Program pairs NASA with the aerospace industry to launch astronauts on American rockets from the United States. The flight will provide data toward certifying SpaceX's crew transportation system for regular flights carrying astronauts to and from the space station.
The astronauts will reach the ISS, where they will spend about three months.
The spacecraft was designed by SpaceX with input from NASA and the astronauts. Behnken and Hurley said they wanted to offer useful suggestions that could be passed down to future crews.
The astronauts said they were impressed with SpaceX's rapid responses to fix issues and make changes, giving them confidence in the ability to solve problems that could come up during the mission.
"Just to see the vehicle essentially come from very little or preliminary design to where it is today and the operability of the vehicle, the clean lines, how it is inside the vehicle, how it is for the crew … we're just excited to kind of put it through the paces when we get ready to go fly," Hurley said.
The commercial vehicle will have advanced features, like touch-screen controls. But some of the accommodations will take the astronauts back to their time in the military.
"We do have some limitations," said Behnken, who also has two shuttle missions under his belt after starting his NASA career in 2000. "We don't have an oven and we don't have a way to add water really to the food that we have, so we won't have any rehydrated food. For a former Marine and an Air Force guy who grew up with a Marine father, we'll be eating (Meals, Ready-to-Eat), so it'll be just like our childhood probably, or earlier in our career."
Behnken also revealed another major pre-launch inventory concern, saying the astronauts are "hoping we still get a reprieve and they figure out a way to put coffee on board the vehicle."