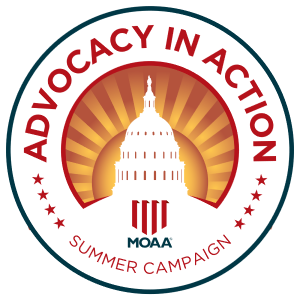 Both the House and Senate addressed one of MOAA's top priorities – cuts to the TRICARE Pharmacy network – in their mark-ups of the FY 2024 National Defense Authorization Act (NDAA). Language in both versions requires reporting on the beneficiary impact of the narrowed network, which shrank by nearly 25% in the last 12 months.
After the October 2022 departure of approximately 15,000 independent pharmacies from the TRICARE network, hundreds of MOAA members and other TRICARE beneficiaries reached out to us expressing anger and disappointment with yet another TRICARE cut. A Congressional Research Service report later revealed the network reduction was driven by reduced network requirements in the new TPharm5 contract: The Defense Health Agency (DHA) dropped the minimum number of network pharmacies from 50,000 to 35,000 as a cost-cutting measure, allowing Express Scripts to construct the narrowed network.
[TAKE ACTION: Urge your Elected Officials to Support a TRICARE Pharmacy Network Report]
This has created access challenges for rural residents, the elderly, and those with serious, chronic medical conditions. With both Walgreens and CVS currently in network, most healthy families in metro areas can still access medications for their occasional prescription needs, but they recognize the network cut has reduced the protections TRICARE should provide.
Many affected beneficiaries already use mail order for maintenance medications, but they now face challenges in obtaining prescription drugs for acute conditions. For instance, MOAA recently heard from a beneficiary in Idaho whose town had two independent pharmacies in the TRICARE network; he now has to drive nearly 27 miles, one way, to get to the nearest network pharmacy.
Members Can Make a Difference
MOAA appreciates the efforts of our spring Advocacy in Action participants – both in person and online – who took the pharmacy network cuts issue to lawmakers on Capitol Hill. But we still need your help to get the optimal report requirements included in the final version of the FY 2024 NDAA; that's why the issue remains part of our 2023 Advocacy in Action Summer Campaign.
We thank both the House and Senate for responding to MOAA's request for a report on beneficiary impact. The Senate's committee report included directive report language for a Government Accountability Office (GAO) report on TRICARE's pharmacy network cuts. While this language is not legally binding, agency officials generally regard it as a congressional mandate and respond accordingly.
[NDAA UPDATE: What's in the House and Senate Bills, and What Happens Next]
MOAA appreciates Rep. Joe Neguse (D-Colo.) who submitted a floor amendment with detailed DoD reporting requirements that was included in the House version of the NDAA. Section 765 of that bill requires an analysis of the change in access from TPharm4 to TPharm5, with a focus on rural families, long term care residents, and medication compliance rates.
Please join MOAA's efforts to ensure robust reporting requirements are included in the final version of the FY 2024 NDAA by contacting your lawmakers today.
MEDIPLUS® TRICARE Supplement
Works hand-in-hand with your Select or Prime Plan. Count on valuable protection.