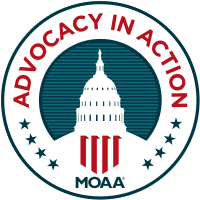 MOAA continues efforts to restore the TRICARE pharmacy network by including the issue as part of our spring Advocacy in Action (AiA) event, where more than 200 MOAA members will visit congressional offices to generate support for MOAA's legislative priorities.
With the new TPharm5 contract, the TRICARE pharmacy network has been reduced by nearly 25% – from about 55,000 locations last year to 42,000 locations as of February 2023. The cut was driven by reduced network requirements within the contract – a cost-savings measure.
[NEW ADVOCACY IN ACTION REQUEST: Help MOAA Fight Cuts to the TRICARE Pharmacy Network]
Many independent pharmacies report contract terms that would not even cover their costs to procure medications, forcing them to choose between leaving the network or serving TRICARE beneficiaries at a financial loss.
Most beneficiaries won't be immediately impacted by this cut – healthy families in metro areas still have plenty of options for occasional medication needs and common maintenance medications, including the TRICARE Home Delivery program. However, the narrowed pharmacy network diminishes TRICARE protections in the event of serious illness or injury or more complex needs needs due to aging – in this way, it presents a threat to all beneficiaries.
There are approximately 66,000 retail pharmacies in the U.S. Less than a year ago, there was an 83% chance a beneficiary's pharmacy would be in the network. Now, that sits at 64%, and it could drop to 53% based on minimum contract requirements.
[SHARE YOUR STORY: Have the TRICARE Pharmacy Cuts Affected Your Care?]
Network cuts also disproportionately impact rural communities, which tend to have a lower presence of large chain drug stores and are more often served by independent pharmacies and Walmart, which left the network in December 2021. Many rural residents must drive past Walmart and their community pharmacies to get to a network pharmacy for acute medication needs.
TRICARE's narrowed network also falls short of a key benchmark – FEP Blue, the Blue Cross Blue Shield plan that covers two-thirds of Federal Employee Health Benefit Program (FEHBP) participants. FEP Blue boasts more than 55,000 pharmacies in its national network, and TRICARE benefits should be on par with the benchmark set for civilians who serve in the federal government.
Advocacy in Action messaging will present the pharmacy network reduction in the context of a series of TRICARE cuts that have eroded the benefit in recent years, including an unprecedented TRICARE Select enrollment fee, a higher catastrophic cap, medical encounter copays that have doubled in many instances, and a new pharmacy formulary Tier 4 that eliminates coverage for certain drugs approved by the Food and Drug Administration (FDA).
The military health care benefit is an obligation our nation has incurred to sustain the all-volunteer force. Fulfilling this obligation is particularly important during the current recruiting crisis when our nation needs key influencers, including current and former servicemembers and their families, to endorse military service. Cutting the TRICARE benefit for those who have served for decades not only betrays uniformed services retirees, it also risks reducing their likelihood of recommending service to the next generation.
Take part in MOAA's Advocacy in Action campaign by contacting your lawmakers today -- even if you've already contacted them on this issue using previous links to our Legislative Action Center, you can still click to add your voice again as part of AiA efforts. Keep up with new details on this and other legislative efforts at MOAA's Advocacy News page.
MEDIPLUS® TRICARE Supplement
Works hand-in-hand with your Select or Prime Plan. Count on valuable protection.