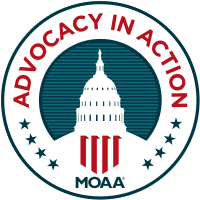 More than 170 MOAA chapter members and board members from across the nation brought MOAA's legislative message to Capitol Hill on April 26 for the organization's annual Advocacy in Action (AiA) event.
Members spent the day inside the offices of House and Senate members, informing legislators and their aides about MOAA's top legislative priorities, including restoring the Basic Allowance for Housing (BAH) to 100% and preserving access to the TRICARE pharmacy network. It was the first time the event was held in person since 2019.
[RELATED: MOAA's Advocacy in Action 2023]
Jillian Rogers, a member of the MOAA Currently Serving Spouse Advisory Council, and Col. Kim Biever, USA (Ret), a member of MOAA's Uniformed Services Nurse Advocates Virtual Chapter, enjoyed their first AiA experience. They visited with staff from Texas Reps. Joaquin Castro, Tony Gonzales, and Henry Cuellar, and walked away impressed with the positive reception and their knowledge of military affairs.
"All of them were eager to share what they were doing for military families, veterans and servicemembers," Rogers said. "It was not what I was expecting."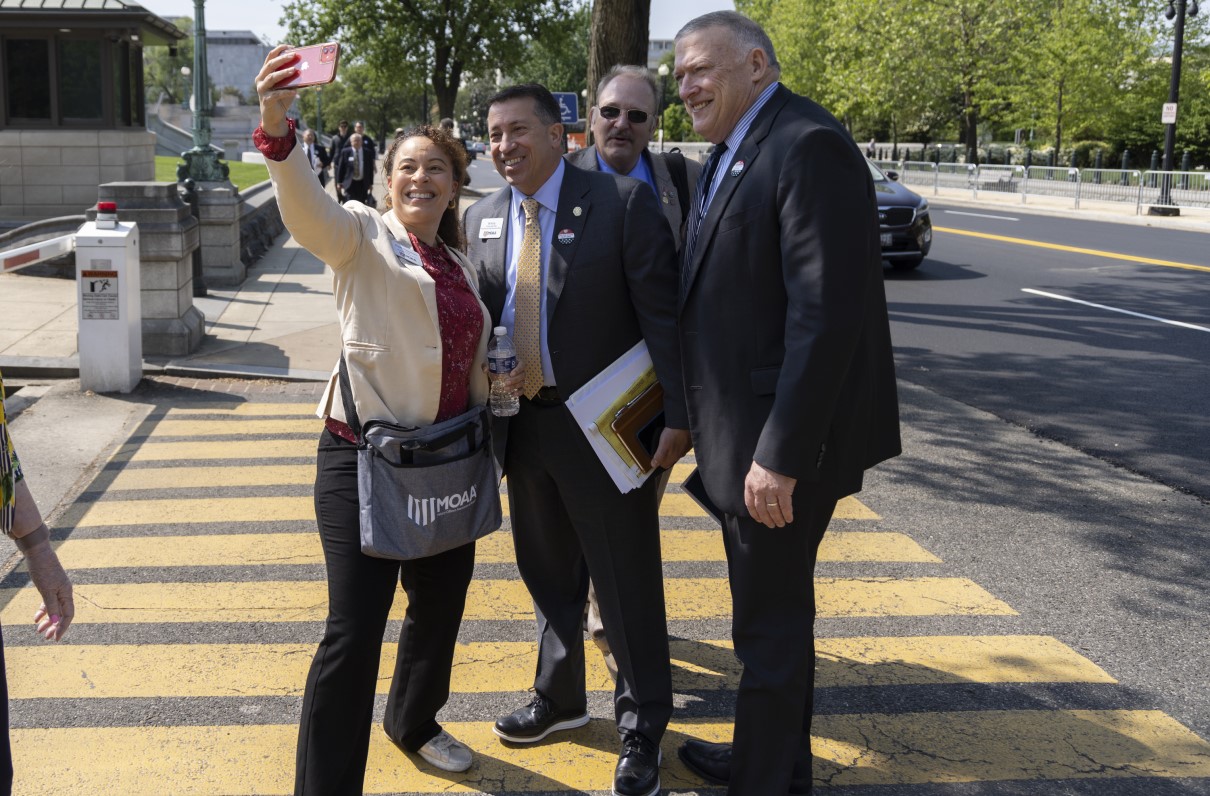 MOAA Board Member Col. Rojan J. Robotham, USAF, snaps a selfie with (from left) MOAA President and CEO Lt. Gen. Brian T. Kelly, USAF (Ret), MOAA Chairman of the Board Gen. Gary L. North, USAF (Ret), and Virginia MOAA Vice President of Legislative Affairs Col. Monti Zimmerman, USA (Ret), during MOAA's Advocacy in Action event April 26, 2023, in Washington, D.C. (Photo by Mike Morones/MOAA)
Both Biever and Rogers have seen the impacts of the BAH cuts firsthand. According to Biever, there is a waiting list of over a year to live on base at Joint Base San Antonio, forcing many families to live off base and weigh quality-of-life decisions – commutes, neighborhoods, and school districts, for example – against living expenses. Rogers said despite having two incomes with her husband, a lieutenant commander in the Navy, making ends meet in Northern Virginia is still tough.
"We are seeking the best schools, so that usually means giving up on housing," said Rogers, who has three young children. "They are taking all of our BAH and a good chunk of the income I bring in [just] to be in a subpar rental house."
[TAKE ACTION: Urge Your Legislators to Pay Full Housing Costs for Servicemembers]
MOAA Northwest Arkansas Chapter President Col. Robert Crawford, USA (Ret), had never experienced in an in-person AiA but had participated in the last three virtual events. Crawford met with Rep. Steve Womack (R-Ark.) early Wednesday morning; Womack is working on a bill that would make the Basic Needs Allowance non-taxable for servicemembers, like BAH.
During his meeting with Womack, Crawford expressed the tangible benefits of restoring the BAH to 100%. While BAH rates vary by paygrade, location, and other factors, one MOAA calculation using DoD and other government figures found an E-5 in a military housing area representing the national average would receive $111 more per month if BAH moved from its current 95% of housing costs back to 100%. This would partially lessen a $433 gap between that servicemember's projected expenses and compensation.
"It's not going to make up for the shortfall, but it's going to make a dent," Crawford told Womack.
[MOAA ISSUE PAPER: Pay Full Housing Costs for Servicemembers]
Virginia MOAA Vice President of Legislative Affairs Col. Monti Zimmerman, USA (Ret), and MOAA board member Col. Rojan J. Robotham, USAF, met with Rebecca Eichmann, a staffer from Rep. Abigail Spanberger's office, who said the Virginia Democrat would support restoring the TRICARE pharmacy network. Late last year, the network dropped thousands of independent pharmacies; the year before, it dropped Walmart from its rolls.
Eichmann cited her hometown near Orange, Va., where some servicemembers who had been able to use the local Walmart for their prescriptions needing to drive 40 minutes to Charlottesville to find a network pharmacy.
[TAKE ACTION: Help MOAA Fight Cuts to the TRICARE Pharmacy Network]
Illinois MOAA Council President Col. Robert Tyler, USMC (Ret), met with a legislative aide of suburban Chicago area Rep. Brad Schneider (D-Ill.) and spoke about the importance of earned benefits as a way to recruit more individuals to the military. Despite 83% of recruits coming from military families, fewer and fewer veterans are recommending serving their country.
"My son's father-in-law, who was a Navy captain, is telling his grandkids not to go to the military," Tyler said.
[TAKE ACTION: Contact Your Legislators and Urge Them to Support the All-Volunteer Force]
Col. Michael Fricano, USAF (Ret), a member of MOAA's Hawaii Aloha Chapter, left, meets with Rep. Ed Case (D-Hawaii) in Case's Washington, D.C., office on April 26 as part of MOAA's Advocacy in Action event. (Photo by Rachel Barth/MOAA)
Overall, this year's AiA was a successful one, said MOAA Senior Director of Government Relations Cmdr. René Campos, USN (Ret).
"AiA is a great experience for local chapter members to reinforce MOAA's obligation to care for all who serve and have served," Campos said.
MOAA Looks Out For You
MOAA is committed to protecting the rights of servicemembers and their families. Lend your voice and support these efforts today. Because the larger our voice is, the greater our impact will be.