(This article originally appeared in the May 2022 issue of Military Officer, a magazine available to all MOAA Premium and Life members. Learn more about the magazine here.)
Rear Adm. Nancy Hann, a descendant of farmers in landlocked Illinois, chose her own path, exploring our oceans from quite literally every angle.
Through her many roles at the National Oceanic and Atmospheric Administration, she has flown aircraft in hurricanes, traversed the waves aboard ship, and explored depths as a scientist and certified diver. She now serves as director of the NOAA Office of Marine and Aviation Operations and NOAA's Commissioned Officer Corps.
Hann has led the Corps' cadre of 329 officers since January 2021, first in an acting role, but then officially confirmed in November. She took the helm as the service is poised to onboard more personnel as well as new aircraft and ships.
Hann sat down with Military Officer to elaborate on the service's high op-tempo and plans to expand. This interview has been edited for length and clarity.
[MOAA INTERVIEW: Meet the First Woman Chief of the Army Reserve]
Q. You have such diverse experience at NOAA Corps. Can you talk about how those experiences led up to this role and prepared you?
A. It was just opportunities that arose starting with my undergraduate education, in the first positions out of that with NOAA as a civilian, as a fisheries observer and then throughout my career working in really all the different parts of our portfolio.
It's given me a really good idea of the importance of the data we collect, on what products and services come about as a result of that data, and how that serves the nation. There is an insatiable need for the data that we provide. The pressures have never been greater on our workforce.
[MOAA INTERVIEW: Astronaut Charlie Duke Reflects on 50th Anniversary of Apollo 16]
Q. Can you talk about what you mean when you say the pressures have never been greater?
A. Hurricane forecasting. We fly the aircraft to collect the data that directly goes into the forecast, and that tasking [has] increased 100% since 2016. We fly tornado research. We're using our uncrewed systems working across NOAA to fly and assess the damage. Flooding maps for water management. Accurate forecasts for crops for food security. We collect the data that informs when they open the dams in the West and when they leave them closed to manage that critical water supply.
So, for all the data we collect, I have never seen so much pressure and importance on that data to inform really every American every day, whether it's in their livelihood, their recreation, our economic security of our country. Even a lot of the national security.
[MOAA INTERVIEW: The Future of the USPHS Commissioned Corps]
Q. Do you think this is having an impact on public awareness of NOAA Corps' mission?
A. I don't know if the message is as clear as it needs to be — what the NOAA Corps' role is in that data. I mean, it's critical. We fly the aircraft, we sail the ships, we operate and prepare the uncrewed systems in partnership with our civilian teammates, but NOAA Corps is absolutely at the nexus of all the data.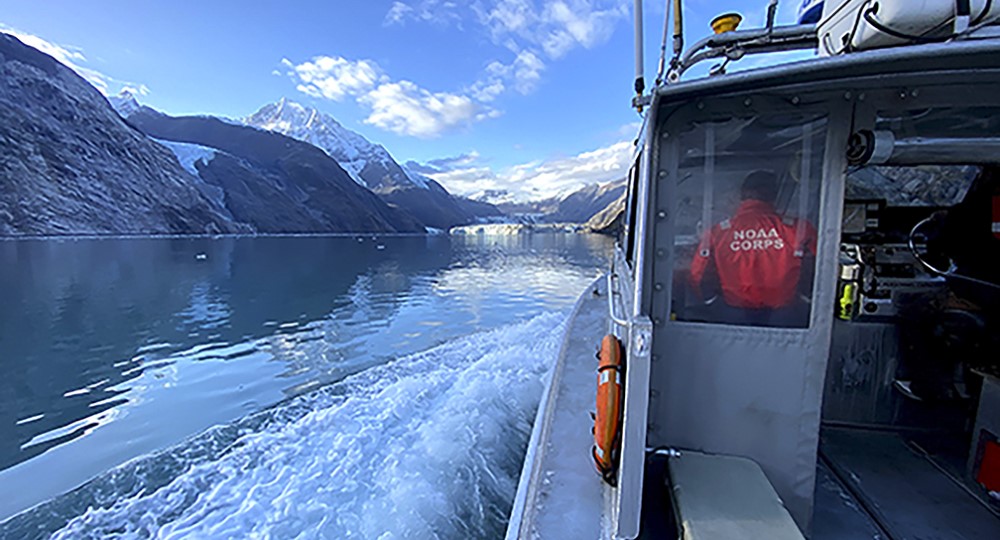 A NOAA Corps officer navigates a survey launch from a NOAA ship in Alaska. (Photo by Ensign Jessica Spruill/NOAA Corps)
Q. Hearing of the additional work, the NOAA Corps would have to grow to accommodate all that.
A. We're pretty much at critical capacity right now to meet those demands. We were capped at 321 for many, many years by our authorization. The NOAA Corps Amendment Act passed [in 2021], and that allows us to grow to 500 officers.
Q. Do you have any major gaps in your specialties or career fields right now?
A. We don't have any gaps. One of the emerging areas is uncrewed systems. As I mentioned with tornadoes, that is an asset we could provide. We use it for hurricane research. We use it for marine mammal surveys, which directly feed into the commercial fishery forecasting quota. We're using marine [uncrewed systems], both on the surface and underwater, like gliders. So, we're looking at the whole spectrum of applications.
[MOAA INTERVIEW: Gen. Charles Q. Brown Jr., Air Force Chief of Staff]
Q. Can you talk more about the uncrewed mission and how it has evolved?
A. I was involved in the first application of uncrewed systems for NOAA back in, 2006, I think. That was flying an uncrewed aircraft system into a hurricane. It's only grown since then. We did applications in the Antarctic. We put gliders in the weather to help study hurricanes. We've deployed aircraft systems on the Aleutian Islands to study Steller sea lion populations, which directly informs pollock [fish] forecasts. We work really closely with industry, academia.
Q. Are there other tech upgrades you can speak to?
A. We brought on the first new NOAA aircraft in 10 years, which is really exciting. It's called the Snow Survey Mission, and it collects all of the baseline data that informs basically water forecasts. So, it tells municipalities, "When this snow melts, you're going to have this much water for use, you're going to have this much flooding." It's the baseline to all of the water movement in the U.S., and we transitioned that mission to a new aircraft, which is more capable.
Then, we're building a new high-altitude jet right now [the G550]. It can fly higher, which is good for hurricanes and the weather service systems we fly. It is the most advanced climate aircraft in the world.
Military Officer

Magazine
Discover more interesting stories in MOAA's award-winning magazine.