(This article originally appeared in the July 2021 issue of Military Officer, a magazine available to all MOAA Premium and Life members. Learn more about the magazine here; learn more about joining MOAA here.)
Gen. Charles Q. Brown Jr. became a point of pride in the Air Force's rich history when he was confirmed as the service's 22nd chief of staff — marking the first time a Black general took the helm of the service.
As he wrapped up his first year, Brown reflected on his experiences and shared his vision for the future of the Air Force with Lt. Gen. Dana T. Atkins, USAF (Ret), MOAA's president and CEO. The interview was edited for length and clarity.
Q. What is the Air Force doing to improve diversity and inclusion?
A. After George Floyd's passing, we conducted an independent racial disparity review that was mostly focused on African Americans. Then we started a secondary study … to look at a broader audience of our diverse candidate populations inside the Air Force. We're taking a look now at some of the root causes of why we see some of these disparities, and it's forced us to think about some of the data that we collect; the data that we do have that we probably haven't looked at as well; and thinking about how we discipline and how we use our disciplinary tools, promotion eligibility, and career development. It's opened up a great conversation inside the Air Force.
[MORE MOAA INTERVIEWS: Watch MOAA's Interview With Col. Shane Kimbrough, USA (Ret), From Orbit]
Q. What is the Air Force doing to meet the challenges of recruiting?
A. If you want to serve, we're going to look at opportunities at how we might bring you into the Air Force throughout the total force. That, to me, is the approach. Recruiters typically would visit schools and strip malls — well, they've got to be a little more creative. There was a video shared with me about a recruiter in Mississippi. He's got a whole rap video about Team Blue, about being part of the Air Force. It's extremely well done. You've got to love the ingenuity and innovation of our airmen and our recruiters to do something like that, to grab a young person's attention and go, "There are some opportunities inside of our United States Air Force."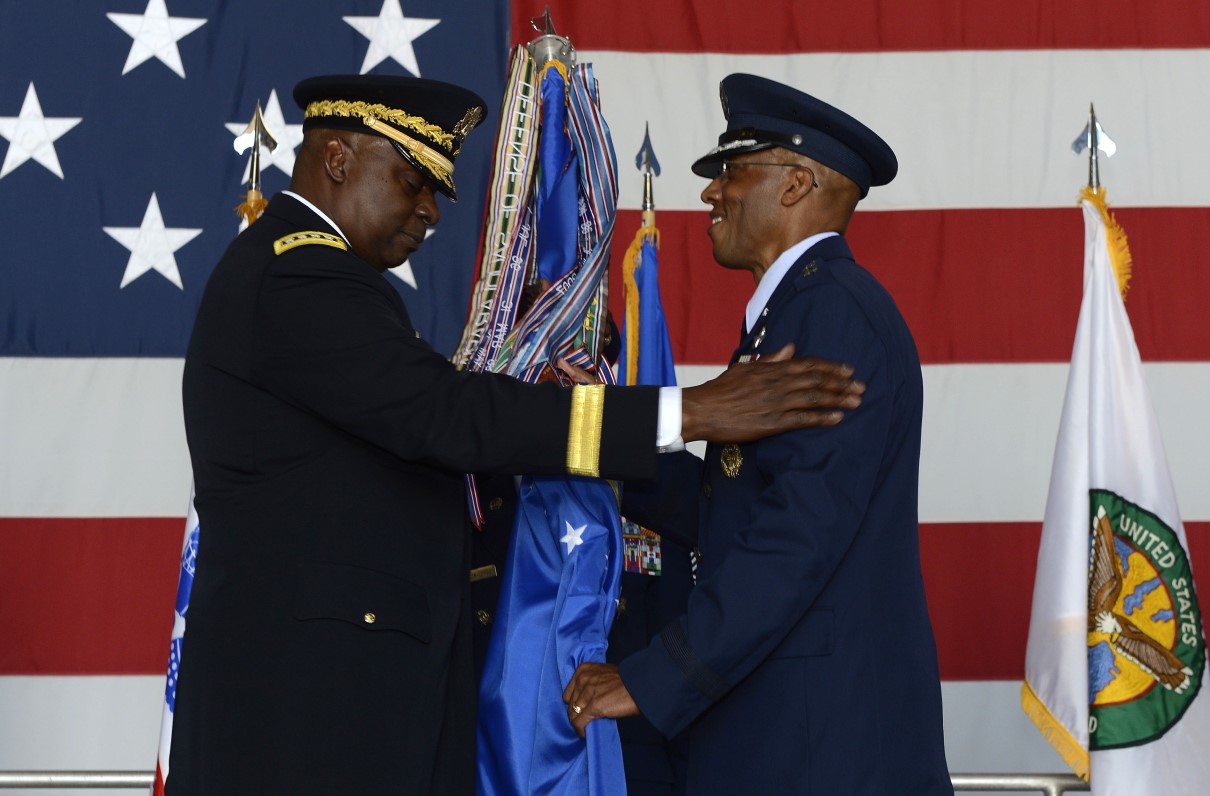 Then-Lt. Gen. Charles Q. Brown Jr., right, receives the U.S. Air Forces Central Command guidon from then-Gen. Lloyd J. Austin III, USA, during a change of command ceremony at Shaw Air Force Base, S.C., in 2015. (Photo by Senior Airman Jensen Stidham/Air Force)
Q. How is virtual reality (VR) helping advance training in the Air Force?
A. Virtual reality is a bit more immersive. The other aspect of this is being able to tailor the course pathway to the student versus one-size-fits-all. Before students even start flying, they get a set of VR goggles. They can actually sit in a chair in a room in their house and fly the [Visual Flight Rules] pattern before they even got in an airplane because you put a GoPro [camera] on somebody's helmet, and then they talk through all the things they're seeing.
Q. Tell me about the Air Force's priority of nuclear recapitalization.
A. For a number of years, we've looked at this and then kind of pushed it to the side for other priorities. I don't know that we can push it aside anymore. As we continue with the programs we have, our adversaries — particularly our great power competitors — have been modernizing over the past several years. So we have to take a hard look at how we modernize to maintain the triad.
[MORE MOAA INTERVIEWS: Gen. Michael X. Garrett, USA, Head of Army Forces Command]
Q. Tell me about your emphasis on developing young leaders.
A. How do we develop better leaders and empower them to make decisions? I do believe that goes from my level down to our first-line supervisors. I think about the dynamics we're living in today … COVID, racial disparity, sexual assault, suicides, other stressors … we've got to develop leaders that can handle those and work and lead the airmen and families. It's giving them the right tools so they can feel comfortable leading and making those decisions.
Q. How is the Air Force working to reduce sexual assault and harassment?
A. We need to focus more on how we prevent the event and create the culture and environment where all of our airmen can reach their full potential. This is what goes back to developing those leaders that hold all of our airmen accountable on what we expect in accordance with our core values. That, to me, is the most important thing we can do in addition to the programs we lay out. It requires leadership at the lower levels to put these programs in place and give them life to drive that prevention. At the same time, we've got to support those that become victims of sexual assault, sexual harassment, or any other interpersonal violence or harassment.
Q. What books are on your reading list for airmen?
A. Lincoln on Leadership by Donald T. Phillips (Warner Books Inc., 1992), The Infinite Game by Simon Sinek (Portfolio, 2019), and No Rules Rules: Netflix and the Culture of Reinvention by Reed Hastings and Erin Meyer (Penguin Press, 2020).
Being an Officer Isn't Always Easy. Getting Advice from One Is.
We've filmed some of the more than 360,000 members of our community speaking about the issues they've faced over the years. See the latest from our Officer to Officer series.