NASA astronaut and MOAA member Col. Shane Kimbrough, USA (Ret), is set to head back to space.
Kimbrough is one of four astronauts on the second operational Crew Dragon mission (Crew-2), SpaceX's second long-duration mission with NASA as part of the Commercial Crew program. The Crew Dragon is expected to launch atop a Falcon 9 rocket from NASA's Kennedy Space Center in Florida the morning of April 22; Kimbrough and crew will dock at the International Space Station (ISS) for a six-month stay.
[UPDATE: Launch Delayed by Weather Until April 23 | Learn More]
Kimbrough will serve as the spacecraft commander. Fellow NASA astronaut Megan McArthur will be the pilot. They will be joined by astronauts Akihiko Hoshide of the Japan Aerospace Exploration Agency and Thomas Pesquet of the European Space Agency.
This is the first time more than one international partner will fly on a Commercial Crew vehicle, according to NASA.
[RELATED: As One MOAA Member Returns From Space, Another Prepares for Liftoff]
Kimbrough, a 1989 graduate of the U.S. Military Academy who was selected as a NASA astronaut candidate in 2004, is used to international partnerships, dating back to his service as a helicopter pilot.
"My first assignment in the Army was going to the Gulf War … we were going to work with other countries," Kimbrough told Military Officer in 2019. "We were all on the same team. That's certainly the way things are here at NASA. We have all these different countries that are working toward a common goal. It benefits all of humanity; it doesn't just benefit Americans. That's a neat thing to be part of. When I'm up there, I'm super humbled to be serving all of humanity."
[RELATED: The First Person to Walk on Mars Could Be a Military Officer]
Kimbrough has logged 189 days in space – 16 aboard the space shuttle Endeavour in 2008 and the rest as part of ISS Expedition 49/50 in 2016-17. He served as ISS commander during that expedition, performing four spacewalks lasting more than 26 hours combined.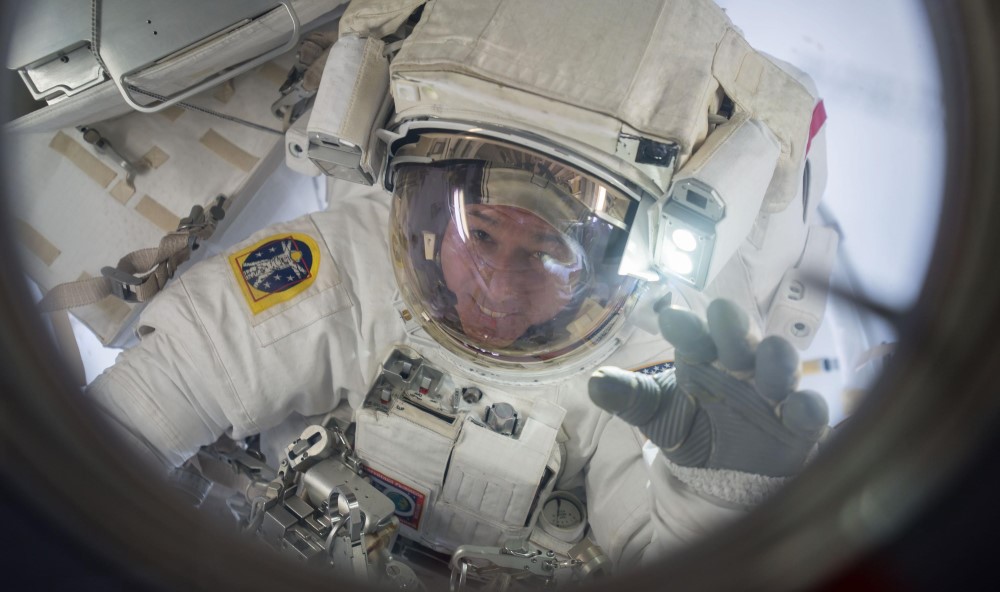 Astronaut Shane Kimbrough is seen floating in the Quest airlock at the end of a 2017 spacewalk outside the International Space Station. (NASA photo)
The rest of the Crew-2 team also has spent time in space, as has their ride: The capsule, which shares the name Endeavour with the shuttle, carried Col. Bob Behnken, USAF, and MOAA member Col. Doug Hurley, USMC (Ret), into space for their 2020 mission.
Endeavour remained docked at the ISS for two months. It returned to Earth in August 2020 by splashing down in the Gulf of Mexico. Repairs to its heat shield, hull, and valves, among other areas, have been completed in preparation for the April 22 launch.
The ISS will have 11 people on board once the Endeavour crew arrives to join the Expedition 65/66 crew. It will be the most people on board the ISS at once since the days of the space shuttle, according to NASA.
Follow NASA for updates to the launch schedule.
Jump-Start Your Career
Gain access to all of MOAA's career tools available for you and your spouse.