While one MOAA member splashed down after a history-making trip to space, another is preparing for takeoff.
NASA astronaut Col. Doug Hurley, USMC (Ret.), returned to Earth on Sunday from the International Space Station, completing the first crewed mission launched from the United States since 2011. The mission paves the way for future crewed missions, which will include NASA astronaut Shane Kimbrough, a retired Army colonel and, like Hurley, a MOAA member.
"It was an honor and a privilege to be part of Expedition 63," Hurley said on Twitter shortly after splashing down in the Gulf of Mexico alongside crewmate Col. Bob Behnken, USAF (Ret). "Now it's time to finish our DM-2 test flight in order to pave the way for future Dragon crews."
[RELATED: This First Person to Walk on Mars Could Be an Officer]
SpaceX helped NASA develop the spacecraft for the mission as part of NASA's Commercial Crew Program, which pairs NASA with the aerospace industry to launch astronauts on American rockets from the U.S. This flight provides data toward certifying SpaceX's crew transportation system for regular flights carrying astronauts to and from the space station.
Hurley's a retired fighter pilot and test pilot for the Marine Corps who piloted two space shuttle missions, including the program's final launch in 2011. Behnken racked up 1,500 flight hours in more than 25 different types of aircraft and served as a mission specialist on two Space Shuttle missions.

He retired from the Marine Corps in 2012 after 24 years of service. He went on to become the assistant director for NASA's Commercial Crew Program and, this year, NASA pulled him back into uniform to be part of the historic launch.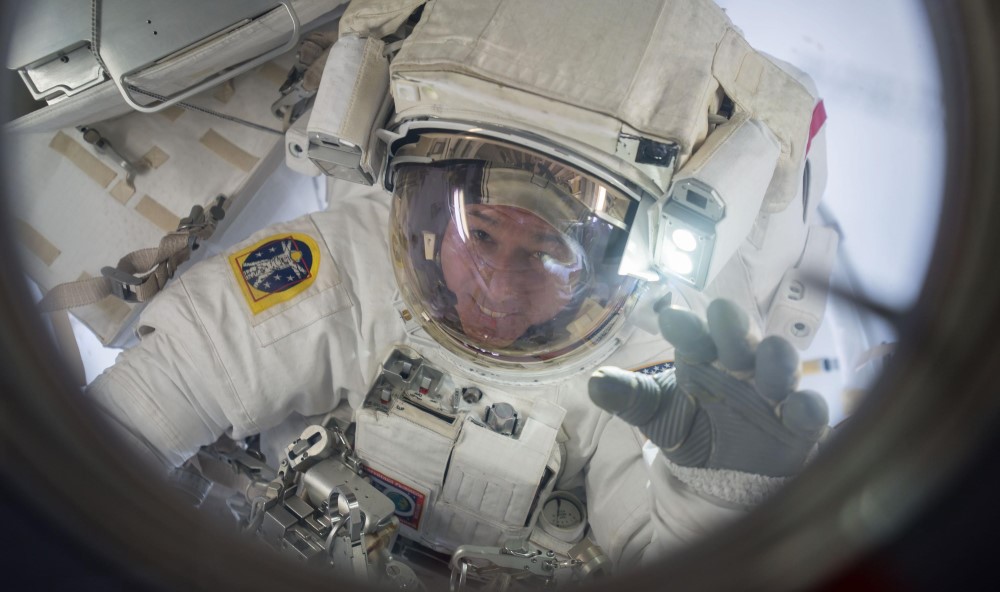 Astronaut Shane Kimbrough is seen floating in the Quest airlock at the end of a 2017 spacewalk outside the International Space Station. (NASA photo)
Back in Orbit
The next crewed mission to launch from U.S. soil, NASA's SpaceX Crew-1, is targeted for late September. Its four-person crew includes two military officers: Col. Michael Hopkins, USAF, will command the mission, which will be piloted by Cmdr. Victor Glover, USN.
A third mission, SpaceX Crew-2, is planned for Spring 2021. Days before Hurley's flight splashed down safely, NASA announced Kimbrough would serve as the spacecraft commander for that mission.
Kimbrough was selected as a NASA astronaut in 2004 and has completed six spacewalks and spent more than 39 hours outside of the ISS. His recent work includes developing the spacecraft for NASA crews that will travel to the moon.
He will be accompanied by NASA astronaut Megan McArthur, the spacecraft pilot, as well as Akihiko Hoshide, a pilot from the Japan Aerospace Exploration Agency, and astronaut Thomas Pesquet, from the European Space Agency.
MOAA Knows Why You Serve
We understand the needs and concerns of military families – and we're here to help you meet life's challenges along the way. Join MOAA now and get the support you need.