By Contributing Editor Blair Drake
In 1988, when Col. Frank Plummer, USA (Ret), began his designs for a war memorial in McAllen, Texas, he wanted to build something that honors U.S. veterans from all conflicts. "I could picture it perfectly," he said.
But today, when he looks at the 105-foot-tall black granite spire at the center of the Veteran's War Memorial of Texas, he admits it's beyond what he ever could have envisioned. "It's so majestic, beautiful, and peaceful," he said.
Surrounding the spire on the memorial's 5-acre site are statues, pedestals, granite walls, flagpoles, plaques, and other historical objects divided into sections representing the wars and conflicts in which U.S. servicemembers have fought.
Plummer's military service is represented in three of these. The 95-year-old served in World War II, the Korean War, and the Vietnam War.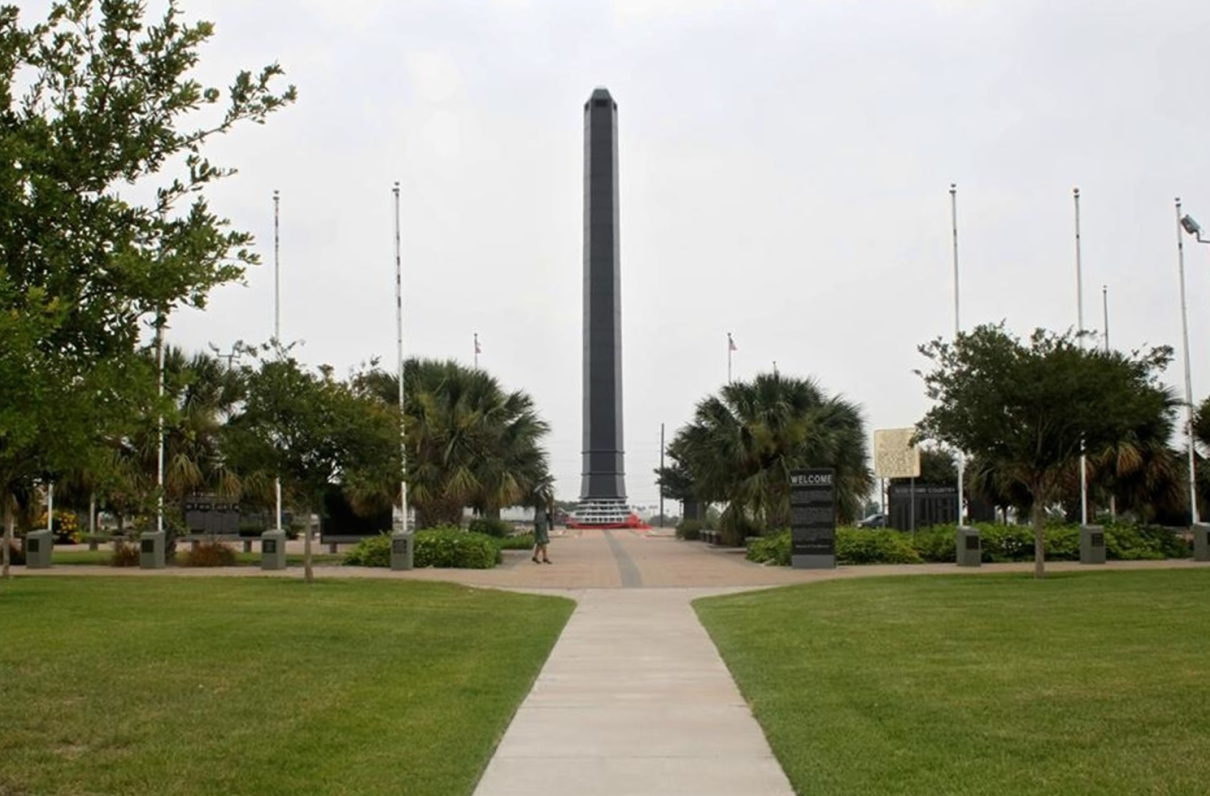 The 105-foot black granite spire stands at the center of the Veteran's War Memorial of Texas. (Photo courtesy of the City of McAllen)
He joined the Army in 1943 and attended Officer Candidate School, graduating a second lieutenant. The paratrooper then deployed to the Philippines.
[RELATED: Above and Beyond: Brig. Gen. Charles McGee, USAF (Ret), on His World War II Service]
When the war ended, he returned to the U.S. and headed to the University of Oklahoma on a football scholarship. Still in the reserves, Plummer was asked to go to Germany when the Berlin Airlift began. "I had plans to become a doctor," he said. "But I wanted to go back into the Army."
After serving five months at Rhein-Main air base in Frankfurt, Plummer had several other assignments before making regular Army. His career continued with assignments teaching ROTC, in Korea and Japan, and then with the 82nd Airborne Division. He later served in Vietnam from 1964-65 and again from 1971-72. While there, he was wounded, for which he received a Purple Heart.
After retiring from the Army in 1975, Plummer and his wife and children moved to McAllen, where he began working as a real estate broker.
The patriotism of the city's residents was part of the inspiration for the memorial. "This is one of the most patriotic places I've ever been," he said.
Around 1999, just over 10 years after getting approval for the project, he finally had raised enough money to start building the first section of the memorial on the 5 acres of land the city had donated.
"The Warrior" statue is dedicated to Medal of Honor recipients, one of several displays surrounding the base of the spire. (Photo courtesy of the City of McAllen)
"You name it, we did it for fundraising," he said. "We sold bricks, went to stores and asked for donations, held dances and parties, and sold flagpoles and benches to business and schools."
With his design coming to fruition, he quit his real estate job to focus full-time on the memorial.
He projected the memorial would take until 2017 to complete. Today, only a few finishing touches remain, including installation of a sound system and the dedication of the Martha Washington statue.
In total, Plummer, who continues to serve as president of the Veterans War Memorial Foundation of Texas, has raised over $4 million for the project.
"I've always liked a challenge, and I've never quit at anything," he said. "This isn't a job to me. I enjoy it."
He especially enjoys seeing children visiting the memorial.
"I designed [the memorial] on the concept of an outdoor schoolroom," he explained. "I wanted to make it interesting for children. … They are the future leaders of our nation, and if they aren't exposed to patriotic things and should our children not understand their importance, they won't go on to serve."
Looking back at his decades working on the project, Plummer admits it doesn't seem possible that it happened.
"I'm not sure why I did it, but I felt like the city deserved this place."
Blair Drake is a contributing editor for MOAA and lives in Souderton, Pa. She previously served on the editorial team of Military Officer magazine for nine years.
Want to Help Servicemembers in Your Community?
Learn how you can make a difference with your local chapter.