By Contributing Editor Blair Drake
In a few weeks, veterans in Volusia County, Fla., will have the opportunity to share their military experiences and teach local students about the significance of Memorial Day. The effort is part of the new Veterans in the Classroom program created and led by MOAA Life Member 1st Lt. Raymond Parker, USA (Ret).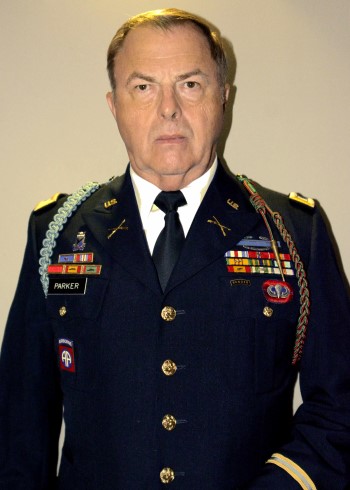 "When students read about it in a book … it's hard to understand what it's like to be a veteran," said Parker, pictured, who is first vice president of the West Volusia County Chapter of MOAA. "We are trying to have veterans present information from their perspective to supplement the school curriculum."
Teachers of sixth- through 12th-grade students can request to have a veteran present to their classes. In addition to 10 members of the West Volusia County Chapter, which is overseeing the program through the Volusia County Veterans Council, selected and vetted members of other local veterans' organizations also will be presenters. Due to the health crisis, all presentations in May will be given virtually, with the hope of having in-person presentations in the future.
[RELATED: Chapter Members Teach Local Students About Military Service]
Parker began working late last summer on the proposal for Veterans in the Classroom. His wife, Claudia, who holds a doctorate in education, helped write the program curriculum. By November, the school district approved the plan.
This wasn't Parker's first experience bringing veteran presenters to local schools. In 2017, he helped organize and participated in a panel of fellow Vietnam veterans to discuss their experiences with students at his alma mater, Pennsbury High School in Pennsylvania. That effort has become an annual event, with thousands of students participating since its start.
He also had the opportunity to present to students when he was a member of the Flagler County (Fla.) Chapter.
After seeing the success of those efforts, Parker realized it would be valuable to both schools and MOAA chapters to formalize the program. He also saw the impact it had on the students.
"Even in Florida, with a high veteran population, veterans didn't have the opportunities to get into the schools," he said. "It's so beneficial to have the students hear from someone who has actually served, especially for those students who have no military connection."
Parker was one of those students. "I didn't have any familiarity with the military. We weren't taught about it, and I didn't have many family members who served," he said.
He enlisted in the U.S. Army after earning a bachelor's degree in psychology from Pennsylvania State University in 1968. He trained as an infantryman, achieved E-5 rank, and finished non-commissioned officer leadership training. He then volunteered for Infantry Officer Candidate School and was commissioned a second lieutenant in 1969. Parker went on to earn Airborne, Ranger, and Jungle Warfare Expert status. He served in Vietnam and Cambodia with the 199th Infantry Brigade (Separate) (Light), leading U.S. infantry ground forces and Army of the Republic of Vietnam ground infantry platoons in aggressive combat. There he earned a Silver Star medal for gallantry in action and two Bronze Stars. Recognized for his actions, he was selected as assistant G-2 in Counterinsurgency Intelligence for the 25th Division.
After retiring from active military service in 1971, Parker began his career in business management, holding various senior management positions and gaining direct experience in all areas of human resources.
Through his involvement in numerous veterans' organizations, Parker continues to be a strong advocate for the military community. He has found sharing the military experience with students is especially rewarding. "It's so much fun to see the kids smiling and asking questions," he said. "We're bringing history to life."
Blair Drake is a contributing editor for MOAA and lives in Souderton, Pa. She previously served on the editorial team of Military Officer magazine for nine years.
Want to Help Servicemembers in Your Community?
Learn how you can make a difference with your local chapter.