This year caps the tenure of Adm. Walter Doran, USN (Ret), as chairman of MOAA's board of directors. The year began with the celebration of repealing the Survivor Benefit Plan-Dependency and Indemnity Compensation (SBP-DIC) offset and changed course with the COVID-19 pandemic, which resulted in navigating legislative agendas with board members, association members, and staff quarantining in their homes.
As military officers are trained to do, Doran improvised, adapted, and overcame.
In the following interview, Doran speaks about the association's challenges and successes during his time on the board.
"It really has been an honor to be on this board for six years, particularly as the chairman for the past two years," Doran said. "It's been — and for everybody that does it — a labor of love. We all are committed to the mission of the association: the betterment of military families and personnel."
Q. How do you think MOAA has continued its mission despite the challenges of the COVID-19 pandemic?
A. We benefited greatly from a decision that was made a few years ago to renovate our headquarters building in Alexandria. One of the focus points for the renovation was to put a state-of-the-art IT infrastructure into the building that allowed us the opportunity to go to a complete teleworking environment. When COVID happened, and we went to the teleworking environment, most of our staff were very familiar and very capable with the technology that had just been upgraded. I think it's worked marvelously, and I'm very proud of the way the organization adjusted to the challenges of getting out of the building so that we could work in a safe environment and that we were able to maintain 100% of our staff. We had a commitment to them that we would all get through this together — and it's worked way beyond what I had hoped for.
[RELATED: Donate to MOAA's COVID-19 Relief Fund]
The other part of COVID is out in the field and what it meant for us. It forced us to adjust and to cancel a number of events. It forced us to take our board of directors meetings in a virtual environment. That's going very well. It gets better each time we do it. We learn something every time we do it.
Q. This year, we had to move Storming the Hill to a virtual arena. How does Storming — even virtually — make a difference?
A. The way we do Storming is a unique event to MOAA. It shows the value of our [nearly] 400 chapters throughout the country. Those chapters are involved with congressmen and senators in their home states, and we can draw on that. When we do Storming, we bring people in from across the country so that when we walk in and we see the senator or congressional representative or their staffs, it's not just MOAA that's there talking to them; it very well may be somebody who is right out of their hometown.
[RELATED: How MOAA Members Joined Together for a Successful Virtual Storm]
Now, what happened this year? We decided we would try to do a virtual storm, and the feedback that I'm getting is that it turned out very well. I'd like to think we're at the forefront of veteran advocacy associations with using, learning, and adjusting to technology. We're not going back to where we were. I don't know where we're going or what it will look like, but I do know that we're not going back to where we were.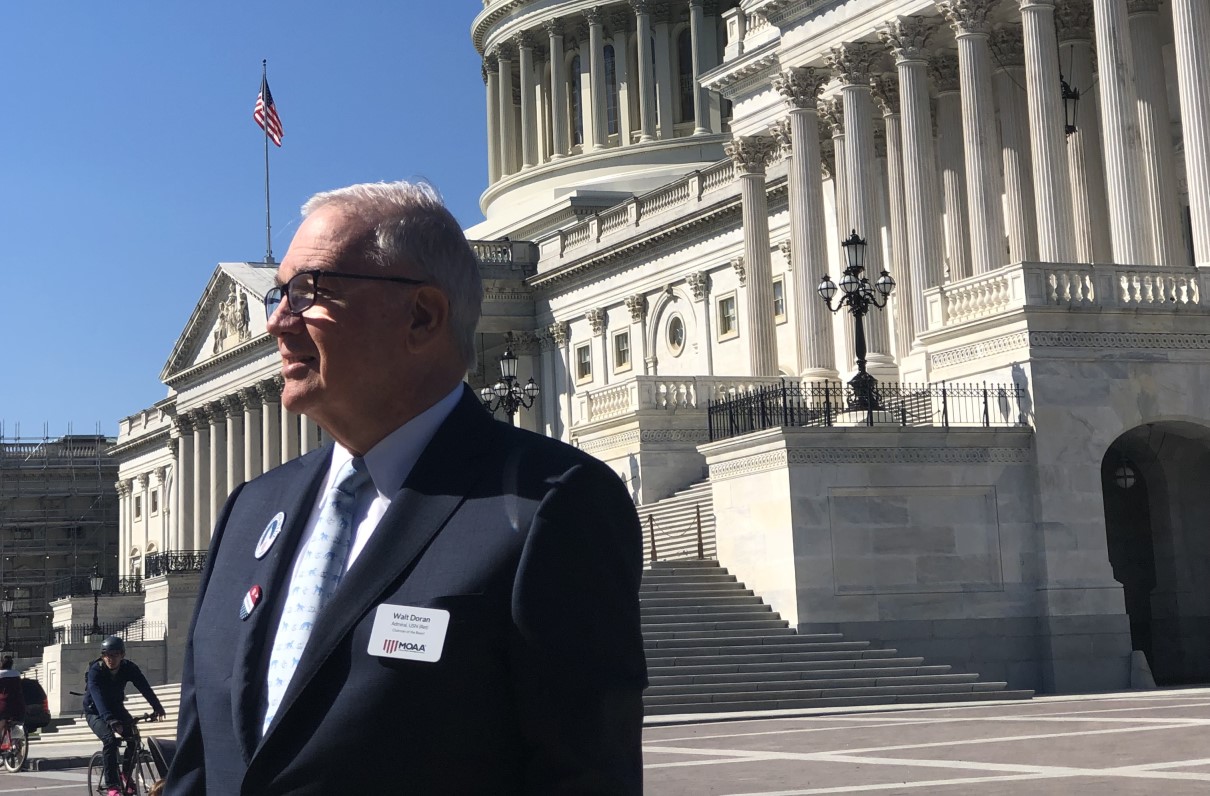 MOAA Board Chair Adm. Walter Doran, USN (Ret), takes part in MOAA's Storming the Hill advocacy event in Washington, D.C. (Photo by Dan Merry/MOAA Staff)
Q. One of your personal goals was to diversify MOAA. Since that point, race was thrust into national dialogue — including military leadership. How do you believe MOAA has advanced the goal to diversify, and what opportunities do you think MOAA has going forward?
A. I think we've done a very good job of diversification if you look at our board members, but there's so much more work that has to be done. We have to use every available technology and asset. We have to reach out. We have to look like America. We have to start to look like America in our councils and chapters and on our board and staff. If we're going to represent the American military, we have to look at the way we bring people onto the board of directors. We have to do more. I know that's easy to say and sometimes hard to do, and it's different in each community that our chapters are in, but there is still so much more to be done.
You've got the African American community, of course, but you've also got the Hispanic and Asian American communities that are well represented in the military but are perhaps not as well represented in MOAA and on our board of directors as they should be. We've got to find better ways to do that. There's a select committee right now that is going to work beyond my tenure as chairman looking at how we bring people on the board of directors. How do we attract people, and how do we get people to be named to the board of directors to try to work on this diversity issue? It's complicated, but we've got to keep this at the forefront of our minds. We're working as hard as we can at this.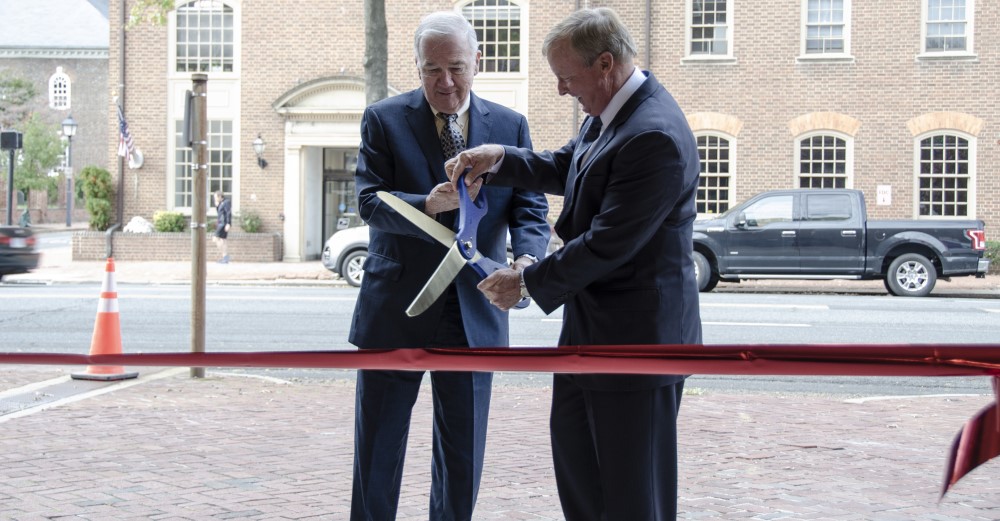 MOAA Board Chair Adm. Walter Doran, USN (Ret), and MOAA President and CEO Lt. Gen. Dana T. Atkins, USAF (Ret), cut the ribbon at MOAA's newly renovated headquarters building in 2019. (Photo by John Harman/MOAA Staff)
Q. You've also mentioned wanting to grow councils and chapters. What's the progress on that front?
A. It's always a challenge to grow councils and chapters. We have to be aware of the issues in chapters, so we have people moving up into positions of responsibility. I know some places have very good people who are overworked and don't have somebody prepared to take over for them. We have to help them with that. During my chairmanship, I tried to visit as many chapters as I could. There are some great models out there. Some chapters have absolutely nailed it, absolutely understand how to do this and what's going on. We've got to share these lessons learned.
Q. What excites you about MOAA's future?
A. We are a very strong, mature association. We have come through some rocky times. But now what we've got to do is evolve into a 21st century association that meets the needs of our membership. We have a unique challenge in that if you look at our membership, we represent military officers from about 22 years of age to 102 years of age. We need to make sure we are adjusting to all of them. There's going to be challenges to that. We're in a good, stable condition right now, despite COVID, but we cannot just lock ourselves into doing things the way we previously did. We're in 2020, and even 2020 is changing very quickly, so we've got to stay agile. We're looking at key indicators to see what's going on. Our membership and revenue are two key pillars, and our chapter system has got to stay vibrant. I think it will, and I'm excited about it.
Q. Is there a special moment from your time as chairman?
A. What first comes to mind is the repeal of the "widows tax" and the incredible work our surviving spouses did to keep that ball moving. There was always a temptation to look at that as being a bridge too far, but we kept our eye on the ball and didn't waiver. One of the reasons we didn't waiver was because we had the pressure — and I mean that very positively — the attention of the surviving spouses who are a key integral part of what we're doing.
The other thing we did, which was kind of a corollary to that, is we established a couple of virtual chapters: one for military nurses and one for surviving spouses, which stayed very active. Those two virtual chapters may also be a way forward for the future. And I know repealing the widows tax was both complicated and protracted, but we got the ball across the goal line, and that's what I will take away from my two years as chairman at MOAA.
MOAA Knows Why You Serve
We understand the needs and concerns of military families – and we're here to help you meet life's challenges along the way. Join MOAA now and get the support you need.