Dozens of MOAA members and special guests strolled through the association's renovated headquarters just outside of Washington, D.C., on Nov. 5, capping off a morning that included the annual membership meeting and a ribbon-cutting ceremony.
The modernized building in Alexandria, Va. keeps MOAA close to decision-makers at the Pentagon and on Capitol Hill, while providing staff with the technological infrastructure to collaborate and engage with lawmakers and members.
"Our continuing presence here on Washington Street is a reminder for thousands of currently serving military, veterans, spouses and families that the Military Officers Association of America is on watch to defend their interests and support a strong national defense," said MOAA President and CEO Lt. Gen. Dana T. Atkins, USAF (Ret).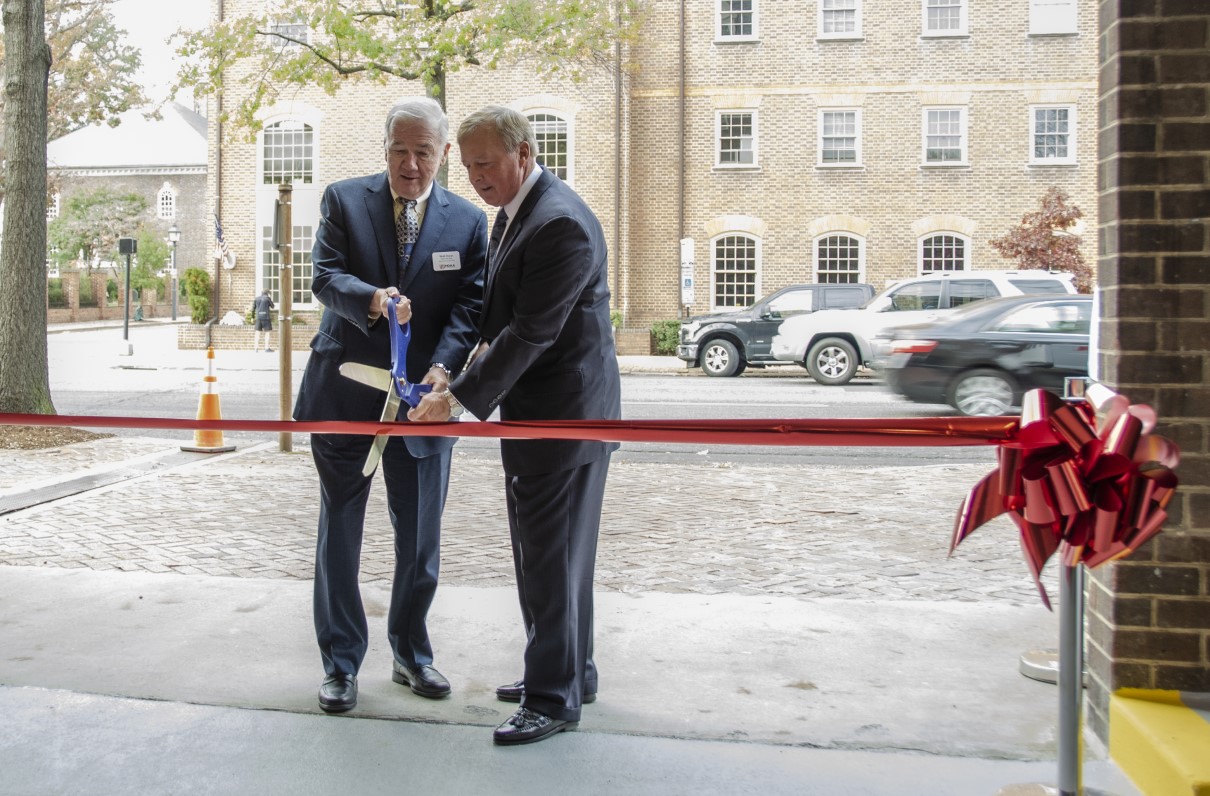 Adm. Walter Doran, USN (Ret), chairman of MOAA's board of directors, left, and Lt. Gen. Dana T. Atkins, USAF (Ret), MOAA president and CEO, cut the ceremonial ribbon during the Nov. 5 ceremony at MOAA's Alexandria, Va., headquarters. (John Harman/MOAA Staff)
Plans to renovate the building, which was built in 1964, began about two years ago. Walls were torn down to construct new offices, collaborative workspaces, and an innovative audio and video production studio. MOAA staff worked out of temporary offices a few blocks away during construction with the goal of providing seamless support for members.
Chief Warrant Officer 3 John Glenn, USMC (Ret), a MOAA Life Member and President of Missouri Council of Chapters, traveled to Virginia to attend the Annual Meeting and open house. He said the building renovations offered improved aesthetics for staff members, while ensuring MOAA holds its presence near lawmakers. He said that access will benefit MOAA in the coming years.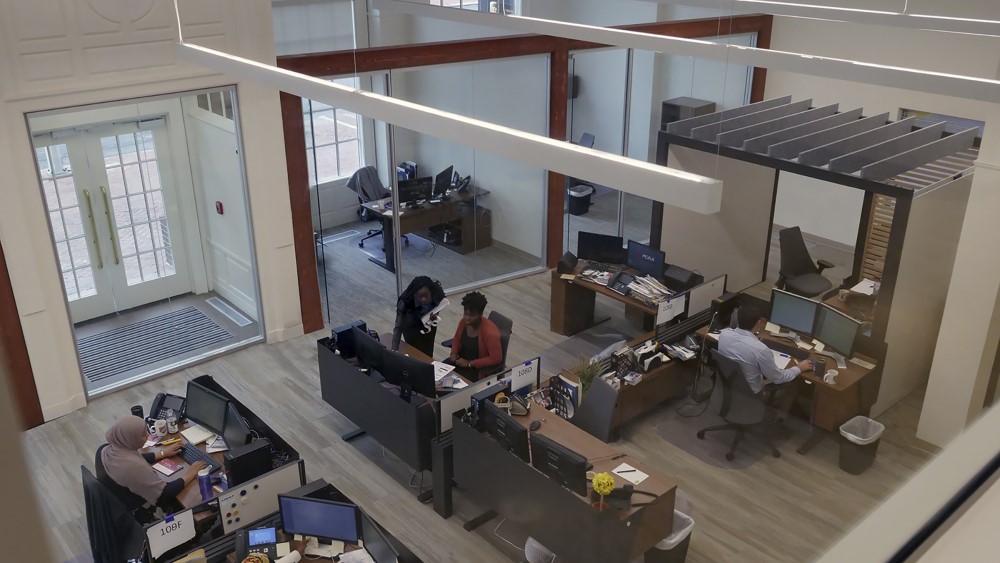 An inside look at renovations to MOAA's headquarters, which were underway for nearly two years. (Bob Lennox/MOAA Staff)
"I think it's important to continue to ratchet up engagement with federal and state legislators to push our priorities all the way up," Glenn said.
Adm. Walter Doran, USN (Ret), the chairman of MOAA's board of directors, said the building location and renovation position MOAA to be a force in military advocacy.
"MOAA's strategic location provides a number of powerful advantages for the association," he said. "The visible location on Washington Street is an enduring symbol of strength for thousands of members, potential members and other members of the military community who pass by it every day."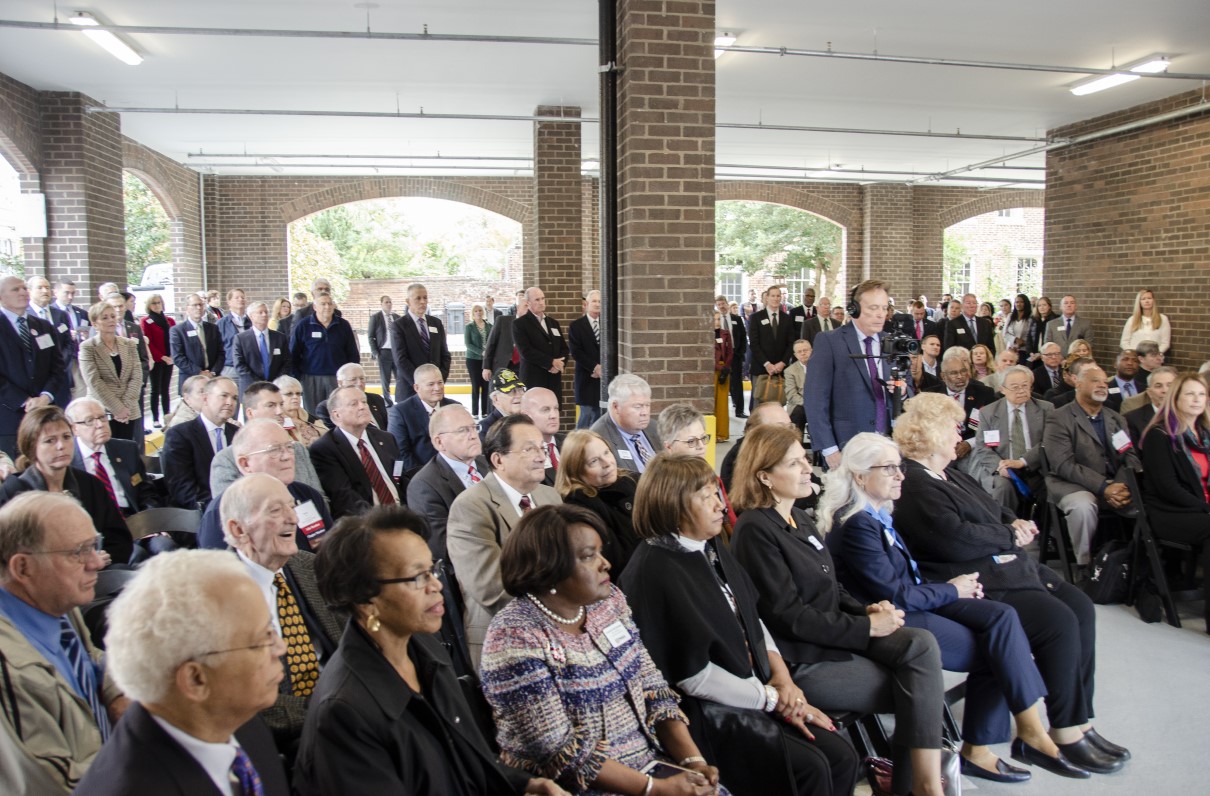 Attendees watch a Nov. 5 ribbon-cutting ceremony at MOAA's Alexandria, Va., headquarters. (John Harman/MOAA Staff)
Annual Meeting
Prior to the ribbon-cutting, Doran led MOAA's annual meeting, where MOAA presented a year-in-review video.
Doran also briefed members on policy positions and answered questions. Among topics of interest, members asked about burial changes at Arlington National Cemetery (ANC), health benefits, and military housing.


Col. Harvey Kaplan, USA (Ret), past president of the Maryland Council of Chapters, asked if there are updates to proposed ANC rule changes. Last month, the Army announced recommendations for eligibility changes at the cemetery.
[ANNUAL MEETING UPDATES: Read the full transcript of Adm. Doran's speech during the annual meeting. And also read the full report from MOAA's President.]
The process for reviewing changes is underway, said Col. Dan Merry, USAF (Ret), MOAA's vice president Government Relations, but many factors have not been disclosed. MOAA has been involved in the discussions since Congress began the review process, Merry added.
"One of the positions we're going to take to Congress [is] to put a halt to these changes until we know more and until you all know more so we can try to steer this discussion toward a better solution that is more balanced than what's intended by the law," he said. "We're on top of this. I would ask you all to stay plugged in to our newsletter. We're going to be asking for your help to make sure we communicate our message to each other and to Congress."