As he prepared for the role of Navy pilot-turned-astronaut Alan Shepard, actor Jake McDorman studied military culture and visited Cape Canaveral to get a feel for the power of rocket launches.
But nothing prepared him quite like a spin in NASA's "Gimbal Rig" – a circular cage that simulates tumble maneuvers an astronaut could feel in spaceflight.
"Nobody ate much that day," McDorman said in an interview with Military Officer.
McDorman spoke about his role as the first American in space in The Right Stuff, which comes about five years after his role as a Navy SEAL in American Sniper. Shepard, who graduated from the U.S. Naval Academy in 1944 and retired from the Navy as a rear admiral in 1974, was a complex man who remained true to himself, making him an interesting man to portray on screen, McDorman said.
[RELATED: The First Person to Walk on Mars Could Be an Officer]
National Geographic's The Right Stuff, a new series streaming on Disney Plus (the finale will be available Nov. 20), offers a glimpse into the early days of the U.S. space program and the seven military aviators who would become NASA's first astronauts. It's loosely based on the novel by Tom Wolfe that was made into a film in 1983.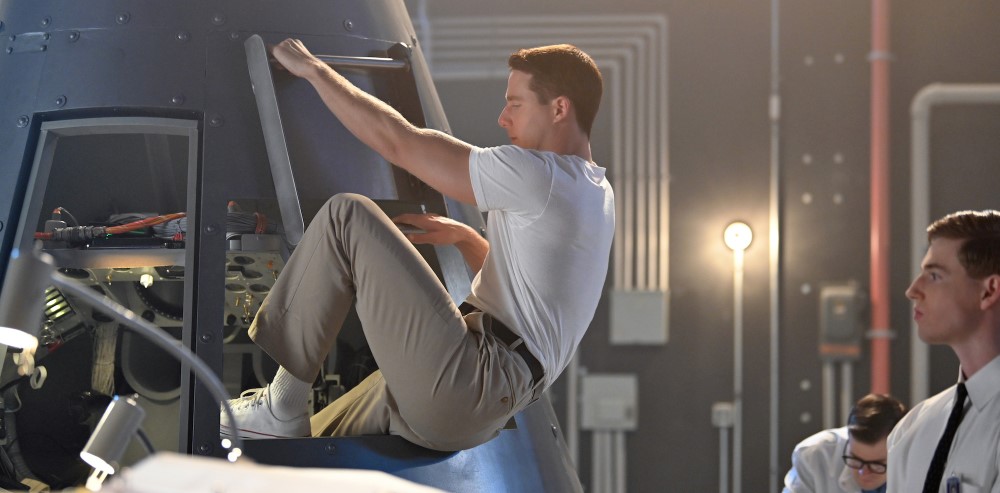 Alan Shepard, played by Jake McDorman, enters the trainer capsule during a practice session in National Geographic's "The Right Stuff." (Photo by National Geographic/Gene Page)
Here's more from McDorman:
Q. What did you know about the military before filming American Sniper and The Right Stuff? What did you learn as you filmed?
A. Going into The Right Stuff, I could apply some of what I learned from working on American Sniper, but for the most part, each project was its own unique learning experience. On Sniper, we had a very short amount of time to prep, but we had an actual Frogman – Kevin Lacz from SEAL Team 3 – to make sure we were doing it right. Having him there was invaluable to the whole process. … He'd keep us sharp technically and had firsthand experience with the story we were telling personally. That's hard to beat.
[100 VETERANS, 100 YEARS: The Mercury 7]
With The Right Stuff, the time period was such a vital part the story, and that drove a good portion of the preparation and research. Alan Shepard came from a military family. That's not something I'm familiar with. The chain of command and respect for authority in a family unit was new to me. Not that I didn't respect my parents' authority, but it didn't have a built-in framework like a military family in the 1950s and 60s, so that was something to explore.
Also, Shepard [joining the space program] was a huge risk. The space program was totally unproven and a big unknown at the time. To climb the ranks as quickly as Shepard did, be on the verge of becoming an admiral, and take that leap of faith says a lot about who he was.
[RELATED: Meet the Military Members of NASA's Newest Astronaut Class]
Q. What interested you in the role of Alan Shepard?
A. The script was the first thing that drew me into the project. There was something immediately magnetic about the way Shepard was written in the script. He was a mad dog fighter jock. A whiskey-drinking, cigar-smoking, hard-edged competitor. He never changed who he was. Sometimes that'd line up with heroism, sometimes with villainy, but he remained uncompromising – even when NASA or Life magazine wanted to fit him into a box. A true antihero. That's an interesting character to read, it's even more interesting to play.
When I started my research, I learned about who he was at home, his family, his upbringing. Everything I'd learn added more and more complexity to an already complex man.
Q. How did you prepare for this role? Any military training?
A. We got to go the Kennedy Space Center at NASA in Cape Canaveral, Florida. To actually go to the places where these things happened, stand on the launchpad where the Redstone rocket took off, walk down the runway where the shuttles landed––all these things helped our prep.
Last year was the 50th anniversary of Apollo 11. Me and a few others from the cast were invited to attend an event at NASA celebrating the moon landing. (Retired Air Force lieutenant general and Apollo 11 command module pilot) Michael Collins was there, (with retired Navy captain, former astronaut, and senator-elect) Mark Kelly. Just breathing the same air as these guys was a thrilling experience as we were preparing to tell the origin story of the space program.
[RELATED: More Recommended Reads From MOAA]
As far as training goes, in episode 3, a couple of us had to strap ourselves into a Gimble Rig that is a multi-axis space test simulating an aircraft tumbling out of control. It's called "The Mastiff." Nobody ate much that day.
Q. What is your greatest hope for the series?
A. Even though The Right Stuff is a best-selling book and it was adapted into a film, for a lot of people – especially younger people – the story of the Mercury 7 is relatively unknown. I think when people think of NASA, they think of Apollo and the moon landing. I believe it's important to know how that story started.
It was an incredible feat. We were so far behind the Russians in the space race at the time. Surpassing them seemed improbable if not impossible. So it's a good example of what we can accomplish when we all set our sights on one goal, work together, and stay optimistic.
MOAA Knows Why You Serve
We understand the needs and concerns of military families – and we're here to help you meet life's challenges along the way. Join MOAA now and get the support you need.