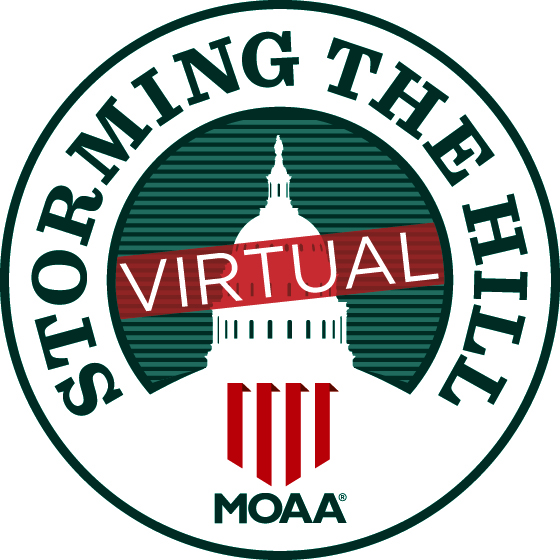 By MOAA Staff
The changes coming to military medicine as part of proposed reforms may involve 18,000 billet cuts and a reorganization of dozens of facilities affecting hundreds of thousands of beneficiaries.
MOAA's Virtual Storming the Hill 2020 seeks a provision in the FY 2021 National Defense Authorization Act (NDAA) to officially stop these efforts to downsize military medical capacity. We believe all cuts should be reconsidered in light of lessons learned from the whole of government interagency response to the coronavirus emergency.
[TAKE ACTION: Call or Write Your Lawmakers Today]
Virtual Storming the Hill participants are contacting Congressional offices right now. Below, we address some FAQs we've received from our Stormers as they advocate for a stop to billet cuts and MTF downsizing.
Not finding what you're seeking? Email legis@moaa.org with your concerns.
Q: Could the cuts be stopped via the next NDAA?
A: That's our goal. MOAA wants a provision in the FY21 National Defense Authorization Act that officially stops military treatment facility (MTF) downsizing and medical billet reductions.
Our ask goes beyond delaying the military health system cuts and plants the seed for a re-evaluation of military medical readiness requirements based on an assessment of the national COVID-19 response and implications for DoD's future role in pandemic prevention and response. It's tempting to try and go further this year (e.g., pursuing a commission to conduct these assessments), but Congress is still consumed with immediate COVID-19 response efforts and relief packages.
Q: What kind of 'lessons learned' should DoD get from this pandemic and its response?
A: Our nation has implemented a whole of government interagency response to COVID-19. The "lessons learned" will go across the entire government and the civilian medical and emergency response systems.
For DoD, MOAA believes the lessons learned are likely to focus on the level of uniformed medical reserve capacity needed to effectively surge military medical resources to areas of need while still delivering essential medical care to military beneficiaries who rely on uniformed medical providers for their care. The lessons learned also should address DoD's role in medical research and development and pandemic prevention efforts.
[DONATE: MOAA's COVID-19 Relief Fund]
Q: My MTF is on the list of facilities being downsized. What should I do?
A: Chances are your elected officials are aware of these efforts and the potential impact on military hospitals and clinics in their district/state, but it can't hurt to make sure they understand your MTF is impacted. If your MTF is on the list, be sure to add a personal perspective to your discussion by talking about how the proposed changes could impact your family.
Q: My MTF isn't on that list. Will these reforms still affect me? How?
A: While the Section 703 report listed 48 MTFs slated for potential downsizing and infrastructure reductions, MOAA has almost no visibility on details related to the 18,000 medical billet cuts – we do not know which medical specialties or MTFs will be impacted. It is fair to say all MTF patients should be concerned about how billet cuts may impact them.
Because DoD's plan is to shift care to the civilian medical system, you may want to share what you know about limitations to civilian medical care in your local area that could impact your ability to find care if you are impacted by billet cuts. For example:
Do you live in a fast-growing area where medical systems are having a hard time keeping up with demand?
Many rural hospitals are struggling. Has your local civilian hospital been downsized or closed?
Is there a new employer headed to your area that will bring increased demand for care?
[RELATED: What Will Civilian Health Care Cuts Mean for TRICARE Beneficiaries?]
Q: The Defense Health Agency assured us that all MTF restructuring is conditions-based and has asked for a delay in MHS reform implementation timing – why is this not enough?
A: The COVID-19 pandemic surely will yield many lessons learned for the entire medical system, including DoD. It would not make sense to simply pause billet reductions and MTF restructuring only to return to a pre-coronavirus reform strategy after the crisis has passed. The COVID-19 pandemic demands all plans to downsize military medical capacity be reconsidered.
Q: Didn't we get a halt to billet reductions in last year's NDAA?
A: Yes. Section 719 of the FY 2020 NDAA -- Limitation on the Realignment or Reduction of Military Medical End Strength -- halted billet reductions until DoD and the services demonstrate they have addressed all readiness and beneficiary care impacts via reviews, analyses, mitigation plans, and beneficiary outreach. This report is due in June, but DHA has requested an extension due to COVID-19. The report is still critical, but it will be incomplete without a larger analysis around the national response to COVID-19.
Q: Can't we rely on Reserve Component medical assets to respond to medical emergencies?
A: Yes and no. Activating these personnel works in a local emergency – a hurricane, for example. In a national emergency, DoD has to avoid pulling Reserve Component medical personnel out of critical civilian medical positions in their local communities to send them elsewhere.


[RELATED: Your Benefits: Title 10 vs. Title 32 vs. the State]
Q: I understand many active duty medical personnel (from 3,200-4,400, depending on the timeframe) have deployed to support communities hardest hit by COVID-19. Where did those providers come from?
A: DHA has stated it is rapidly shifting as many physicians, nurses, and other medical professionals as they can from administrative duties to direct patient care. In an unprecedented move, the Uniformed Services University of the Health Sciences graduated new doctors and nurses months early so they can contribute to the effort.
Certainly, some of these providers have been deployed from clinical positions at MTFs. The services have acknowledged that deploying active duty medical personnel has shifted some risk to servicemembers and military beneficiaries who rely on uniformed providers for their medical care. In a Military Times commentary, DHA acknowledged this shift from the primary mission carries risk, but also noted the MHS is uniquely suited to the COVID-19 mission.
Protect Your TRICARE Benefits
Tell Congress to make sure servicemembers and their families get access to care they need.