All three of MOAA President's Advisory Councils – representing currently serving members, spouses of currently serving members, and surviving spouses – welcomed new members this month. Here's a bit more about each group, along with a list of new members.
Currently Serving Advisory Council/Currently Serving Spouse Advisory Council
MOAA strives to stay engaged with currently serving members and their families. Their perspectives help keep MOAA relevant by providing key insights and recommendations on current and important issues.
MOAA celebrated the outgoing members of the Currently Serving Advisory Council and Currently Serving Spouse Advisory Council in a virtual event Oct. 1. We also welcomed members of the newest class, who will serve two-year terms.
The councils serve as a voice for all currently serving uniformed servicemembers and spouses. They advise MOAA's president on strategic plans that shape the association's advocacy, membership, and member engagement through MOAA's many programs, including councils and chapters across the states and virtually.
"For MOAA to succeed, we need to understand what issues matter to our currently serving troops and their families. We must adjust our strategic plans to ensure we continue to meet their needs," said Lt. Gen. Dana T. Atkins, USAF (Ret), MOAA president and CEO. "Every year, I am genuinely impressed by the recommendations the advisory councils escalate to me and our association has remained more in touch because of them."
This past year, the councils have provided recommendations on volunteerism, membership opportunities among currently serving, the impact of COVID-19 on currently serving, and ways to improve diversity and inclusion as an association.
[DONATE NOW: MOAA's COVID-19 Relief Fund]
MOAA thanks the following members whose terms expired this year:
Currently Serving Advisory Council:

Col. Matthew Barker, ANG; Lt. Andrew Brown, USPHS; Lt. Col. Eugene Burrell, USMCR; Col. Christopher Cutler, USAF; Cmdr. Alice Guh, USPHS; Lt. Rachel Johnson, USCG; Maj. Ryan Kurrus, USA; Cmdr. Jason Mansour, NOAA; Cmdr. Olusewgun (Vic) Olabode, USN

Currently Serving Spouse Advisory Council:

Beth Conlin, Rochelle Crockett, Nicole Gebhardt, Tara Nypaver.
New and ongoing members of MOAA's Currently Serving Advisory Council are:
2019-2021 Class: Maj. Andrew Berrigan, USAF; Cmdr. Francis Bertulfo, USPHS; Maj. Eric Cherkauskas, ARNG; Lt. Cmdr. Christopher Davis, USPHS; Col. Bill Kale, USAF; 1st Lt. Jacob Miller, USA; Lt. Dean Castaldo, USNR; Lt. Charles Rego, USNR.

2020-2022 Class:

Lt. Nick DeProspero, NOAA; Capt. Joe Espinal, USAR; Maj. Gen. David Glaser, USA; Lt. Christopher Hanley, USN; Col. John Harman, USMC; Maj. John Kalis, USAF; Lt. Kelly Kolterman-Brown, USN; Cmdr. Kans Lewis, USPHS; Cmdr. Jesse Norris, USNR; Col. Gregg Quinones, ANG; Maj. Peter Rose, USAF; Maj. Angela Yenet Templeton, USA.
New and ongoing members of MOAA's Currently Serving Spouse Advisory Council are:
2019-2021 Class:

Amse Heck, Anna Blanch Rabe, Kari Szakal, Lorren Patton, Misty Motion, Mona Dexter, Stephanie Rose, Jennifer Sturgeon.

2020-2022 Class:

Whitney Armstrong, Lindsay Bradford, Jennifer Brill Robinson, Heather Browning, Johanna Cunning, Mary Anne DeHart, Megan Delegina Powell, Crystal Mahany, Kelly McKenzie Pickett, Heather Eliason, Kate Horrell, Danielle Maloy, Michelle Norman, Juliette Ramberg de Ruyter.
Interested in getting involved with either advisory council? Applications open every summer! Check out MOAA.org/advisory-councils to learn more.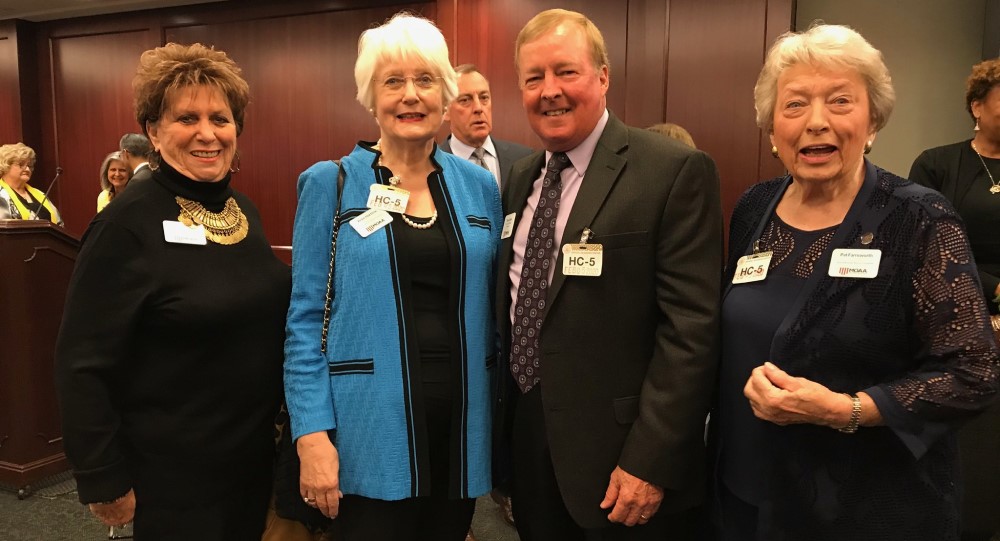 From left, MOAA board member and incoming Surviving Spouse Advisory Council chair Virginia "Gail" Joyce, outgoing MOAA Surviving Spouse Advisory Council member Anne Hartline, MOAA President and CEO Lt. Gen. Dana T. Atkins, USAF (Ret), and outgoing MOAA Surviving Spouse Advisory Council Member Patricia Farnsworth gather during a congressional reception co-hosted by MOAA in February celebrating the elimination of the "Widows Tax." (Photo by Alan English/MOAA)
Surviving Spouse Advisory Council
MOAA's Surviving Spouse Advisory Council will welcome four new members this fall, about a year after a milestone legislative accomplishment for surviving spouses in the repeal of the so-called "widows tax."
Advisory council members have worked tirelessly on that issue and others, Atkins noted in recent remarks to the group.
"Since I've been on board, the council has encouraged, engaged and educated our members about issues of special interest to surviving spouses," he said. "I value your advice, and appreciate your active involvement in MOAA - from Storming the Hill and your impact on the repeal of the SBP/DIC offset, to the outstanding training you provide to the surviving spouse liaisons within our council and chapter system."
MOAA thanks outgoing members Micki Costello (Fredericksburg, Va.), Pat Farnsworth (Williamsburg, Va.), Cindy Bondi (Bettendorf, Iowa), and Georgie Suitor (Ramona, Calif.), as well as outgoing chair Anne Hartline (Vestavia, Ala.). Virginia "Gail" Joyce, a MOAA board member and established Surviving Spouse Advisory Council member, will serve as the council's chair for the 2020-2021 term.
Atkins also selected two returning council members to vice-chair positions. Their duties, and their fellow 2020-2021 members:
Gail Joyce, incoming MOAA board member, council chair (Granbury, Texas)
Capt. Kathy Thorp, USN (Ret), MOAA board member (Arnold, Md.)
Barbara Smith, 1st vice chair, focus on council/chapter surviving spouse members (Virginia Beach, Va.)
Nancy Mullen, 2nd vice chair, focus on those whose spouses died on active duty (Adams, Tenn.)
Barbara Ann Bowman, (Norman, Okla.)
Renee Brunelle (Tampa, Fla.)
Pat Green (Altamonte Springs, Fla.)
Dr. Vivianne Wersel (Asheville, N.C.)
"As you organize the council going forward, please advise me on areas where there are gaps or improvements needed in order to meet the needs of the surviving spouse community, who number nearly 16% of the MOAA membership," Atkins said to the members.
Get more information about MOAA's surviving spouse resources at MOAA.org/Survivors.
MOAA Knows Why You Serve
We understand the needs and concerns of military families – and we're here to help you meet life's challenges along the way. Join MOAA now and get the support you need.