The MOAA President's Currently Serving and Spouse Advisory councils advise the president on current and potential MOAA programs, plans, and policies – especially as they pertain to the recruitment, retention, and representation of the interests of those in uniform. They are made up of a diverse group of active duty, National Guard, and Reserve servicemembers and spouses from all uniformed services who also serve as MOAA ambassadors, support MOAA advocacy efforts, and volunteer at MOAA events. Their contributions are vital to the long-term success of our member-driven organization.
What Issues Do the Advisory Councils Address?
MOAA's strategic plan is the foundation of the topics on the councils' agenda. Key areas within MOAA's strategic plan such as advocacy, membership, member engagement and value, chapters and councils, and philanthropic efforts serve as focal points for guided discussion among the councils and MOAA's senior leaders.
Past councils have provided insights into what currently serving families are most interested in, areas where they need support, and ways to engage them. As a result of these engagements, the councils have presented valuable recommendations to MOAA such as:
Improvements to Advocacy in Action, MOAA's signature advocacy event.
Creating a Military Spouse Networking Zone at MOAA's Annual Networking Forum to be more inclusive of military spouse job seekers attending the event.
Engaging council alumni better through inclusion in a biweekly President's message, volunteer calls to action, and invitations to participate in MOAA events.
Developing a foundational outline for a future, more robust volunteer program.
Providing insight on issues to consider in how MOAA can better ensure and embrace equity, diversity, and inclusion within the organization.
Assisting in the development and marketing of MOAA initiatives to provide needed support to veterans and currently serving families during the COVID-19 pandemic.
"The health, morale and welfare of our servicemembers is our first priority. The insight of our Advisory Councils is invaluable in helping our association determine how to better serve the military community."
Additionally, the councils were instrumental in increasing MOAA's market share among the currently serving population, while sustaining paid membership by:
Showcasing the benefits of paid membership to fellow currently serving officers
Providing recommendations on enhancing member value, targeting key audiences, strengthening advocacy messages and additional research to enhance efforts to reach the currently serving community.
Offering valuable insights on MOAA's marketing campaigns to strengthen their appeal to prospective members and spouses; recommendations aligned well with current initiatives and offered insights into where MOAA can expand and improve in 2021 and beyond.
Sharing personal stories to bring relevant and current context to prospective members, resulting in MOAA's successful Officer-to-Officer campaign.
What Is Expected of Advisory Members?
A strong commitment to MOAA evidenced by support through membership. Membership is not required to apply, but PREMIUM or LIFE membership is required to serve on the council.
Availability to participate in meetings on a quarterly basis (teleconference options are available). Meetings are typically held in the evenings from approximately 6:30-9 p.m. Eastern, but can vary. Council members also are invited to participate in MOAA's annual Storming the Hill activities on Capitol Hill, as well as periodic legislative meetings.
Willingness to express your opinions as well as those of your fellow officers.
Willingness to serve as ambassador for MOAA at local events, share MOAA's value proposition and perspectives with fellow officers, and urge them to join the organization.
Currently Serving Advisory Council Members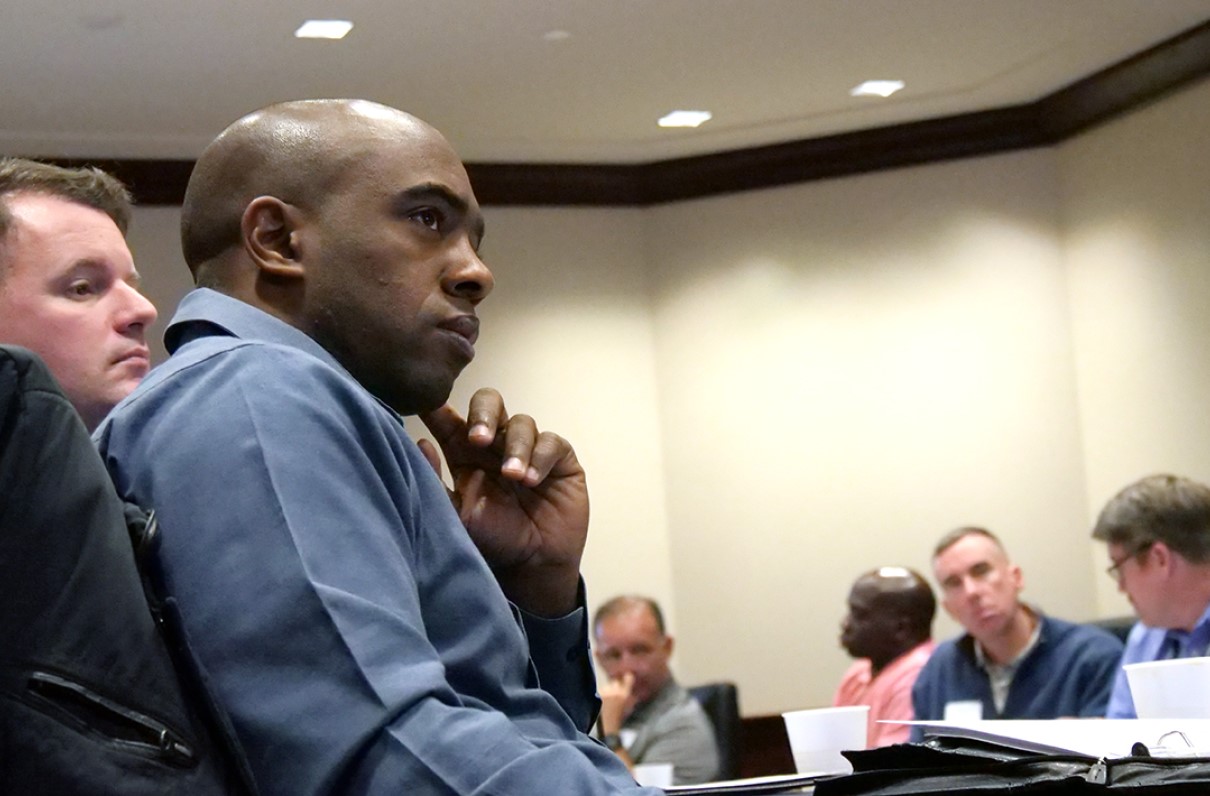 Lt. Andrew Brown, USPHS, far left, and Lt. Col. Eugene Burrell, USMCR, members of the 2018-2020 class, attend a Currently Serving Advisory Council meeting (Photo by Robert Lennox/Staff).


Members of the 2020-2022 class are: Lt. Nicolas DeProspero, NOAA; Maj. Gen. David Glaser, USA; Lt. Christopher Hanley, USN; Lt. Col. John Harman, USMC; Maj. John Kalis, USAF; Lt. Kelly Kolterman-Brown, USN; Lt. Cmdr. Kans Lewis, USPHS; Lt. Cmdr. Jesse Norris, USNR; Lt. Col. Gregg Quinones, ANG; Maj. Peter Rose, USAF; Maj. Angela Yenet Templeton, USA.

Members of the 2021-2023 class are: Lt. Col. Christopher Mercado, USA; Col. Scott Hodges, USAF; Cmdr. Molly Rutledge, USPHS; Col. Chris McKinney, ARNG; Lt. Cmdr. Angela McClendon, USPHS; Maj. Josh Hazel, ANG; Cmdr. Kurt Kesteloot, USPHS
Currently Serving Spouse Advisory Council Members

Former members of MOAA's Currently Serving Spouse Advisory Council -- discuss issues of concern. (Photo by Robert Lennox/Staff)

Members of the 2020-2022 class are: Whitney Armstrong, Lindsay Bradford, Jennifer Brill Robinson, Heather Browning, Johanna Cunning, Mary Anne DeHart, Megan Powell, Crystal Mahany, Kelly McKenzie Pickett, Heather Eliason, Kate Horrell, Danielle Maloy, Michelle Norman, Julliette Ramburg de Ruyter.



Members of the 2021-2023 class are: Mychael Willon, Jenna Hall, Betsey Mercado, Rachel Augustine, Heather Escamilla

How Can I Get Involved?
A competitive applicant typically is a MOAA member or spouse of a MOAA member, familiar with MOAA's mission and benefits, highly involved in their community, and driven to lead.
Surviving Spouse Advisory Council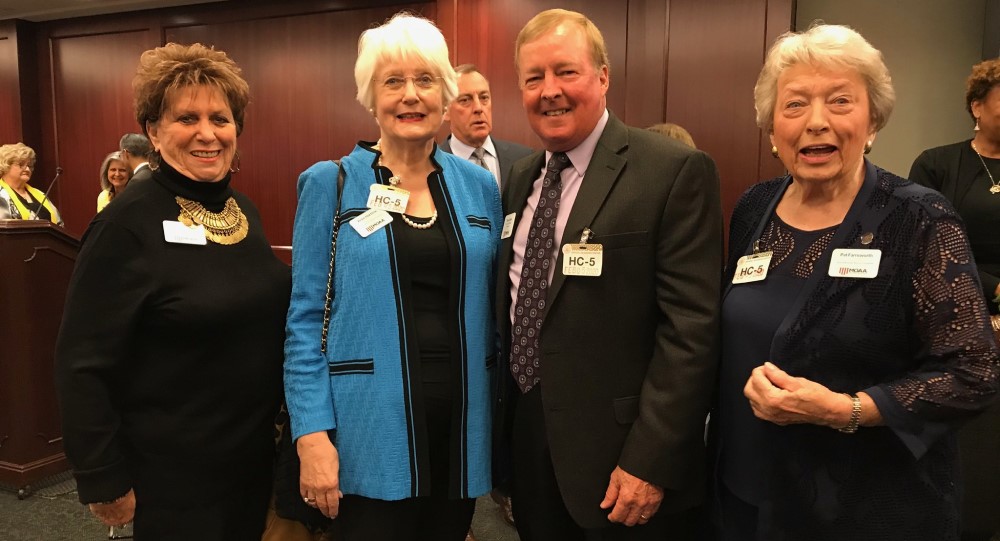 From left, MOAA board member Virginia "Gail" Joyce, MOAA Surviving Spouse Advisory Council member Anne Hartline, MOAA President and CEO Lt. Gen. Dana T. Atkins, USAF (Ret), and MOAA Surviving Spouse Advisory Council Member Patricia Farnsworth gather during a congressional reception co-hosted by MOAA in February celebrating the elimination of the "Widows Tax." (Photo by Alan English/MOAA)
Learn more about MOAA's Surviving Spouse programs and resources here. Meet the members of MOAA's Surviving Spouse Advisory Council here.