The MOAA President's Currently Serving and Spouse Advisory councils advise the president on current and potential MOAA programs, plans, and policies – especially as they pertain to the recruitment, retention, and representation of the interests of those in uniform.
What Issues Do the Advisory Councils Address?
MOAA's strategic plan will direct the topic areas of the councils' overall agendas. Key areas within MOAA's strategic plan include advocacy, membership, member engagement, and chapters and councils. The specific issues within these categories will vary based the legislative environment and immediate needs of the association.
Past councils have provided input on readiness, family matters, retirements and health care; messaging for nationwide advertising campaigns; Storming the Hill efforts; the introduction of a new tagline – Never Stop Serving; new logo development, the redesign of Military Officer, and much more.
What Is Expected of Advisory Members?
A strong commitment to MOAA evidenced by support through membership. Membership is not required to apply, but PREMIUM or LIFE membership is required to serve on the council.


Availability to participate in meetings on a quarterly basis (teleconference options are available). Meetings are typically held in the evenings from approximately 6:30-9 p.m. Eastern, but can vary. Council members also are invited to participate in MOAA's annual Storming the Hill activities on Capitol Hill, as well as periodic legislative meetings.


Willingness to express your opinions as well as those of your fellow officers.


Willingness to serve as ambassador for MOAA at local events, share MOAA's value proposition and perspectives with fellow officers, and urge them to join the organization.
Currently Serving Advisory Council Members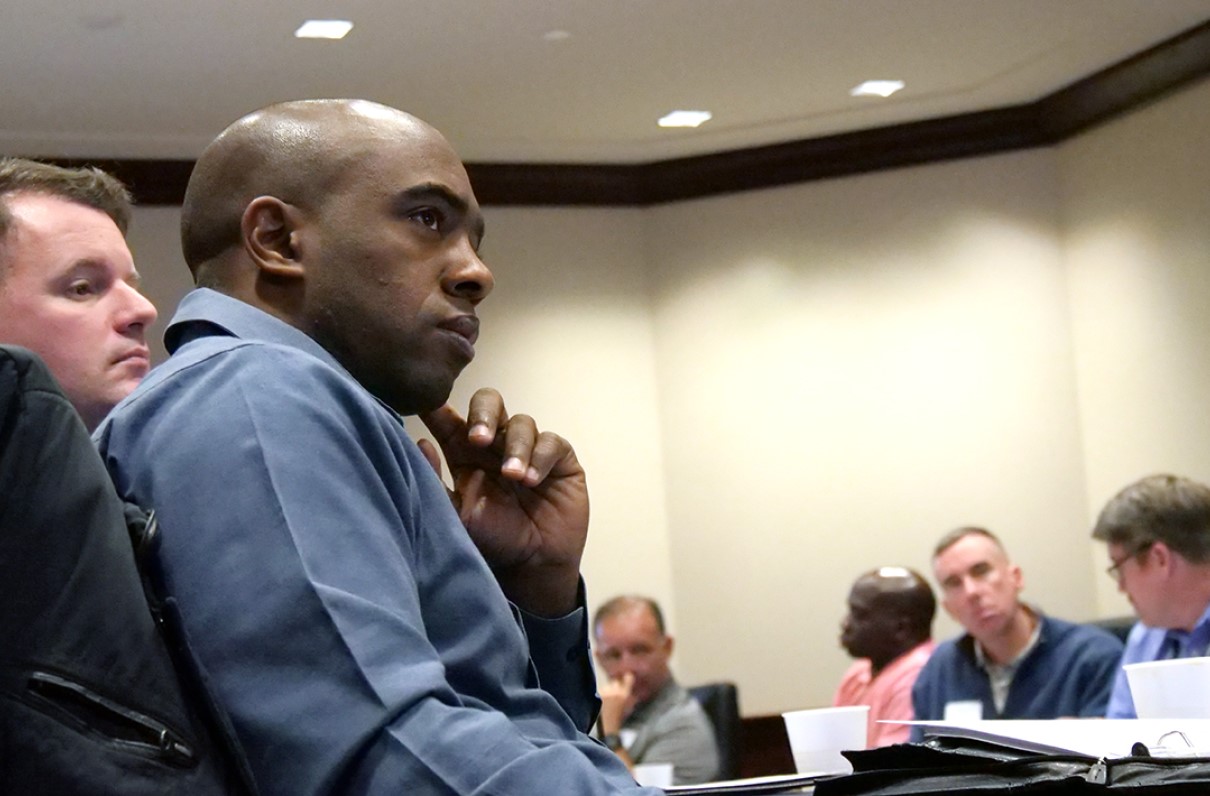 Lt. Andrew Brown, USPHS, far left, and Lt. Col. Eugene Burrell, USMCR, attend a recent Currently Serving Advisory Council meeting (Photo by Robert Lennox/Staff).
Members of the 2018-2020 class are: Col. Matthew Barker, TX ANG; Lt. Col. Eugene Burrell, USMCR; Lt. Andrew Brown, USPHS; Lt. Col. Christopher Cutler, USAF; Cmdr. Alice Guh, USPHS; Lt. j.g. Rachel Johnson, USCG; Maj. Ryan Kurrus, USA; Cmdr. Jason Mansour, NOAA; Lt. Cmdr. Olusewgun (Vic) Olabode, USN
Members of the 2019-2021 class are: Maj. Andrew Berrigan, USAF; Cmdr. Francis Bertulfo, USPHS; Maj. Eric Cherkauskas, PA ARNG; Lt. Cmdr. Christopher Davis, USPHS; Col. William Kale, USAF; 1st Lt. Jacob Miller, USA; Lt. Dean Castaldo, USNR; Lt. Charles Rego, USNR
Currently Serving Spouse Advisory Council Members

Members of MOAA's Currently Serving Spouse Advisory Council -- including Courtney Power, left, and Desiray Tuinstra -- discuss issues of concern at a recent meeting. (Photo by Robert Lennox/Staff)
Members of the 2018-2020 class are: Beth Conlin, Christopher Cosgrove, Rochelle Crockett, Nicole Gebhardt, Sidra Montgomery, Tara Nypaver.
Members of the 2020-2021 Class are: Amse Heck, Anna Blanch Rabe, Kari Szakal, Lorren Patton, Misty Motion, Mona Dexter, Stephanie Rose, Jennifer Sturgeon.
How Do I Join?
The application cycle for the 2020-2022 Currently Serving and Currently Serving Spouse Advisory Councils has closed. Check back this summer to apply for the 2021-2023 councils.
Surviving Spouse Advisory Council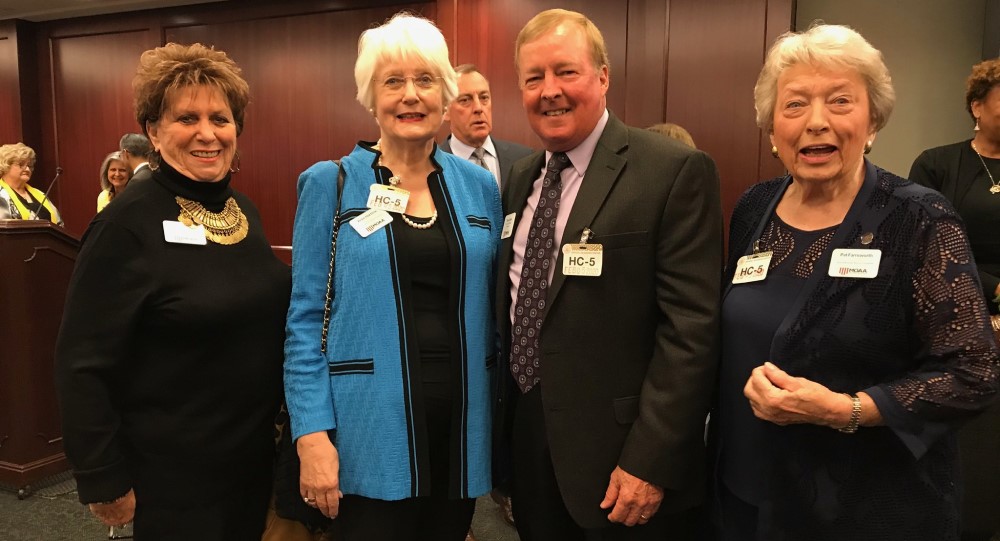 From left, MOAA board member Virginia "Gail" Joyce, MOAA Surviving Spouse Advisory Council member Anne Hartline, MOAA President and CEO Lt. Gen. Dana T. Atkins, USAF (Ret), and MOAA Surviving Spouse Advisory Council Member Patricia Farnsworth gather during a congressional reception co-hosted by MOAA in February celebrating the elimination of the "Widows Tax." (Photo by Alan English/MOAA)
Learn more about MOAA's Surviving Spouse programs and resources here. Meet the members of MOAA's Surviving Spouse Advisory Council here.