Editor's Note: MOAA is celebrating National Nurses Week with stories of service from members of the MOAA Uniformed Services Nurse Advocates Virtual Chapter. Learn more about the chapter here.
Paula Trivette – or "Paulita," as President George H.W. Bush affectionately called her – settled into her seat on Air Force One, preparing for a weeklong trip to Japan with the president.
Not long after they landed, Bush played tennis with Japanese diplomats and joined them for sushi.
"He loved sushi as much as he liked broccoli," chuckled Trivette, now a retired Army lieutenant colonel. "He does not like broccoli."
MOAA Celebrates National Nurses Week
Check out these stories of service from MOAA members:
An hour later, Trivette, the White House nurse assigned to accompany the president on the trip, was summoned to the ambassador's residence. Bush said his stomach was upset and he needed something to hold him over to attend a banquet later that night.
Trivette conferred with a doctor, then gave the president some medicine. He seemed to be in good spirits, ready to go.
A few hours later, Bush stood in a receiving line, greeting diplomats as they entered the dinner. Bush periodically excused himself, then came back wearing a different tie, courtesy of the Secret Service agents who helped pull the president together after bouts of sickness.
Trivette knew the president was dehydrated and kept a close eye on him. She was making her way across the room toward the president when she saw him lean over and vomit – in the lap of Japanese Prime Minister Kiichi Miyazawa.
"I got around to him," Trivette said, remembering how Secret Service agents jumped over the tables of diplomats at the banquet. "He was lying on the floor. He looked gray. I reached for a pulse."
The agents loosened the president's tie and unbuttoned as shirt so Trivette could examine him. The president sat up, assuring everyone he was fine.
"I need to stay within distance of you," Trivette told him.

For the remainder of the trip, she was never farther than a door knock away, ready to check on the president and prescribe medication as necessary.
Trivette ventured into Army medicine as a way to secure her future. She was one of 18 children, and spent her weekends babysitting, scrubbing floors and washing laundry to earn cash for tuition. The Army, however, offered to cover her college education in return for three years of service.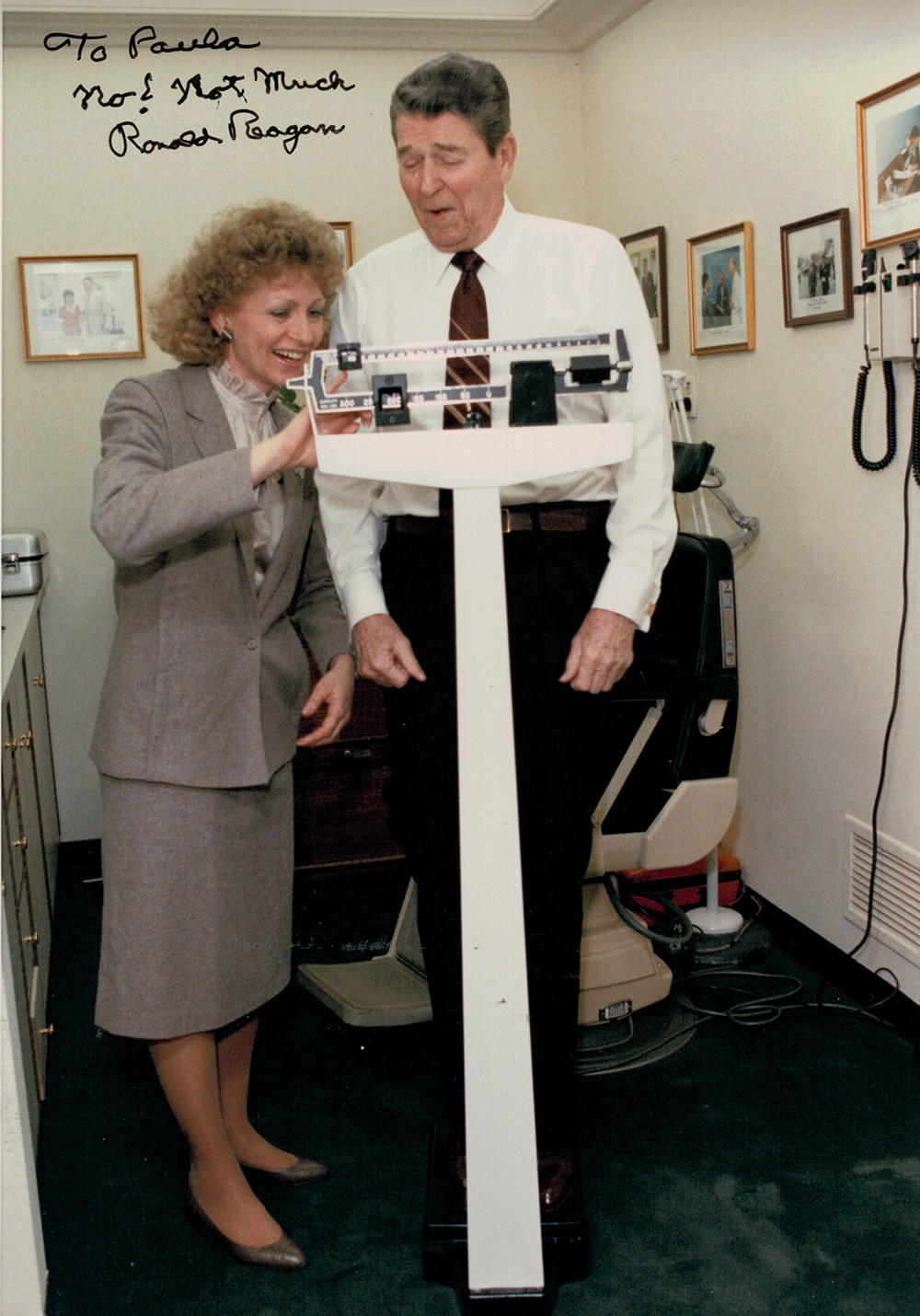 Nurse Paula Trivette and President Ronald Reagan (Photo courtesy Paula Trivette)

Her commitment turned into 23 years, including about 17 years as a critical care nurse with stints in Germany and at Walter Reed Army Medical Center.
Before she retired in 1993, Trivette was selected as a White House nurse. She served for almost seven years under presidents Ronald Reagan, Bush, and Bill Clinton.
Most days, Trivette worked out of the office on the ground floor of the White House, where she treated the 2,000 staff members who complained of minor illnesses.
One eventful day she was called to the Oval Office, where President Bush was complaining of a bruised cheek – the result of a sneak-attack snowball fight with his grandson. Trivette held an icepack to the president's right cheek while he held the phone receiver to his left cheek for a phone call about the Iraq War.
Whether she was patching up soldiers at Walter Reed Medical Center or holding an icepack to the president's face, Trivette said she, like all uniformed nurses, poured all of her energy into her service.
"We are there for you," Trivette said. "We will give you 100 percent of what we can to make you better, to help you heal in heart, mind, body and spirit. We care about you as a person, and where you go once you leave our care. You are the ones defending our freedom."


Amanda Dolasinski is MOAA's staff writer. She can be reached at amandad@moaa.org. Follow her on Twitter @AmandaMOAA.