MOAA Publications
MOAA provides the guidance you need.
Chapters
Council and Chapters Policy and Procedure Guide

National MOAA has compiled a guide of best practices for its more than 400 chapters. This guide provides detailed information and suggestions regarding the formation, organization, and management of MOAA state councils and local chapters. This is the primary reference for council and chapter leaders on all matters pertaining to MOAA's chapter system.
Council and Chapter Leaders Workbook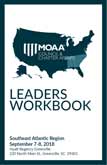 This workbook was created to share information, resource tools, and best practices to enable council and chapter leaders to grow and sustain strong chapters.