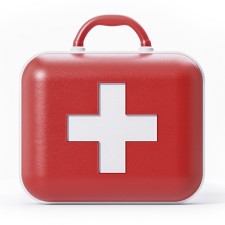 MOAA's TRICARE Toolkit provides insight and tips for navigating your TRICARE benefits. Have a question or suggestion for an upcoming column? Email beninfo@moaa.org. Read other TRICARE Toolkit columns at MOAA.org/tricaretoolkit.
The year is new, and hopefully your New Year's resolutions are still intact.
Speaking of resolving to do something, when was the last time you checked your Defense Enrollment Eligibility Reporting System (DEERS) account? The system considers servicemembers and retirees as the "sponsor" for your family. Sponsors are automatically registered in DEERS, and they must register eligible family members to gain access to benefits, including TRICARE and ID cards.
[RELATED: MOAA.org/ID-Cards]
How Do You Access Your DEERS Account?
Visit a local ID office and work with the clerk. To find an office and schedule ID appointments, use the RAPIDS locator.
Log in to the DMDC milConnect website using a CAC card or DS Logon.
Call the DEERS Support Office at (800) 538-9552.
Fax updates to (800) 336-4416.
Mail updates to:
Defense Manpower Data Center Support Office
Attn: COA
400 Gigling Road
Seaside, CA 93955-6771


When Should You Update DEERS?
Change in sponsor's status: retiring or separating from active duty, National Guard or Reserve member activation or deactivation, change in service status (enlisted to officer or branch change).
Getting married or divorced.
Having a child.
Moving to a new location.
Becoming eligible for Medicare.
Death of sponsor or family member.

Besides updating family information, what else is available on milConnect? You can update your COVID vaccination status, manage Servicemembers' Group Life Insurance (SGLI), manage health benefits (typically during the open season), transfer your education benefits, obtain proof of health coverage, and retrieve correspondence. There is also a Frequently Asked Question (FAQ) tab where you can select topics such as benefits, records, and support.
You can also access the Correspondence/Documentation tab, which enables you to access the Defense Personnel Records Information (DPRIS) System and the DoD Transition Assistance Program (DoDTAP).
The milConnect website also posts information under Hot Topics, Recent News, and more.
Staying on top of this information and updating your DEERS account when needed helps ensure your benefits will be in working order when you need them.
MEDIPLUS® TRICARE Supplement
Works hand-in-hand with your Select or Prime Plan. Count on valuable protection.