(This article by military lifestyle writer Latayne C. Scott originally appeared in the June 2021 issue of Military Officer, a magazine available to all MOAA Premium and Life members. Learn more about the magazine here; learn more about joining MOAA here.)
Virginia has some of the most gorgeous road trips in the country. Fall is the optimum time to enjoy the 105-mile Skyline Drive, which runs along the crest of the Blue Ridge Mountains and is the main artery of Shenandoah National Park, with 75 scenic overlooks that connect wide-eyed motorists to all the major visitor centers, campgrounds, lodges, picnic areas, and most trailheads of the park.
Skyline Drive meets up with the famous Blue Ridge Parkway at Waynesboro. At the leisurely speed limit of 45 mph (with no big commercial trucks allowed), the 469-mile Parkway has earned the ultimate kudo from kids and adults alike; its spectacular views are truly "awesome" in every sense of the word.
Sponsored Content: Located in scenic Loudoun County, Falcons Landing is the premier spot for retirement living. Close to fine dining, shopping and just 15 minutes from Dulles International Airport, residents experience amenities located both on campus and around the Washington, D.C., area. As a Life Plan Community, Falcons Landing welcomes officers retired or honorably discharged, from all branches of service, as well as federal employees of GS-14 and higher, to include spouses and surviving spouses. Now open are the new Terrace Home Apartments, 24 units that fuse the best aspects of apartment and cottage living. The Terrace Homes provide a fresh and exciting new take on senior living and are ideal for those that enjoy indoor/outdoor living, an active lifestyle and entertaining family and friends. Visit www.falconslanding.org/independent-living/the-terrace-home for more information.


Along the parkway are the highest mountain peak in the eastern U.S. (Mount Mitchell), the oldest river in North America (ironically named "New River"), the deepest gorge east of the Grand Canyon (Linville Gorge), and the highest waterfall east of the Rockies (Whitewater Falls). There's no toll road or entrance fee, and you can stop and gaze anywhere along the highway. Blueridgeparkway.org provides interactive maps, with drive times between sights and available facilities — and they abound, ranging from developed campgrounds and picnic sites to the more elegant wineries, restaurants, and hotels.
Sponsored Content: In the middle of Virginia's Historic Triangle, discover life on your own terms in a serene, wooded setting close to the beach, shopping, arts, culture and entertainment. Just minutes from Colonial Williamsburg and the College of William and Mary, you'll find great neighbors at Patriot's Colony who share the same life experiences and leave rank at the gate. Patriot's Colony, sponsored by Riverside Health System, is built on 90 wooded acres. Residents enjoy an indoor saltwater pool, fitness, and recreational facilities, flexible dining options, a tavern, on-campus health care facilities, and much more.
Want to beat a rhythm with the heart of a beloved part of Virginia's history? If you're a country music fan, another Appalachian road trip is the Crooked Road, the state's Heritage Music Trail where you can imagine the autoharp of Mother Maybelle Carter still wafting in the breeze.
If you're yearning for open space and starry skies, there's no better way to experience this than camping at James River State Park and the Staunton River State Park, two of only 100 worldwide officially designated "dark sky parks." At Staunton River, you can check out telescopes from the visitor center, and both parks host annual "star parties" where some serious galaxy-gazing goes on.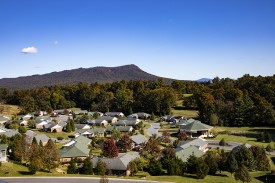 Sponsored Content: In regions of Virginia rich in history, culture, and diversity, with area attractions such as parkways, national parks, battlefields, museums, and performing arts centers, you'll find Sunnyside Communities: three award-winning Life Plan Communities in Virginia — Sunnyside, King's Grant and Summit Square — with over 100 years of experience in senior living. Two communities are nestled in the heart of the Shenandoah Valley, and the other is at the foothills of the Blue Ridge Mountains, with major cities nearby. Recognized locally, regionally, and nationally, the communities have received awards for whole-person wellness programming, the highest ratings for quality of care, and "Best of Virginia" awards in Virginia Living magazine. They offer a variety of affordable living choices such as villas, cottages, garden and patio homes, and apartments.
Go underground — literally! Virginia boasts that it's a true four-season destination, but its eight spectacular natural caverns are comfortable all-year round. You can go on a lantern-led tour in the Gap Caverns in Cumberland Gap National Park; go 34 stories down in the Caverns at Natural Bridge, the deepest on the East Coast; view the spectacular Grand Caverns, which was rated #2 in the nation by Parade magazine's science editor; marvel at the anthodites, "the orchids of the mineral kingdom," in Skyland Caverns; and ponder the as-yet-undiscovered passages of Endless Canyons.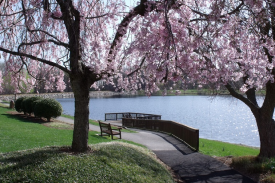 Sponsored Content: The Fairfax at Fort Belvoir, Northern Virginia's premier Continuing Care Community, sits on a magnificent 60- acre campus and is the ultimate community for those who choose to pursue an active lifestyle but want the equanimity of medical care when needed. Our onsite health care center includes physical therapy, a wellness clinic, assisted living, skilled nursing, and memory care. Located one mile from the Fort Belvoir base, and 15 miles from Quantico, The Fairfax affords easy access to shopping, museums, the airports, metro, a variety of performing arts centers, historic Occoquan, and Old Town Alexandria. We boast a coveted Audubon at Home Wildlife Sanctuary that includes a myriad of birdhouses, a butterfly garden, and a fully stocked seven-acre lake for fishing. Enjoy the picturesque landscape while exploring our stunning walking and biking trails. Or try pickleball, bird-watching, swimming in our indoor heated pool, or join one of the many numerous campus clubs. Be as active as you want to be.
But the jewel in Virginia's crown is Luray Cavern National Landmark, the largest cave in the eastern U.S. and home to 10-story natural columns in Giant's Hall. The cavern itself is also the world's largest musical instrument, with stalactite "organ pipes" spread over 3.5 underground acres and wired with rubber mallets. Bonus: The Car & Carriage Caravan Museum, Shenandoah Heritage Village, and Toy Town Junction are included with every Luray Caverns ticket.
History lovers can binge at Colonial Williamsburg and eat where George Washington ate, walk where Thomas Jefferson walked, and listen for the echoes of Patrick Henry's famous speech: "Give me liberty, or give me death!"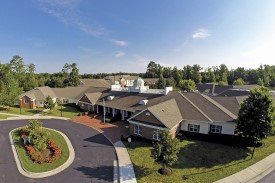 Sponsored Content: Nestled among 172 serene, wooded acres in Suffolk, Va., lies Lake Prince Woods, Hampton Roads' premier not-for-profit continuing care retirement community! Centrally located to several military installations, the city of Suffolk has been named the 15th Best City for Veterans in the nation by NerdWallet, offering rich history dating back to the Jamestown settlements, a vibrant cultural arts scene, and a robust veteran community, making up approximately 15% of the city's population. Located in the largest metropolitan area in the state, Lake Prince Woods offers a variety of lifestyle and floor plan options while maintaining its small-town charm. Call (757) 923-5504 or visit our website at www.lakeprincewoods.org/ to learn more about our campus expansion and new homes!
Arlington National Cemetery is remarkable in scope and meaning; then there are Jamestown, Yorktown, and Monticello. You can't exhaust history in Virginia.
VIRGINIA'S MILITARY MUST-SEE: Virginia is home to the National Museum of the Marine Corps; Naval Station Norfolk, the world's largest naval complex, which hosts the battleship Wisconsin; the Air Force Memorial; and the National Museum of the U.S. Army.
More State Resources
Check out other states that make up Live and Play 2021. Thinking about a long-term move? Visit MOAA's Military State Report Card and Tax Guide as part of your financial decision-making process.