(This article by military lifestyle writer Latayne C. Scott originally appeared in the June 2021 issue of Military Officer, a magazine available to all MOAA Premium and Life members. Learn more about the magazine here; learn more about joining MOAA here.)
The commonwealth of Pennsylvania is a treasury of accessible, history-drenched places. What other state boasts the launch site of Washington's crossing the Delaware? Other notable places and battlefields include the poignant Gettysburg and the near-tragic Valley Forge. Most such destinations are open to explore, even if their visitors' centers may be closed. Most restaurants in the Philadelphia area are open at full-capacity levels.
In the area nestled between Philly's two main rivers are sites like 2,000-acre Fairmount Park, which contains everything from Instagram-worthy photo ops at spectacular fountains, a traditional Japanese tea house and garden, Treetop Quest Philly (an "aerial adventure park"), the magical Please Touch Museum, a bike adventure course, horseback trails, and regattas. With eight miles of riverfront, the Schuylkill Banks and River Trails offer scenic cruises, kayak tours, trails for cycling and walking (people and dogs), picnic sites, and outdoor movie screenings in the summer. And Bartram's Garden provides both 18th-century farm buildings and cityscape views.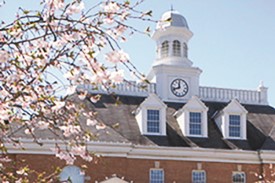 Sponsored Content: Media, Pa., has been nationally recognized by smartasset.com as the fifth best place to retire in the U.S. Known as "Everybody's Hometown," this beautiful area features diverse restaurants and boutiques, numerous historical landmarks, gorgeous parks, easy access to exceptional health care — and Riddle Village, a luxurious retirement community. Media is just a short drive from Philadelphia, New York, and Washington, D.C. And Pennsylvania does not tax social security or pensions, keeping more money in your pocket. As you research where you would like to retire, be sure to visit Media, Pa., and put Riddle Village on your list.
The commonwealth is also famous for its "plain people" way of life, and nowhere is the contrast between cultures more sharply seen than in the town of Intercourse. The newly opened Barry's Car Barn, with its unique collection of American muscle cars from the '60s, '70s, and '80s, is just across the street from Kitchen Kettle Village, which offers a Pennsylvania Dutch experience through buggy rides, local foods, and gifts and galleries. Also in Lancaster county's unique countryside is Amish Village, with tours of classic buildings and culture.
The founders of Frommer's travel guides named Independence Hall as their top travel destination pick for 2021, citing not just what you'll see, but what you'll hear: "the most gifted storytellers in the United States, an elite group of national park rangers" onsite. Don't miss the just-opened Faith and Liberty Discovery Center in Independence Mall, "America's most historic square mile." It provides a unique interactive experience when visitors use lamps to engage with exhibits and then are able to access favorites from their collection post-visit.
PENNSYLVANIA'S MILITARY MUST-SEE: An unobtrusive hidden gem is New Hall Military Museum, located on the 1790s site of the War Department. It also commemorates the Marines' inception in Philly.
More State Resources
Check out other states that make up Live and Play 2021. Thinking about a long-term move? Visit MOAA's Military State Report Card and Tax Guide as part of your financial decision-making process.