(This article by military lifestyle writer Latayne C. Scott originally appeared in the June 2021 issue of Military Officer, a magazine available to all MOAA Premium and Life members. Learn more about the magazine here; learn more about joining MOAA here.)
Mighty Maryland, brimming with history and culture, is relatively small in size, but it has 7,700 miles of nooks and crannies shoreland. When people think of this state, they often think of bustling Baltimore, with attractions like Fort McHenry National Monument, the Inner Harbor's restaurants and shops, the cobblestone walks and boutiques of Fells Point, and the National Aquarium with its sea creatures and kid-friendly Animal Care and Rescue Center. In the metro area, there's dining, nightlife, and a plethora of museums and memorials to famous people like Edgar Allan Poe and Babe Ruth.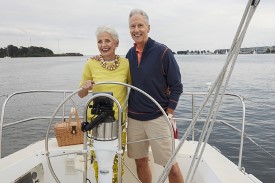 Sponsored Content: Opening in 2024, The Village at Providence Point—A National Lutheran Community will reimagine the landscape of senior living in Annapolis, Md. Independent living apartments and cottages will offer open floor plans and top-of-the-line finishes. World-class amenities will include extraordinary dining, an indoor aquatic and fitness center, housekeeping, maintenance, and so much more! The community will soon begin taking reservations from current priority depositors, and then follow with the general public. For more information, call (410) 216-5854 or visit www.thevillageatprovidencepoint.org. The Village at Providence Point is affiliated with National Lutheran Communities & Services, a faith-based, not-for-profit ministry of the Evangelical Lutheran Church in America, serving people of all beliefs. The Village at Providence Point is subject to the final approval of the Maryland Department of Aging.
The Chesapeake Bay area features the U.S. Naval Academy in Annapolis, the Chesapeake Bay Maritime Museum's collection of model ships, and legendary sailing and seafood. If big cities aren't your thing, consider visiting beach resort town Ocean City. It swells in the summertime, but it has year-round events like the Best Bloody Mary Contest, a marathon, and weekend car shows.
Visitors can also venture inland to a fairly new attraction, the Harriet Tubman Underground Railroad National Historical Park. Here, historical displays contrast with solar-lit facilities where you can charge your hybrid vehicle and then go explore the nearby Blackwater National Wildlife Refuge.
Maryland has minor and semi-pro sports teams, as well as the Baltimore Orioles (Major League Baseball) and Baltimore Ravens (NFL). The Washington Football Team plays in Maryland, as well.
People think maritime when they think Maryland, but the mountainous western section also has snow skiing at the Wisp Resort, which averages 100 inches of snow annually.
MARYLAND'S MILITARY MUST-SEE: At Antietam National Battlefield, you can walk around the site of the bloodiest single-day battle of the Civil War. Another unforgettable experience awaits you in Baltimore aboard USS Constellation, the Navy's last sail-only warship.
More State Resources
Check out other states that make up Live and Play 2021. Thinking about a long-term move? Visit MOAA's Military State Report Card and Tax Guide as part of your financial decision-making process.