As a nurse for nearly 30 years in the Army, retired colonel Kim Biever has spent her life looking out for her patients.
While she no longer may be at their bedside, the San Antonio resident is still taking care of her fellow military men and women as a member of the MOAA Uniformed Services Nurse Advocates Virtual Chapter (MUSNAVC). Biever joined the chapter when it was created in 2016, prior to her retirement, hoping to have a positive influence on those who serve and have served.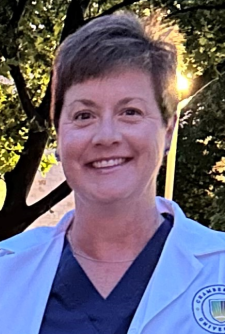 "I liked the idea of making sure we were using all of our knowledge for the greater good," Biever, pictured, said during an interview for National Nurses Week.
[RELATED: More About MOAA's Virtual Chapters]
Boasting 482 members nationwide, the chapter meets virtually each month to discuss advocacy issues related to the health care of servicemembers and veterans. Among current MUSNAVC priorities, the chapter is supporting legislation that would encourage the domestic manufacturing of drugs and personal protective equipment, according to MUSNAVC president Lt. Col. Joe Gollasch, USA (Ret).
The chapter also supports many other initiatives, including making it easier for nurses and military spouse nurses to transfer and obtain licenses when they move to a different state.
[RELATED: More About MOAA's Councils and Chapters | Find a Chapter Near You]
There are no dues to join the chapter, and the variety of members means different viewpoints are expressed at each meeting, said Biever.
"You get a perspective from many different states, and many different organizations, and you also get perspective of how decisions made in Congress are affecting the beneficiary population in different areas," Biever said. "In San Antonio, we may not feel the effects [of legislation as much as] more rural places, places that don't have as many resources."
Recently retired, Biever said she would like to see more younger MOAA members volunteer to be in the chapter "to make sure there is longevity in what we are doing."
"You get pretty busy on active duty, so it's hard to focus on anything else," said Biever, who was part of MOAA's in-person Advocacy in Action event on Capitol Hill last month. "But once we step away, we should really get involved in things going on to ensure that everything we have worked for … gets preserved."
[RELATED: Help Strengthen MOAA's Message: Sign Up for Our Legislative Action Center]
The niece of a hospice care nurse in southern Mississippi, Biever assumed leadership roles throughout her career, including director of Brooke Army Medical Center in 2022. She also deployed twice to the Middle East, streamlining processes to improve care of trauma patients in Afghanistan and Iraq in 2009, and working in 2012-13 to improve care for critically ill and injured patients who needed medical evacuation from Afghanistan.
For her service in Afghanistan and Iraq, she was a 2014 recipient of the Heroes of Military Medicine Award by the Henry M. Jackson Foundation for the Advancement of Military Medicine Inc.
Biever initially wanted to go to medical school. However, she changed her mind after three years of college and was able to use her ROTC scholarship at the University of Southern Mississippi to cover her senior year and two years of nursing school. Three decades later, she knows she made the right choices along the way … including the choice to join MOAA in 2006.
"I had been living in Germany, and it was really important to find an organization that was doing something for our military," Biever said. "We were at war [in the Middle East] and not everything was positive about it. I wanted to make sure I found an organization that would ensure that the military benefits were preserved because I didn't know how long the war was going to go and it had already been going on for a while."
To find out more about the MUSNAVC or to join the chapter, visit MUSNAVC.org.
Want to Help Servicemembers in Your Community?
Learn how you can make a difference with your local chapter.