Note from MOAA: Read a recent message from Lt. Gen. Brian T. Kelly, USAF (Ret), MOAA's president and CEO, about our Legislative Action Center, or go straight to the sign-up page to be a part of our advocacy efforts throughout the year.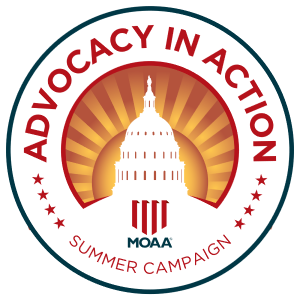 MOAA national and our member-leaders throughout our network of councils and chapters are in the home stretch of the 2023 Advocacy in Action Summer Campaign, which wraps up when members of Congress return to Washington, D.C., after Labor Day. This gives us more time to build support for our two main issues:
Building Momentum
In past years, MOAA members would read an article about our advocacy efforts in The MOAA Newsletter and send a letter directly to their legislators. The system has changed a little thanks to our Legislative Action Center, which helps MOAA evaluate responses and determine what topics are of the most importance to our members.
We have increased our advocates by over 3,000 in the past month, bringing us to 19,400. This is welcomed progress, but many more registrations are needed to better represent our overall membership base of more than 360,000.
If you already signed up, we thank you for doing so. Spread the word among your friends and families, others in your MOAA chapter, and throughout your in-person and online networks.
[RELATED: Congress Can Make a Difference for Military Families by Restoring Full BAH]
If you have not signed up yet, please do so – and then send letters to your legislators about the housing allowance and TRICARE pharmacy benefit issues noted above. You also can scan the many Key Advocacy Issues tracked by MOAA and join in the efforts of your fellow members.
The fiscal challenges on the horizon are palpable; we must continue to prepare for the possibility of decrements to service-earned benefits. To face such stark and unprecedented cuts, we will need more than the 19,400 advocates on our bench. Register today and lend your voice to MOAA's cause.
MOAA Fights for You
Get involved and make sure your interests are addressed.