(This article by Louisiana-based writer Kathie Rowell originally appeared in the December 2021 edition of Military Officer, a magazine available to all MOAA Premium and Life members. Learn more about the magazine here; learn more about joining MOAA here.)
Private sector. Public sector. Opportunities abound in both employment categories for retiring servicemembers transitioning into new careers.
Each has its own pros and cons, said Col. Brian D. Anderson, USAF (Ret), MOAA's senior director of Transition and Member Services. Private sector jobs offer the challenge of something extremely different from military service and may come with a steep learning curve and a focus on profit, he said. Public sector work, to include federal employment, may be a more comfortable fit with its familiar hierarchical culture and core value of service to country.
Anderson believes veterans are particularly well suited for public sector government jobs, whether they be at the federal, state, or local level.
"We've cross-trained into multiple skills," he said. "We have experience in various tasks and responsibilities. We know what it means to put in a hard day's work, and we appreciate the challenges in front of us. Throughout the public sector, you certainly have all of those again where you're playing a vital role. It's a calling that's really greater than yourself. Whether that be leadership, teamwork, or your individual job skills, it really translates well."
[NEW!: Federal Hiring Resources, Guidance at MOAA.org/FedJobs]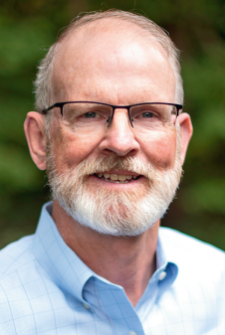 When Capt. Jim O'Keefe, USN (Ret), retired in 2005, he had multiple job offers and decided to go with a large corporation. Five years later, O'Keefe, pictured, made a risky move to a smaller company and, after a year, found himself unemployed in a less robust market. He decided to pivot and seek jobs that made use of his professional engineer license.
A search of federal job listings turned up an opening for the director of the U.S. Capitol power plant that appealed to him both because of the nature of the work and the stability of a government job. When that position was filled from within, he applied and was hired as the deputy director.
"We actually run the power plant that provides steam and chilled water to heat and cool all the key buildings on Capitol Hill — the Capitol Building, House and Senate office buildings, Library of Congress, Supreme Court, botanical gardens — so it's pretty cool," he said.
He believes the leadership skill of caring for one's people, which he brought with him from the Navy, has helped him implement positive changes in the workplace.
Lt. Cmdr. Bill Ashton, USN (Ret), now program manager, Military Veterans Agriculture Liaison at USDA, put his feet into private sector work first, but ultimately decided working for the federal government made more sense for him, even though friends tried to sway him with how much money he could make as a government contractor.
"That's not the quality of life I wanted, so I elected to work for the federal government," said Ashton, pictured, who had small children at the time and valued
the security, regular hours, reliable pay, and excellent benefits provided by the government. It also lets him continue serving.
"I love taking care of veterans," he said. "I'm educating veterans who have no clue what USDA does."
Anderson believes one misconception about federal jobs is that they are all in Washington, D.C., when 85% are outside the Beltway, meaning there are opportunities just about everywhere. He advises transitioning servicemembers to do a self-assessment, identifying skills, passions, and interests, then write their own job description before starting the job search.
"That way, you know what your non-negotiables are going to be," he said. "Then, research companies to see if what they have matches with you, as opposed to approaching companies first, finding out what they've got, and making a decision. Do that self-assessment, understand what your personal priorities are, and then launch into going out to make those things happen."
Join MOAA Today
Becoming an officer was hard. Getting advice from one is easy. Click below for more details.