(This article by Hope Hodge Seck originally appeared in the November 2022 issue of Military Officer, a magazine available to all MOAA Premium and Life members. Learn more about the magazine here; learn more about joining MOAA here.)
For Chad and Jennifer Vaughn, good days can be an escapist, idyllic fantasy. They forsook house life in 2020 for a trailer-camper they tow around the southwest, and now are nomads, spending months at a time by the Rio Grande National Forest or in the vibrant heat of Tucson, Ariz.
On bad days, though, life can slam to a halt.
Jennifer, a 46-year-old formerly enlisted Navy lieutenant who served 22 years before her medical retirement, gets unpredictable migraine headaches that last for hours or a full day. These headaches — the residual cost of intense, untreated stresses sustained while in service, including a tour as an admiral's aide-de-camp — incapacitate her, leaving her unable to communicate or even pour herself a cup of water. Jennifer also suffers from other service-connected conditions.
"My wife does not need a caregiver every day," Chad Vaughn said. "But when she does need a caregiver, she absolutely needs a caregiver."
That's why he was shocked earlier this year to get a notice from the VA that he and Jennifer were being disenrolled from its Program of Comprehensive Assistance for Military Caregivers due to a change in eligibility criteria, meaning they'd lose a monthly stipend and travel benefits for care. Chad and Jennifer remain unsure how to navigate what's next for them.
[RELATED: MOAA.org/Caregiver]
Expanding Support for Caregivers
While the average American might picture a veteran with visible combat wounds and consistent support needs when thinking of caregivers, the reality reflects a far more diverse world of military caregiving. According to a 2014 RAND Corp. study commissioned by the Elizabeth Dole Foundation, just 15% of post-9/11 veteran care recipients surveyed suffered from paralysis or spinal cord injury; fewer than 4% were amputees. More than 20%, on the other hand, suffered from traumatic brain injury, 52% from post-traumatic stress disorder, and nearly 46% from a major depressive disorder.
For older generations of veterans, other conditions dominate: back pain, traumatic arthritis, hypertension. At the time, RAND found some 5.5 million caregivers were meeting the needs of veterans — a spectrum that ranged from managing household affairs and preparing medication to feeding, dressing, and bathing. Most caregivers committed more than 10 hours per week to the task, and some more than 80.
The number of caregivers and veterans needing care is expected to increase in coming years as the population ages and follow-on effects of military service become more pronounced. These newcomers will enter a hidden world, and a messy one: Many caregivers feel their service goes unrecognized by a nation that nonetheless needs them, and they feel frustrated by incomplete or disjointed efforts by the VA and Congress to create programs and policies that meet their own needs. But advocates for these "hidden heroes" say a more welcoming and supportive world for caregivers is possible, and they're fighting to build it now.
"The people that kind of keep me up at night are the folks that haven't raised their hand … haven't recognized that they're a caregiver," said Rashi Venkataraman Romanoff, executive vice president of the Elizabeth Dole Foundation, founded in 2012 to support and empower military caregivers. "As soon as that light bulb goes off, and we've seen this happen … suddenly they're able to be connected to resources."
[RELATED: VA Family Caregiver Benefits for 'Legacy' Veterans Extended Through 2025]
Access to Programs and Resources
After completing the unfavorable re-evaluation process at the VA, Chad Vaughn contacted another advocate: the Military Officers Association of America.
"I reached out to MOAA, and I said, 'Hey … do you know what's going on with this program?' " Chad said. "And the guy that I talked to, total rock star, he's like, 'This is the first time hearing about this.' And so the whole thing went from 'nobody heard this,' to literally, like, 30 days later, they're in front of Congress. It was very fast."
[MAKE YOUR VOICE HEARD: MOAA's Legislative Action Center]
One of MOAA's top VA health care objectives is prioritizing and accelerating access to caregiving support, as well as long-term and extended care programs and services.
"We need to make sure that our veterans are getting what they've earned, and making sure that resources are in place for them," said Cmdr. René Campos, USN (Ret), MOAA's senior director of Government Relations. "Many that are in the VA health care system … have unique needs because of the service that they provided to our country."
Campos went before the Senate Veterans Affairs Committee in March to discuss the organization's top legislative priorities, naming caregivers as an important issue and voicing concern over the staggering number of re-evaluation denials that were taking place.
Under the 2018 MISSION Act, the VA was preparing to comply with a mandate that would open up the comprehensive caregiver program to veterans from all eras, from its original population of post9/11 veterans, beginning October 2022. In the process, the administration was implementing new eligibility requirements: ones that VA officials confirmed in March had been on track to kick 90% of legacy participants out of the program. The VA would halt dismissals indefinitely later that month, and suspended reassessments altogether in June to further investigate program qualification requirements.
For Campos, the commitment to pushing for effective and consistent resources for caregivers is personal; she was a caregiver to her brother, a fellow Vietnam-era Navy veteran who left the service with a heart condition, post-traumatic stress, and other mental health issues. In addition to learning from Vaughn's situation to inform lobbying efforts, Campos said MOAA's team was working to connect him with other organizations for future help with paperwork and appeals.
"It's mind-boggling and frustrating," she said of the situation.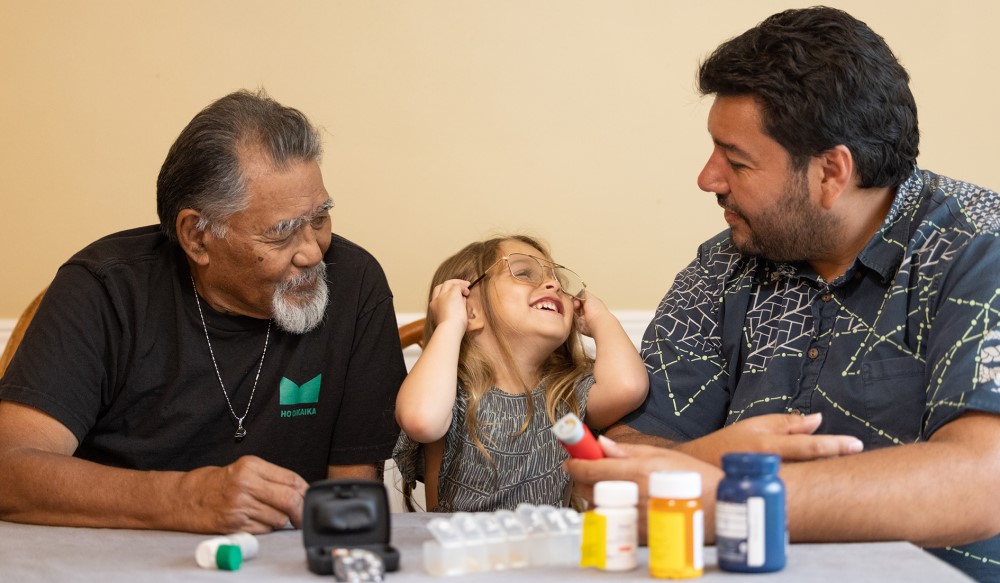 Creating a support system has helped T. Ilihia Gionson, right, care for his
father, Tony, left. Tony enjoys spending time with Ilihia and his granddaughter. (Photo by Anna Pacheo/for MOAA)
Building Networks
For caregivers from other eras of war, the physical toll of aging often increases the complexity of caring for service-related conditions. T. Ilihia Gionson's father, Anthony "Tony" Gionson, was drafted into the Army as an enlisted artilleryman in the late 1960s, leaving Hawaii to fight in Vietnam and coming back with a slow-burning post-traumatic stress disorder that became more pronounced after the death of then-19-year-old Ilihia's mother in 2005.
Tony, who was then coming to the end of a 20-year civilian career at a local hardware store, moved in with Ilihia a decade ago, after help with an unplanned car breakdown led to the discovery that his living situation had badly deteriorated. Now 36, with a full-time job as public affairs officer for the Hawaii Tourism Authority and a 4-year-old daughter, Ilihia often has to balance the plan for the day against his 75-year-old dad's routine needs and flare-ups of emotion and social anxiety.
"Things like going to the grocery store would probably give him paralyzing anxiety, and he wouldn't go in," Ilihia said. "[I help with] sort of the basics, taking care of finances, bills, shopping, cleaning, that sort of stuff . Where he reciprocates is, he enjoys spending time with his granddaughter so much. That offers a little bit of reprieve to me, so I can go do the other stuff."
[RELATED: MOAA Spouse Council Member Selected as Dole Caregiver Fellow]
Ilihia has built his own network of support for his dad and himself through determination and persistence. He discovered Ho`ōla Farms, an agricultural business founded by a military caregiver and her spouse, that offers therapeutic gardening for veterans and retreats for caregivers; during the pandemic, the farm dropped off plants for Tony to tend at home. Ilihia connected with the Elizabeth Dole Foundation, becoming a caregiver fellow representing Hawaii in 2021. And he made sure to involve himself in every meeting with his dad's VA care team, whether or not his presence seemed welcome. At times, he joked, dealing with the VA felt like cause for its own support group.
"A lot of it was, in my case, persistence," Ilihia said. "I'm not going anywhere, guys, I will be here every time you see him. Let's work together."
Feeling unwelcome as a caregiver at the VA is a commonly acknowledged problem — although one both caregivers and VA staff said has been a focal point for improvement. Gabby Rifman, who lives in Palmer, Alaska, and cares for her husband, Edward — who sustained traumatic brain injuries and developed several chronic conditions due to exposure to burn pits in Iraq and Afghanistan — said she has noticed a change.
In the past, "when I would go into appointments with him — and this is a man that couldn't even string together coherent sentences all the time — I would get the sense that providers did not want me there, they didn't want to deal with me or talk with me," she said. "Now it's to the point where I have a great relationship with almost every provider of his, because they finally have the light bulb. If you want the veteran to be successful, you need to pull in their closest ally at home."
Legislative Efforts and Beyond
That shift didn't just happen organically. For the VA, "this is the year of the caregiver," said Dr. Colleen Richardson, executive director of the VA Caregiver Support Program. Richardson, a Navy veteran who served as a Marine Corps psychologist, said she's pushing for a standard of "award-winning contacts" at each encounter, and trying to further standardize the patient experience across the sprawling and far-flung VA network — admittedly a daunting proposal — by comparing "high-performing" and "low-performing" VA sites to isolate best practices and integrate them into training. And for Richardson, "high-performing" means being able to get to a "yes" more often for the veteran and caregiver.
"As we get ready to expand again, the VA does a great job with taking care of the health care needs of veterans," Richardson said. "But now we're talking about the caregivers support program where we're supposed to be supporting caregivers, so they in turn, can take care of the veterans' caregiving needs."
That expansion is expected to be substantial. By September 2023, Richardson said, the VA expects to have up to 75,000 caregivers for veterans of all eras in its support program, up from about 50,000 today. To meet that need, the administration has hired and trained additional staff based on target application processing time, she said. As for the current pause in caregiver reassessments and dismissals, that will not lift, she said, until the completion of a comprehensive program review.
"It's about standardization and consistency," Richardson said.
Beyond the VA, MOAA is among other groups pushing for better policies, data, and awareness about the role of military caregivers and how to support them. The MOAA-backed Elizabeth Dole Home and Community Based Services for Veterans and Caregivers Act of 2022 (H.R. 6823), introduced in March, would increase support for veterans receiving care at their own home, allowing the VA to pay for home care at 100% the rate of nursing home care and providing respite to their caregivers, among other benefits. It would also require the VA to coordinate a transition from its comprehensive program for caregivers to another eligible home care program for those who receive a denial or dismissal from the program.
MOAA also supports two additional pieces of legislation that would help veterans and their caregivers:
Expanding Veterans' Options for Long-Term Care Act (S. 4169), which would require the VA to carry out a pilot program to provide assisted living services to eligible veterans. This would allow veterans to live more independently and save taxpayer dollars.
Long-Term Care Veterans Choice Act (H.R. 7158/S. 2852), which would allow the VA to enter into contracts and agreements to pay for private medical foster home care for veterans who are unable to live independently.
[TAKE ACTION: Ask Your Lawmakers to Support Long-Term and Extended Care Services for Veterans]
Looking ahead, The Elizabeth Dole Foundation is supporting a second RAND study to examine the future for military caregivers and how the population is changing. The organization expects that effort to better guide care and support.
For those like Rifman, who haven't been accepted into the VA's comprehensive assistance program but believe their circumstances and the extent of their caregiving work qualify them, an independent organization, the Quality of Life Foundation, works to help them navigate a sometimes opaque paperwork and appeals process.
Ultimately, as Jeanette Ezell, a caregiver for her Gulf War veteran husband, Dwayne, points out: The nation needs caregivers; they take on the equivalent of billions of dollars a year in services for veterans so the nation can keep its promise to those who served.
"We're still here," she said, "and we're still fighting."
Hope Hodge Seck is a defense writer based in the Washington, D.C., area.
Military Officer

Magazine
Discover more interesting stories in MOAA's award-winning magazine.