A simple desire to make a few Afghan refugees in Cleveland feel welcome turned into a full-fledged community effort reminiscent of a historical American feast 400 years ago.
Former Naval aviator Kenneth Harbaugh, a MOAA member, and his daughter Katie initially thought of providing a Thanksgiving meal last fall for some of the refugees that had arrived in Cleveland a few months earlier. But thanks to generous support from MOAA's Greater Cleveland Chapter and other community members, the Harbaughs raised $10,000, enough to feed 243 refugees and help the U.S. Committee for Refugees and Immigrants (USCRI) purchase a van to transport refugee families.
"Many of the meals were delivered by local MOAA members, who gave up their Thanksgiving holiday to welcome these families to Cleveland," said Harbaugh. "It reminded all of us what Thanksgiving is really about, and it was a lot like the original Thanksgiving – welcoming newcomers to a new home."
Today, Harbaugh is one of several MOAA members and supporters helping Afghans transition to a new life in America. Harbaugh is sponsoring a family of 13 for USCRI, a refugee resettlement organization that provides housing, job placement, and a living expense allocation of $1,250 to refugees looking for a permanent home.
Refugees receive assistance for three to six months, USCRI Development Associate Graham Ball said. But only 10% of the Afghan refugees in Cleveland being assisted by USCRI have received sponsors, so the need is enormous, Ball said. The refugees arrive without transportation or documentation, and in some cases, they are financially illiterate.
MOAA member and Cleveland resident Capt. Jamie Wise, USN (Ret) is sponsoring the family of Atiqullah Sakhizada, a former member of the Afghan National Defense and Security Forces (ANDSF) from rural Afghanistan.
Sakhizada had never used a computer before moving to the U.S., and based on his experience in Afghanistan, he had no trust in the banking system.
"When he received his welcome money, the case manager helped him cash a check, but was unable to convince him to deposit the money in his banking account that was recently established," said Wise, who retired in 2019 after serving 30 years in the Navy. "He had never used a credit card, never had an ATM card. … We had to show him that you could look on a [phone] app to see where his money went."
[RELATED: More MOAA Members in the Spotlight]
Harbaugh is also helping his family with the basics like driving and language lessons, and opening a bank account. The father is attempting to find a job after working as a taxi driver in Kabul. His children have started school and are picking up English quite quickly, Harbaugh said.
"The littlest ones are absolute sponges when it comes to learning English," Harbaugh said. "They love school."
USCRI's Cleveland location, one of seven field offices nationally, has assisted 328 Afghans since last August after helping just 85 the previous year. In all, more than 76,000 Afghans have moved to America in the last six months according to the Department of Homeland Security, many of them to cities like Cleveland.
In addition to needing assistance with paperwork and the English language, many of the refugees had to leave behind other family members, some of whom are in hiding due to their relatives' connection with the U.S. government.
[RELATED: Member's Nonprofit Ensures Veterans in Hospice Have Companionship]
The parents of Afghan native Bakht Moqbel, a case manager for USCRI's Cleveland office, are still living in Afghanistan. Moqbel had been working on women's rights issues for USAID before having to flee his native country.
Moqbel's formal education at American University of Afghanistan and his father's military service made Afghanistan more precarious for him and his family. Fortunately, Moqbel had applied for a special immigrant visa in 2018 and was given advance warning of the Taliban advancing on Kabul last summer. He left Aug. 8, 2021 -- just a week prior to the U.S. military departing Afghanistan.
His paternal uncle and 6-year-old cousin were not so lucky. They died in a car bomb while on vacation in May 2017. Moqbel also knew some of the 23 students at the university who were killed by the Taliban a few months after his uncle died. Moqbel managed to finish his thesis in 2020 after the school reopened but has yet to receive his degree.
"The Taliban might have targeted [my uncle] because he was my uncle and he was my father's little brother and he loves the country," Moqbel said. "The Taliban didn't allow me or my father to participate in his funeral gathering. Our relatives put an Afghan flag on his grave and Taliban took that away and tore the flag."
Miles4Migrants
Relatives of other MOAA members have been helping Afghan refugees in other unique ways.
Annette Ross, wife of MOAA member Lt. Col. Stephen W. Ross, USA (Ret), is the director of development for Miles4Migrants, a U.S.-based nonprofit that collects and provides unused airline miles to those fleeing war, persecution, or disasters.
Ross spends much of her time prioritizing and coordinating projects, discussing upcoming miles needs, and working with current and future donors.
Since Jan. 1, 2021, Miles4Migrants collected enough miles and cash to ensure nearly 19,000 Afghan evacuees reached their final destination. Miles4Migrants also collaborated with Welcome.us -- an organization launched to help welcome Afghan families to the U.S. -- to raise airline miles.
[RELATED: MOAA Chapter Leader Donates Hair to Children in Need]
According to Miles4Migrants Director of Innovation and Operations Dan Moore, the organization helped fly 212 Afghans since last August, including 81 children and 21 babies, to Cleveland for resettlement.
Since forming in 2016, Miles4Migrants has collected more than 840 million airline miles for those in need all across the world. Miles4Migrants is also closely monitoring the situation in Ukraine as millions have fled to bordering countries in the wake of the Russian invasion.
"At this time, because commercial flights have been suspended in Ukraine, we are unable to assist those in need of transportation out of the country," Ross said. "However, we are increasingly hearing from our on-the-ground NGO partners of the need for air transportation for Ukrainian refugees to get from temporary housing in border countries to longer-term homes in other locations. Miles4Migrants works through NGO partners to identify individuals in need of flight assistance, and we stand ready to assist with these flight requests as our partners submit them."
Ross's desire to help others was born at a young age. As a child, she was influenced by her father's World War II stories of helping Jews from Denmark escape to Sweden during Nazi Germany's occupation of the country. In 2018, Ross decided to come to Miles4Migrants after watching the U.S. southern border crisis unfold in the summer of 2018.
"When the U.S. southern border crisis seemed to be on every front page and news station, complete with photos of distraught little children, I was so dismayed," Ross said. "When I subsequently saw mention of Miles4Migrants assisting refugees all over the world, I reached out and asked, 'How can I help your mission?'"
Settling Into a New Life
Military Officer recently told the story of Abdul Qader, a translator for the U.S. Army in Afghanistan who was evacuated from Kabul last summer with the assistance of MOAA member Lt. Col. Chris Mercado, USA.
Qader and his wife and three children now live in suburban Richmond, Va., after spending several months at Fort Pickett, about an hour's drive southwest. They are staying at a townhome owned by Jonda Wines, the girlfriend of Master Sgt. Jason Fritz, USA (Ret). Fritz first alerted Mercado of Qader's situation in Afghanistan as the Taliban were reclaiming control of the country.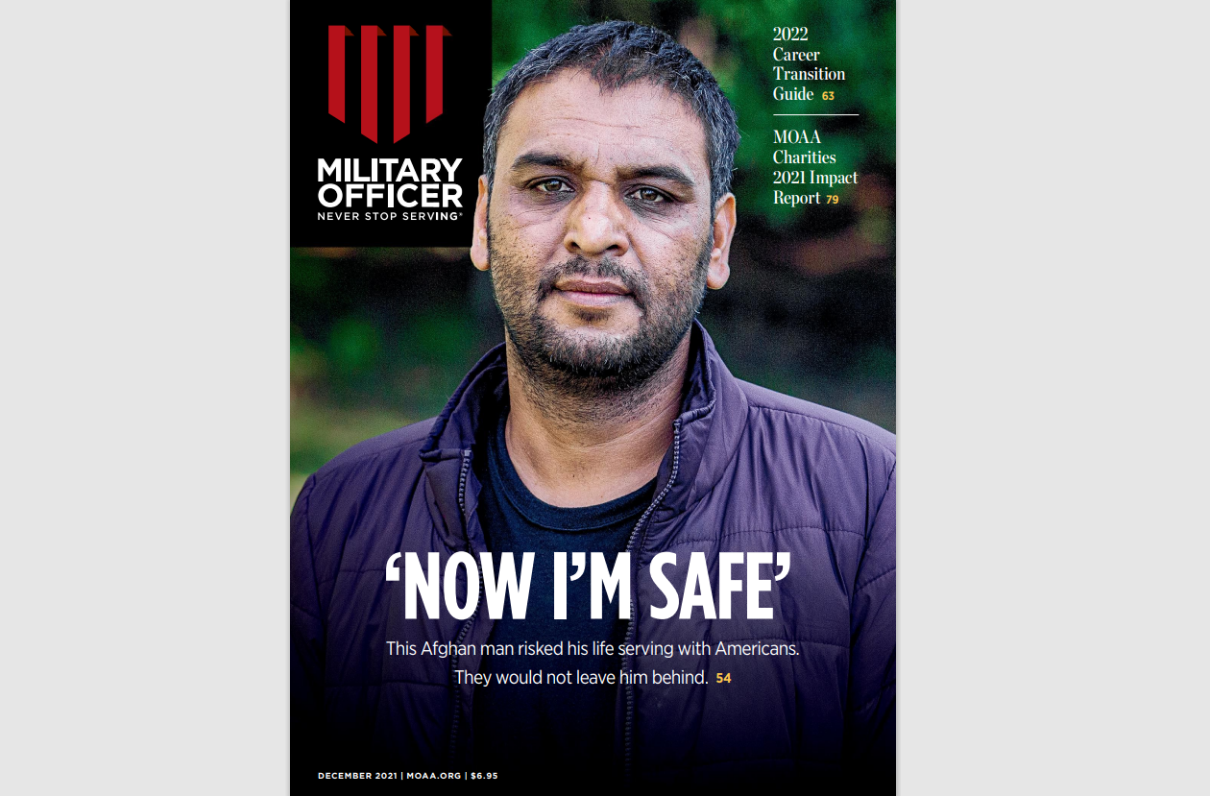 Abdul Qader appeared on the cover of the December 2021 issue of Military Officer magazine. (Photo by Cpl. Eric A. Ramirez/Marine Corps)
With help from Fritz and Wines, Qader has signed up for government assistance and enrolled his 6-year-old daughter, Yousra Ahmadi, in a local public elementary school. He is also on the verge of obtaining his driver's license. And thanks to Fritz's friend Tech. Sgt. James Bailey, USAF (Ret), Qader also just got his own car.
Bailey, who served as a medic with Fritz on the Panjshir Provisional Reconstruction Team in Afghanistan, donated a vehicle to Qader after learning of Fritz's GoFundMe page. Bailey and his wife, a major in the Air Force, were going to donate the car to a neighbor after learning they would be moving to Hawaii this summer. Instead, they packed up the vehicle with clothes, toys, and cleaning supplies and sent it to Richmond from their home in Ohio.
"That seemed like the better thing to do," Bailey said.
For the last week, Qader had been walking to work at a local car wash to earn a paycheck. But with transportation and a license, Qader will be able to go on job interviews. Knowing Qader's background in engineering, Fritz is trying to get him connected to the construction industry.
"I appreciate that and will never forget this big help," Qader said of Fritz's and Wines' assistance.
"The main thing is he is trying so hard," Wines said. "Our ability to help him is just a bonus. He is the one pushing and pushing to make sure he gets his family taken care of."
Mercado is not surprised by Fritz's efforts to assist Qader and his family, having seen his heroics firsthand during an anti-tank mine explosion that killed four and injured several soldiers in a convoy in the Afghanistan's Panjshir Valley.
"[Jason's] efforts to save Qader and to continue to support him speaks to his character and his commitment to serve," Mercado said.
Support The MOAA Foundation
Donate to help address emerging needs among currently serving and former uniformed servicemembers, retirees, and their families.