By Kristin Davis
The toughest assignments are best faced together, and no assignment is more laden than the last.
That is why Col. Claude Schmid, USA (Ret), founded Veteran's Last Patrol, a nonprofit that connects veteran volunteers to veterans in hospice.
"All branches of service understand the concept of patrolling land, sea, or air," Schmid said. "End-of-life care is your last patrol. Like all patrols we're familiar with, they are best done as part of a team. You don't go patrolling alone."
Since its founding in South Carolina in 2018, Veteran's Last Patrol has grown to more than 250 volunteers in 19 states, supporting thousands of veterans.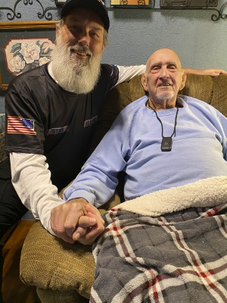 During the last three years of his 31-year Army career, which included serving as a combat brigade commander in Iraq, Schmid was chief of the Army wounded warrior flight evacuation program. In that role, he met thousands of servicemembers wounded in Iraq and Afghanistan.
"I learned a lot from that," Schmid said. "The most important was that no matter someone's adversity or what condition they are in, they still need someone to talk to. They need a friend. They need someone to listen to them."
[RELATED: More MOAA Members in the Spotlight]
After retirement, Schmid began volunteering at nursing homes and with hospice organizations and found there was a great shortage of volunteers for such work. It would form the foundation of Veteran's Last Patrol. In addition to providing friendship, the organization also honors those in end-of-life care with ceremonies and presentations.
Many of the veterans served are the last surviving members of their families, Schmid said. "Oftentimes, they are alone or there is no one in their family who has a military connection. This may be the last time for them to share their stories, especially with a new friend or a new veteran who comes into the picture."
The bonds that form in those final months and weeks can be extraordinary, Schmid said. And perhaps no one is more honored than the volunteer who sits and listens to stories of service and sacrifice.
Joe was a World War II veteran who operated a landing craft during the invasion of Normandy. When the boat next to him sank, Joe jumped in to rescue one of the men in the water. Both survived the war, and the man Joe rescued sent him a box of cigars on the anniversary of D-Day for the next 45 years.
"He had a caregiver who spent several hours a day with him. But, by and large, he was alone," Schmid said.
One veteran had lost the ability to speak, but he could still hear music, and he would sing along to it.
"Sometimes they'll tell you about a last wish," Schmid said. Like the lifetime trout fisherman who wanted to go fishing one last time. A fishing guide was found, and a trip was arranged. He caught one final trout.
"Many of these veterans have outlived their wives and, in many cases, their children. They live in their memories," said Col. Art Wallace, USA (Ret), who began volunteering with Veteran's Last Patrol as an extension of his own involvement with hospice. "When they are surrounded by veterans, some of whom have had similar assignments, it rekindles those memories . . . it's like opening a yearbook. You have memories that you may not have thought about for decades."
Kristin Davis is a writer based in Fredericksburg, Va.
Want to Help Servicemembers in Your Community?
Learn how you can make a difference with your local chapter.