(This article by military history and culture writer Don Vaughan originally appeared in the September 2021 issue of Military Officer, a magazine available to all MOAA Premium and Life members. Learn more about the magazine here; learn more about joining MOAA here.)
As rebuilding began at the Pentagon after 9/11, so did plans for a memorial to those killed in Arlington, Va., on that day.
The memorial would bear the names of the 59 victims on board American Airlines Flight 77 and the 125 people in the building who lost their lives. After the tragedy on Sept. 11, 2001, the 60th anniversary to the day of the groundbreaking to build the Pentagon, its employees and family members who had lost friends and loved ones began talking about the need for a memorial.
In a few years, it became a reality: Groundbreaking took place in 2005, and the Pentagon Memorial was formally dedicated in 2008. Twenty years after 9/11, it remains a place of reflection and remembrance.
On two acres alongside the Pentagon, just outside the spot where the plane struck, 184 cantilevered steel-and-granite benches are each engraved with a victim's name and an illuminated pool of water. The benches are arranged from youngest victim to oldest. The curving Age Wall rises in height to represent the ages of the victims: from 3 inches for 3-year-old Dana Falkenberg to 71 inches for 71-year-old John Yamnicky. Dozens of trees provide shade throughout the grounds.
The memorial's unique design was created by architects Julie Beckman and Keith Kaseman. Theirs was one of more than 1,200 entries submitted by architectural designers from around the country.
"We were grieving with everyone else, and wanted to contribute to the healing process," said Beckman, who was in New York on 9/11 and witnessed firsthand the destruction of the World Trade Center.
"We dove deep into understanding those we lost that day at the Pentagon, from their ages to what they did. We wanted to develop a design that we felt restored some hope and faith, and honored these people who lost their lives," Beckman told Military Officer.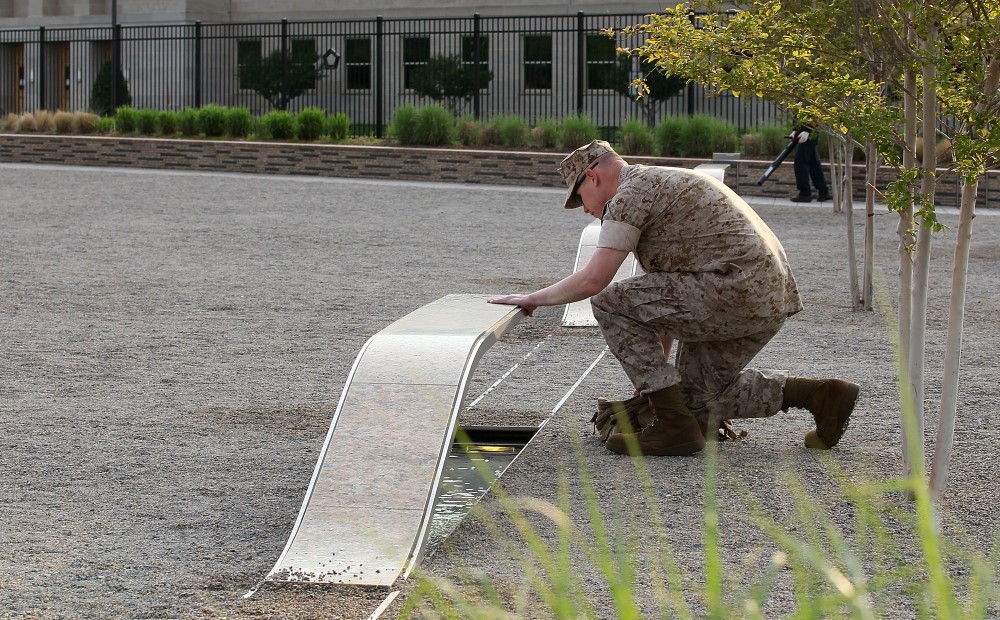 Marine Staff Sgt. Mark Gamache pays respects to victims of the 9/11 terrorists attacks at the Pentagon on May 2, 2011, the day after President Barack Obama announced the death of Osama Bin Laden. (Photo by Mark Wilson/Getty Images)
One unique aspect of the memorial's design often goes unnoticed by visitors.
"One hundred and twenty-five benches face in one direction, with the Pentagon building in the background of your view," said Beckman, now an adjunct assistant professor and director of student development at the University of Tennessee College of Architecture and Design in Knoxville.
"That is an indication that those individuals died in the Pentagon that day. And there are 59 benches that face in the other direction, such that when you read their names, the sky is in the background, indicating they were on Flight 77," she said.
Katherine Dillaber was working at the Pentagon the day of the attack, as was her younger sister, Patty Mickley. Mickley died in the crash. Her remains were identified eight days later.
[MORE 9/11 ANNIVERSARY COVERAGE: MOAA Member Reflects on 2001 Afghanistan Mission]
Dillaber became involved in the memorial effort, hosting special events at a local community theater that raised more than $30,000. After the memorial opened to the public, she worked as a docent, sometimes slipping away from work to give a quick tour.
"When I was still working at the Pentagon, after the dedication, I would sit on Patty's bench and talk to her," Dillaber recalled. "My sister was supportive to all, silly and loving, so I would often sit out there and smile at fond memories of her. Twenty-four of my coworkers are there, too."
Lt. Col. Suzanne Walker, USA (Ret), now MOAA's director of Membership Events and Protocol, Council/Chapter and Member Support, was involved in assisting family members in the aftermath of the attack.
"I personally knew and served with several of the victims of the attack on the Pentagon, and during my time as lead of the Army section of the Pentagon Family Assistance Center, I came to know the family members of many of the victims," she said.
"I feel that I have a personal connection with nearly all of those honored in the memorial," Walker said. "I can walk from bench to bench, and remember interactions and conversations I had with those I knew and served with, or with their survivors."
[MORE 9/11 ANNIVERSARY COVERAGE: Memories of a Generational War]
That, says Beckman, is the memorial's primary role.
"The memorial is a place where friends and colleagues and loved ones will forever be remembered with a place marked that is specifically for them," she said.
"It is intended to spark individual thought and reflection, and I encourage people to visit and write their own story about what happened that day."
MOAA Looks Out For You
MOAA is committed to protecting the rights of servicemembers and their families. Lend your voice and support these efforts today. Because the larger our voice is, the greater our impact will be.