(This article by journalist Gina Harkins originally appeared in the September 2021 issue of Military Officer, a magazine available to all MOAA Premium and Life members. Learn more about the magazine here; learn more about joining MOAA here.)
When President Joe Biden's son was preparing to deploy to Iraq in 2008, the then-senator told reporters he worried his grandchildren might someday be called on to fight the same war years later.
The commander in chief shared a similar sentiment in April when announcing he'd be withdrawing all troops from Afghanistan, where they've deployed since the 2001 terror attacks on the U.S.
"We already have servicemembers doing their duty in Afghanistan today whose parents served in the same war," Biden said. "… War in Afghanistan was never meant to be a multigenerational undertaking."
U.S. troops left their main military base in Afghanistan in early July. That same month, Biden announced the U.S. would end its combat mission in Iraq.
Nearly 20 years after the start of those conflicts, some who fought there say they're worried about the state of the two countries. The Taliban has again seized portions of Afghanistan and the enemy has morphed in Iraq where troops are now fighting the Islamic State group.
President George W. Bush warned in 2002 the global war on terror would be a lengthy battle. That proved true as some military families saw multiple generations head into the same conflict zone.
Then-Army 1st Lt. Bryan Jackson, left, and then-Navy Capt. Walt Jackson pose after both served in the Middle East in 2006. (Courtesy photo)
His Voice Was 'a Little Off'
When Bryan Jackson deployed to Iraq's Al Anbar province as a new Army officer in 2006, he had better communication with at least one family member than most troops had in the war zone. That's because his dad, Navy Capt. Walt Jackson, was also operating in U.S. Central Command, flying multisensor mapping missions in Afghanistan with the Naval Research Laboratory. The two officers were able to regularly connect by satellite phone.
"It was surreal that we were both there at the same time," said Bryan Jackson, a former artillery officer who was assigned to Task Force 1-36 Infantry under the 1st Armored Division during his 2006 deployment.
Both Jacksons remember one phone call particularly well. Walt Jackson had just met with then-Afghanistan President Hamid Karzai and former Defense Secretary Donald Rumsfeld when Bryan called his dad and asked how the event went.
"I could just tell something was a little off" in his voice," Walt Jackson, a now-retired P-3 Orion tactical navigator, recalled. "I asked, 'Are you doing OK?' and he said, 'Well, not really.' He was being treated for multiple gunshot wounds."
Bryan Jackson was later awarded the Distinguished Service Cross for his heroic actions in that Sept. 27, 2006, battle. He and his soldiers were trying to recover a vehicle while battling insurgents when they faced heavy machine gunfire. Several soldiers were wounded and while tending to one of them, Jackson was shot in the thigh.
Walt Jackson said he was urged to fly home from Afghanistan to tell his wife in person that their son had been injured. The two of them helped care for their son as he recovered at the old Walter Reed Army Medical Center and had follow-on surgeries.
[MILITARY TIMES HALL OF VALOR: Walter Bryan Jackson]
Both the Jacksons are now out of the military and live in Oklahoma. Bryan Jackson said he's grateful for the time he can spend with his dad. He said he doesn't know that either of them would value it as much had it not been for their military careers.
"What's the most meaningful to me is to have the time with him I do now. I think about all the time that he sacrificed to be away from our family and the blood, sweat, and tears that I also sacrificed," he said. "I appreciate it so much more because of everything we've gone through in life to bring us to where we are today."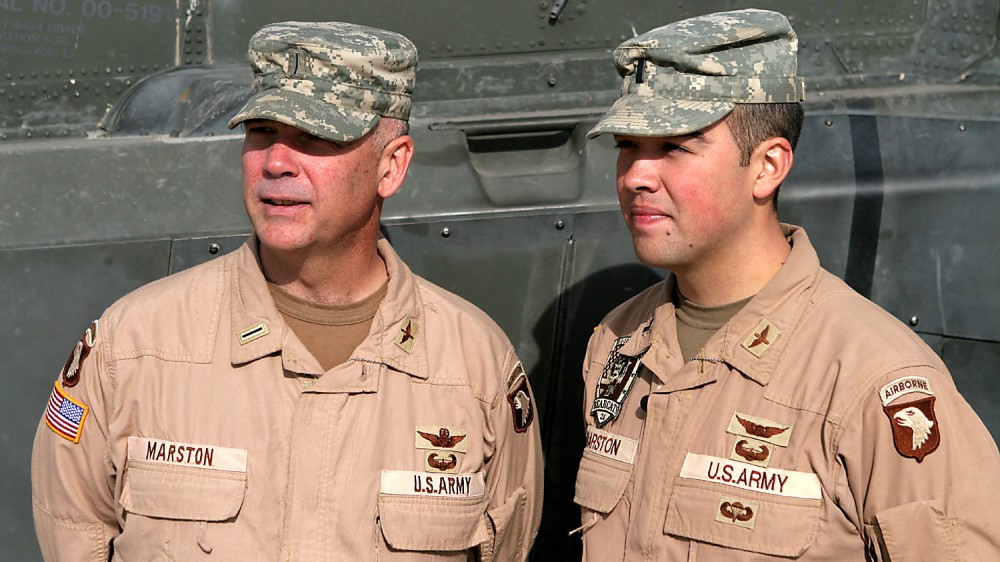 Now-retired Chief Warrant Officer 5 Phillip Marston, USA, left, poses with now-Lt. Col. Tony Marston in Tikrit, Iraq, in 2005. (Photo by Staff Sgt. Ryan Matson/Army)


'Good-Natured Ribbing on the Radio'
The first time Lt. Col. Tony Marston deployed as a young Army officer in 2005, the Apache pilot had the chance to fly alongside his dad during their final mission in Iraq.
Chief Warrant Officer 5 Phillip Marston, USA (Ret), was 101st Combat Aviation Brigade's (CAB's) standardization officer. His son was a platoon commander of 1st Battalion, 101st CAB — the same unit he commands today.
"I definitely relied on my dad's knowledge of what to expect," Tony Marston said. "It was pretty cool being able to fly with him."
The pair deployed together two more times in Afghanistan. They didn't fly together during those deployments and there was less time to communicate with one another, though Phillip Marston said they were still "able to squeeze in some good-natured ribbing on the radio."
The playful banter was a welcome relief to some of the mission stress, Tony Marston said. During their third deployment together, the younger Marston recalled commanding an air assault when he was given an additional attack-weapons team from a sister company. When he headed into the battalion headquarters to brief the new team on the mission, he found his dad sitting in the chair.
"We had a pretty good laugh about it, but switched to a professional demeanor to make sure the mission and intent were understood," he said. "It was almost surreal during the mission when we conducted a battle handover over the radio."
The Marstons say the shared combat experiences brought them closer together.
"It has definitely strengthened the bond I have with my son," Phillip Marston said. "I have immense pride in him, knowing how he faced uncertainty and emerged from the challenge stronger, smarter, and with the admiration of the men and women he led."
[MORE 9/11 ANNIVERSARY COVERAGE: MOAA Member Reflects on 2001 Afghanistan Mission]
Tony Marston said his dad has always been one of his heroes.
"Having him there during combat provided added courage and inspiration to be the best leader and attack pilot I could be," he said.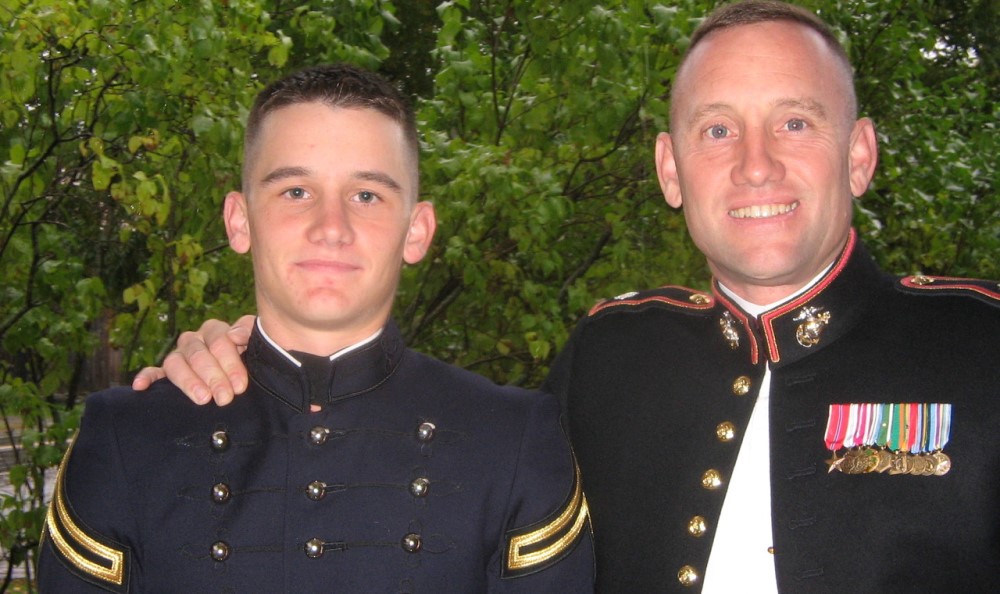 "I quickly realized that it's much easier to be a Marine in a combat environment than to be a dad of a Marine in a combat environment" -- Col. Brent Goddard, USMC, here posing with son Brent Jr., now a Marine Corps major. (Courtesy photo)
'Hope for the Best'
When retired Marine Col. Brent Goddard commanded 2nd Maintenance Battalion in Iraq in 2003, he recalled thinking the mission there was nearly over when his unit left that July. Watching the conflicts in Iraq and Afghanistan escalate in the years that followed was surprising, he said.
Goddard's son, Maj. Brent Goddard, would go on to operate in the same region, deploying most recently to Afghanistan in 2018 — 15 years after his dad left Iraq.
"I quickly realized that it's much easier to be a Marine in a combat environment than to be a dad of a Marine in a combat environment," Col. Goddard said, noting the same worry some of the other dads recalled having their sons in the same war zones in which they fought.
Maj. Goddard said seeing his dad lead Marines inspired him to join the Corps. He was a junior in high school when his dad deployed to Iraq in 2003 during the initial push into Baghdad. The situation was so new that his family didn't know what to expect. By the time he left for Afghanistan in 2018, things were a lot different, he said.
"We were operating out of pretty established forward-operating bases," he said. "In terms of just basic lifestyle, it was very, very different than what my father went through."
[MORE 9/11 ANNIVERSARY COVERAGE: Remembrance and Reflection at the Pentagon Memorial]
The younger Goddard served as a tank officer during the wars. The Marine Corps is now getting rid of that specialty as it ditches the heavy armored vehicles in preparation for more naval-based missions in the Pacific. Maj. Goddard is now in the process of becoming a logistics officer.
Col. Goddard said seeing Marines adapt to changing conflicts over the last two decades shows they'll always prepared to carry out the mission. He has a good feeling about seeing troops leaving the Middle East after so many years there, he added, if "we do it correctly."
"I have a great sense of accomplishment having been part of that and knowing how important it was to our national security," he said. "… We don't know what's going to happen in the future. We can really only hope for the best."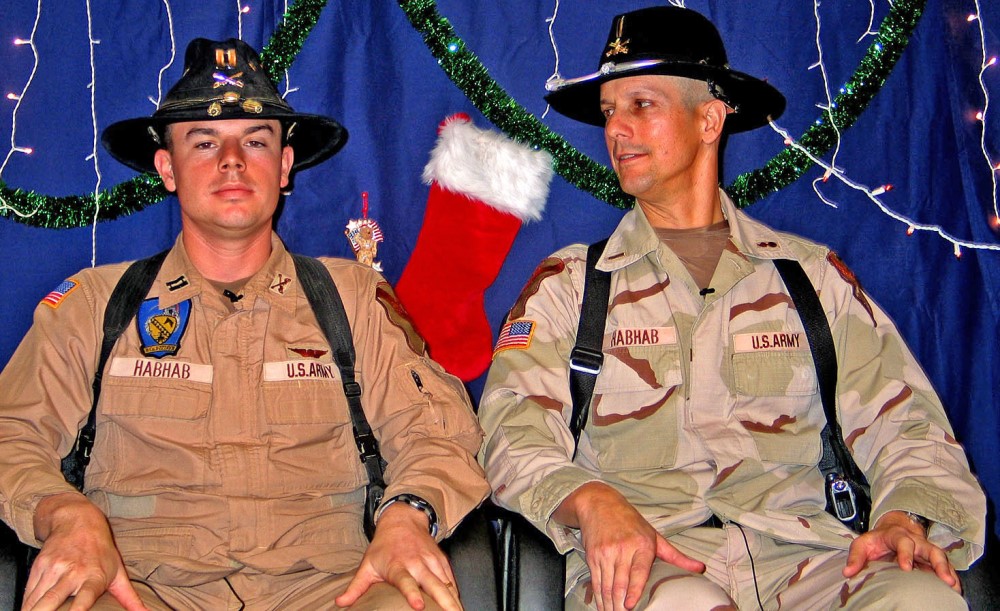 Travis Habhab, now a colonel, poses with father Paul Habhab, now a retired chief warrant officer 5. The Army duo was featured on NBC's "Today" show during their deployment. (Courtesy photo)
'All the Boys' Were Deployed
When Army Col. Travis Habhab deployed to Iraq in 2004, his dad and father-in-law were also in the combat zone.
"If you think about it from the perspective of my wife, she had her husband, dad, and father-in-law — all the boys, I think," said Habhab, who now commands 101st Combat Aviation Brigade.
Habhab was primarily flying out of Taji while his dad, retired Chief Warrant Officer 5 Paul Habhab, was just south in Baghdad. His father-in-law was operating farther west, he said.
Paul Habhab, who was the senior division ground maintenance officer with the 1st Cavalry Division, recalls working 16-hour days during the busy deployment. For Travis Habhab, an Apache pilot, knowing his dad was working in the division headquarters gave him comfort his soldiers would have what they needed for the mission. Aside from quick meetings, the two didn't see much of each other during their busy deployments.
At Christmas, they were featured in a "Today" show segment. They linked up at a bombed-out shelter in Baghdad for the interview. At the same time, a TV crew was at Paul Habhab's Texas home where NBC caught up with the soldiers' family, allowing the pair to see their loved ones in real time.
"This was, of course, before FaceTime or video calls were available, and our only communication with our families was random and through email or perhaps a phone call," Paul Habhab said.
The deployment marked a stressful time for the Habhab family. Travis Habhab had his first child, a baby girl, right before he deployed. Anytime his mom or wife heard about an Apache helicopter accident, Paul Habhab said they feared the worst.
"They felt such sorrow for the fallen, as they realized this ... could happen to any family on any day," he said.
As the 20-year anniversary of the start of the wars approach, Travis Habhab said he's reflecting on those who paid the ultimate sacrifice. Paul Habhab said he knew in an instant the country's military and leaders were about to face new challenges.
"The past 20 years [have been busy] for all of the armed forces as they continue to prove the U.S. has the best military in the world," he said.
MOAA Looks Out For You
MOAA is committed to protecting the rights of servicemembers and their families. Lend your voice and support these efforts today. Because the larger our voice is, the greater our impact will be.