(This article originally appeared in the April 2021 issue of Military Officer, a magazine available to all MOAA Premium and Life members. Learn more about the magazine here; learn more about joining MOAA here.)
Army Gen. Michael X. Garrett is probably near the front of the formation running up Fort Bragg's Longstreet Road, notorious for its oxygen-sucking steep hill. That is, if he's not motivating his troops on the pullup bar.
Garrett, an infantry officer and currently the Army's only Black four-star general, is nearing the end of his tenure as the top officer in U.S. Army Forces Command. The mission is always maintaining readiness, but Garrett has added an emphasis on repairing areas of difficulty, such as sexual harassment, racism, and mental health.
When Garrett took the helm of the command in 2019, he was charged with leading the Army's troops through training and deployment. His fortitude was tested in his second year as he grappled with how troops maintain readiness through a pandemic and as issues of systemic racism arose across the country.
He recently addressed these issues and others in an interview with Military Officer magazine.
Q. How has the COVID pandemic impacted training and deployments?
A. It's not like we could sit around and focus more on protecting the force than on providing a ready force to meet the requirements. The bottom line is units had requirements and missions. It forced us to identify risks and hazards associated with COVID and do our best to manage and mitigate them where we could. … We were deploying people at the beginning of this pandemic, throughout, and we'll continue to do so.
[MORE MOAA INTERVIEWS: Dale Dye | Orlando Bloom | Tammie Jo Shults]
Q. The Joint Readiness Training Center and National Training Center (NTC) are the last places troops have to go before a deployment. How did you tweak training to make sure they're protected and safe from the virus?
A. This really was all about controlling environments. There was an Army brigade combat team out of Minnesota [National Guard] there. What [Brig. Gen. David Lesperance, commander of NTC] did in terms of managing these bubbles … was helpful. … We bought a bunch of [handheld] thermometers. The guidance was really simple: Leaders will look soldiers in the eye every day, and … be checking their temperature.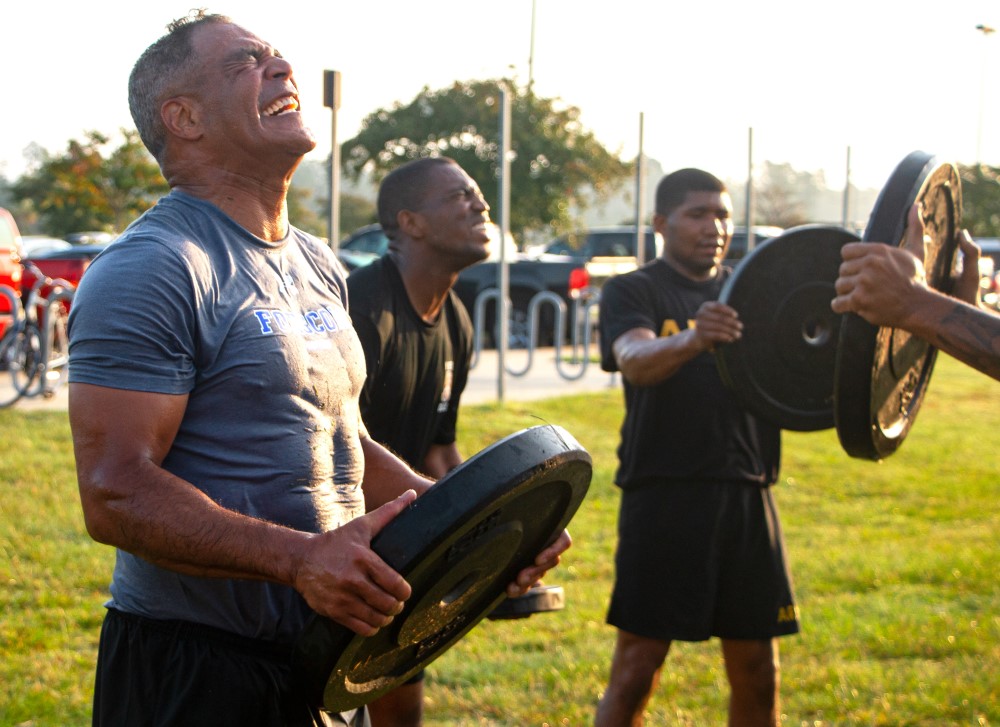 Gen. Michael X. Garrett, USA, lifts a 35-pound plate with soldiers from 9th Brigade Engineer Battalion, 2nd Armored Brigade Combat Team, 3rd Infantry Division, in 2019. (Photo by Spc. Devron Bost/Army)
Q. Another big thing that's happened during your second year is a national discussion on systemic racism.
A. My father was a command sergeant major. I went into infantry because I didn't know there was another branch, and my father was an infantryman. If you look historically at … where African American officers are, it's not generally combat arms and infantry. Although we've had some talented infantrymen, it's generally other fields: logistics, communications, and so forth.
If you look at what I think are some of the most talented Black general officers in the Army, at least my cohort, a lot of them retired last year [2019], and it's because there was no four-star path for them. It seems like … every 25 years or so, something will happen that will remind us [of ] slavery and … the beginning of racism in this country. … What this has done is allowed us the opportunity to talk about the importance of diversity in the Army. It's allowed for us to acknowledge systemic racism. … A lot of this … is acknowledging unconscious bias.
[I have tried to] encourage what I call our difficult conversations. I think it is not a natural thing for a white soldier to ask his Black buddy in a squad, "How did he grow up?" or to talk about racism. If we don't do that, we're not going to learn, and we're not going to move on.
[RELATED: Military Leaders Reveal Plans to Make Promotion Packages Totally Anonymous]
Q. Did you ever witness racism during your career?
A. Certainly, as a leader … I got a peek inside of the feelings and how many white, southern soldiers in the unit I was in, grew up. They didn't grow up in an environment ... where diversity was appreciated. … No one has ever said anything directly to me. And maybe I'm just fortunate. My experiences are in a lot of ways different, and it's because of the experiences of the folks who have gone before me.
My son is in the Army, and my guess is that his experience will be different than mine because the environment gets better and better.
[RELATED: More Recommended Reads From MOAA]
Q. How do you want your military officers to approach leadership?
A. For me, there's only one way to lead and it's by personal example. A lot of people say, "Mike, you're overly obsessed with physical fitness." But the fact is … even today in the Army, our soldiers should expect their leaders to model behavior that includes meeting our Army standards.
[Recently, I have tried to focus on] providing more time for our leaders and people that they lead to get to know each other. Some of the activity ... included counseling and team building. We recommended that every leader should know the family of the soldier. Actions like that bolster readiness and confidence as they deploy.
Join MOAA Today
Becoming an officer was hard. Getting advice from one is easy. Click below for more details.