(This article originally appeared in the February 2021 issue of Military Officer, a magazine available to all MOAA Premium and Life members. Learn more about the magazine here; learn more about joining MOAA here.)
Lt. Col. Walter J. Smiley Jr., USA (Ret), was 12 years old when his father first talked to him about race.
"My dad sat me down early, just letting me know ... the world's a little bit different, and there could be somebody that just doesn't like you because of the color of your skin."
Smiley, a member of MOAA's board of directors, went on to serve 25 years as a military officer, completing tours in South Korea, Iraq, and Afghanistan. He spoke to The New York Times last year about how the military still has work to do in terms of racial equity.
Smiley told Military Officer he felt called to serve as a mentor for minority officers, guiding them down a path toward a successful career. He hopes to one day see diversity in every rank of every service. Here are some of Smiley's reflections on the impact of mentorship on his Army career and beyond.
My father was instrumental in my decision to join the Army. He enlisted in the Army in the late '40s during the time when the Department of Defense was in the interim transition to integrate the services. When he retired in the late '60s, the Army was integrated. Little did I know that Jim Crow-era policies impacted where my father could purchase his post-retirement home.
I was reared in a predominately African American community, I attended a predominately African American high school, and I graduated from Prairie View A&M University, a Historical Black College (HBCU). When I entered the military in the early '90s, I was entering a different world.
For the first time in my life, I saw myself as a minority operating in a majority environment. This made me reflect on how my father must have felt during his time in the military. Despite the challenging times when my father served, his memories of the Army were always focused on the positive. His view of the Army and his military service served as my calming force during difficult times.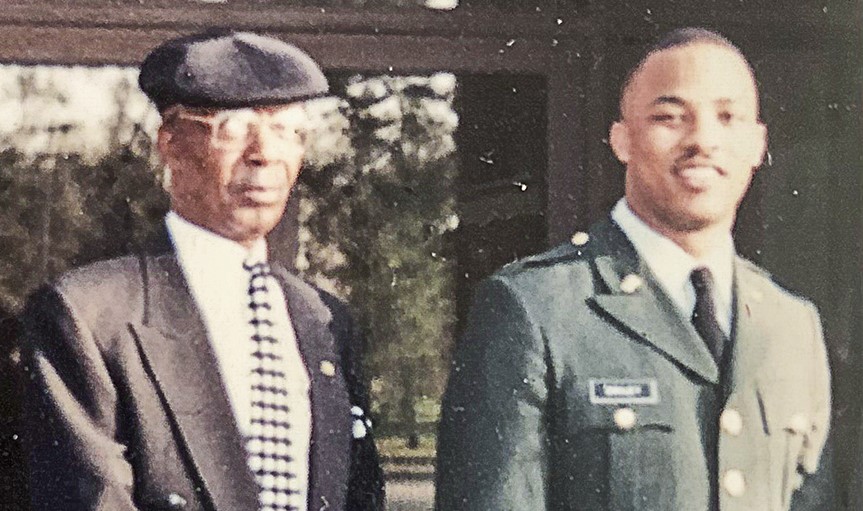 Walter Smiley Sr., left, and son.
I arrived and in-processed into my new unit late on a Friday evening, and early Monday morning, I received an alert call for a battalion-wide health and welfare inspection. After completing the inspections, I was walking back to my battery headquarters area when I noticed a field grade officer approaching. I rendered the customary salute and continued to walk.
The field grade noticed the field artillery branch insignia on my lapel and called me back to ask my unit. Since this was my first day in the unit, I didn't realize that I was talking to my battalion commander. He immediately told me to schedule an office call.
During our office call, he gave me his command philosophy, and we talked about my family and college. He then asked me if I was planning to make the Army a career or just fulfilling my commitment. I quickly said, "A career!"
He then talked about ways to be successful: never miss an opportunity to learn, engage with other officers, seek out a diverse group of mentors to give you a broad career perspective, and always communicate with your mentors. He then asked if I had looked at photos of other senior Army officers.
This question made me think, but I said, "Yes, I have."
He then proceeded to say, "Good, then you know you should lose your mustache."
That was my first lesson: Your mentors may give you unexpected advice.
[RELATED: MOAA Board Member Part of Oprah's '100 Black Fathers' Special]
He was my first military mentor, but not my last.
That simple office call changed the trajectory of my military career. We are still in contact to this very day. I expanded on his guidance. I had other field artillery mentors to provide branch specific career choices, mentors from other branches in the Army, mentors from other services, and mentors from different ethnic and social backgrounds than myself. Having a wide range of mentors allowed me to multiply my ability to learn, ask challenging questions, and become a sanity check for my mentors. I was also able to develop as a leader and offer sound guidance to the soldiers that I mentored.
Mentorship in the military plays a growing role in the development of young officers. It allowed me to see the Army not through the lens of my background, but through the lens of a professional leader. Officers enter the military with varying backgrounds and experiences, and through mentorship you may be able to tap the true potential of the next great military leader.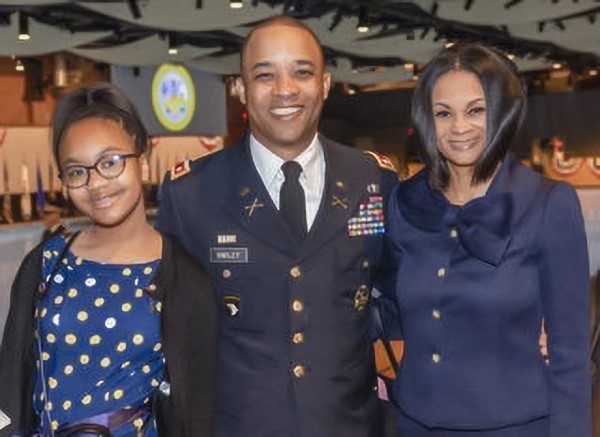 Lt. Col. Walter J. Smiley Jr., USA (Ret), currently serves on MOAA's board of directors. He retired from the Army in 2019; he's shown at his retirement ceremony with his daughter, Kaitlyn, and wife, Tammie.
Another great effect of mentorship is the ability to build diversity among the Officer Corps and foster continued development throughout the ranks. When I started my journey toward military retirement, the first call I made was to my first mentor to gain insight on entering post-military life. His input wasn't too different than when we first met 20-plus years ago: "Use your group of diversified mentors to learn what you don't know, and continue to keep in touch with them."
I appreciate that he saw something in me even when I did not.
MOAA Knows Why You Serve
We understand the needs and concerns of military families – and we're here to help you meet life's challenges along the way. Join MOAA now and get the support you need.