When Lt. Col. Richard "Doc" Weaver, USAF (Ret), was in college, he found himself at a crossroads between pursuing a career in art and one in flying.
Having been exposed to art at a young age by his uncle, Weaver decided to study fine arts in college. However, he also was a ROTC cadet who had a dream of one day becoming a pilot.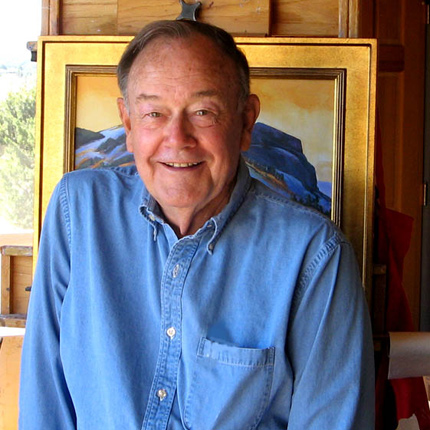 "I was in ROTC … and I was an art major doing painting, but mostly pottery, with one of the world's greatest artists," Weaver, pictured, recalled. "I had to decide on whether I could make a living as a potter or go into the Air Force, so I decided to go into the Air Force and never looked back."
Upon graduating from San Jose State University in California, Weaver commissioned in the Air Force as a second lieutenant and entered pilot training. After getting his wings, he was assigned to air refueling squadrons in the Strategic Air Command. This took him to places around the world, including to Bermuda, Morocco, and Vietnam during the beginning of the Vietnam War.
[RELATED: Navy Veteran 'Brings Memories to Life' With His Art]
When he returned home from Vietnam, Weaver was assigned to the Apollo Range Instrumented Aircraft program at Patrick AFB, Fla. As director of Aircraft Operations Control Center, Weaver was responsible for voice and telemetry information relayed back to the mission control centers from remote locations throughout the world.
During all his traveling, Weaver was able to practice his art, but it wasn't until he was stationed in Washington, D.C., that he began to rediscover his passion for painting. "[There were] art classes, and I went and started painting again," he said. Knowing he eventually would want to pursue an art career, Weaver began to paint full time after his retirement from active duty in 1976.
Between studying fine art in college and becoming a full-time artist, Lt. Col. Richard "Doc" Weaver, USAF (Ret), served a full military career.
Currently, he resides in Santa Fe, N.M., with his wife, Alyce, of more than 60 years. Weaver has created multiple military paintings, some of which have been accepted into the U.S. Air Force Art Collection at Wright-Patterson AFB, Ohio. Weaver also enjoys painting landscapes.
While Weaver no longer teaches painting professionally, he hopes to pass down his love of art to the younger generation. "I wanted to do something for some younger person so they could carry this on," Weaver said.
Want to Help Servicemembers in Your Community?
Learn how you can make a difference with your local chapter.