By Contributing Editor Blair Drake
The Admiral Arleigh Burke (Colo.) Chapter honored its namesake by helping to establish and financially support a local museum exhibit about the distinguished Navy admiral.
Boulder native Adm. Arleigh Burke served an impressive Navy career that included service in World War II and the Korean War and six years as chief of naval operations before retiring in 1961.
The temporary exhibit at the Broomfield Veterans Memorial Museum includes a timeline of Burke's life, photos, numerous artifacts, and a model of the ship he commanded during World War II. Though the exhibit closes Sept. 11, the museum plans to incorporate some of the artifacts into a permanent exhibit.
Chapter members were instrumental to making the exhibit happen. According to chapter vice president Capt. Jay Balzer, USPHS (Ret), a bequest from a chapter member helped to fund the exhibit.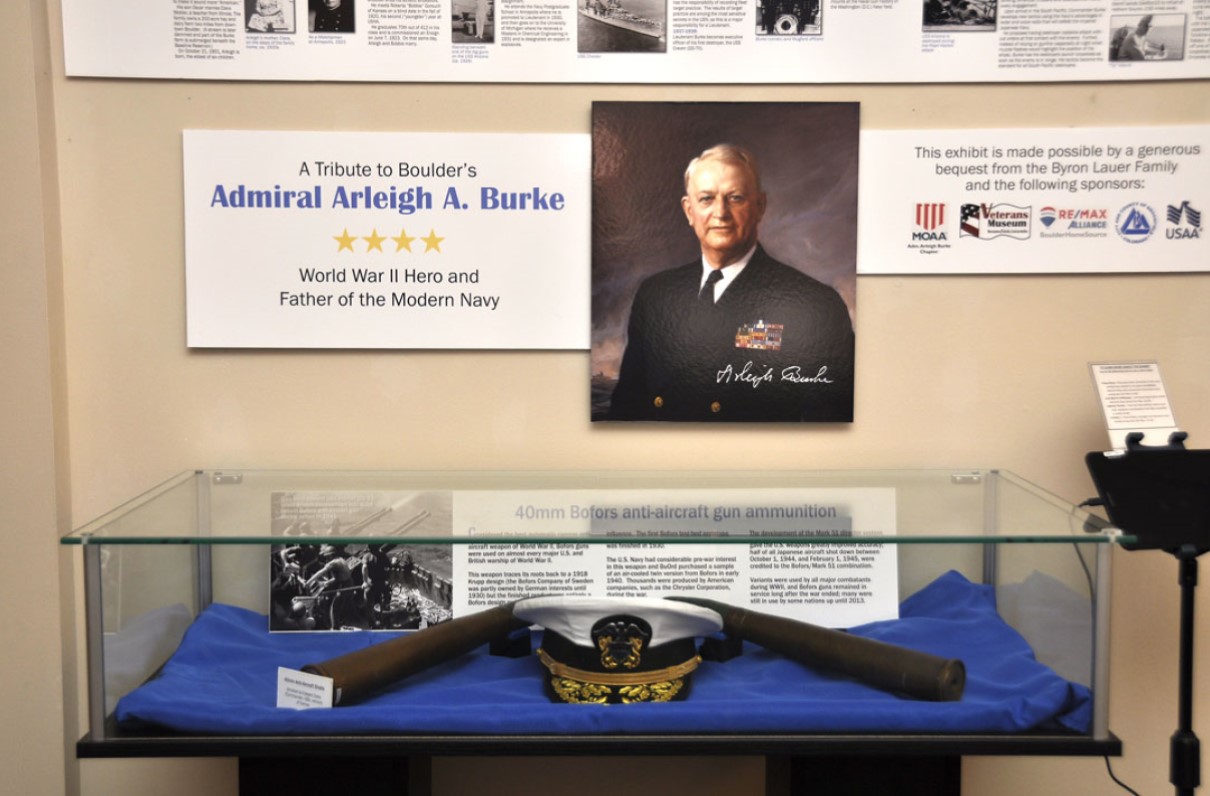 A close-up view of the display (Courtesy photo)
"One of our members passed away and left a monetary gift to the chapter to use how we wanted," he said. "Our board of directors and members decided it was a good idea to try to increase the awareness of Admiral Burke in our community, and the best way we thought of doing that was to have an exhibit in the local museum."
[RELATED: Read about more MOAA chapters making a difference in their communities]
When chapter members pitched the idea to staff at the Broomfield Veterans Memorial Museum, they were immediately on board.
Balzer and several other chapter members spent the next several months meeting regularly with museum staff, working with two historians to create the timeline of Burke's life, and reviewing the various artifacts and photos loaned by other museums and groups.
Chapter members also organized a ceremony for the opening day of the exhibit that included a presentation by David Allen Rosenberg, who holds a doctorate in military history and is considered a leading expert on Burke. More than 100 people attended the late-May event at the Broomfield Community Center.
"It was very successful and a great example of the impact a [MOAA] chapter can have," said Balzer. "We don't have a historian, and we don't have any facility to host something. But we had the interest, and the community understands Admiral Burke's contributions, so we looked around to see who could help us do this."
This wasn't the chapter's first effort to honor Burke. In fact, members of the chapter were part of a group that raised funds and got the city to rename a park in Burke's name. The Admiral Arleigh A. Burke Memorial Park was dedicated in 2001 and features a 12-foot, 26,000-pound anchor from a World War II destroyer, a memorial wall containing a bronze relief sculpture of the admiral, and a plaque with his biography.
"That was 20 years ago, this effort to create the memorial for Burke," said Balzer. "And now 20 years later, our group said it's time again to do something to remind the community about Burke's contributions."
Balzer hopes the exhibit helps to educate visitors, especially younger generations, not only about Burke but also about the nation's involvement in World War II.
"I hope visitors learn more about Burke personally — about his life and his contributions," he said. "But more than that, I hope they learn about the details, the history of World War II in the Pacific, and how consequential those battles were for us to prevail over Japan. So there's the local picture, which includes an appreciation for Burke's contribution to the war effort, but there's the bigger picture of understanding the contribution of the military to the nation's success in World War II."
Blair Drake is a contributing editor for MOAA and lives in Souderton, Pa. She previously served on the editorial team of Military Officer magazine for nine years.