Vice Adm. John Currier, a former Coast Guard vice commandant who unknowingly received a prestigious award for a daring hoist rescue of 10 men from a sinking fishing vessel in 1980, died March 1 in his home in Michigan. He was 68.

Currier, whose 38-year Coast Guard career included service as the 28th vice commandant, is survived by his wife, Mary Jane. The couple was married for more than 40 years and moved to six duty stations from Alaska to Florida.
A Life Member of MOAA, Currier began his career as a naval aviator when he commissioned from Officer Candidate School in 1976. A few years later, the junior officer was stationed in the North Atlantic when he received a distress call that would test his flight skill – and brazen courage.
[RELATED AT MILITARY.COM: More on the Life of Vice Adm. John Currier]
The Coast Guard received the distress call around 5 a.m. from the Terry T., a burning and sinking fishing vessel. Winds were gusting over 50 knots and visibility was cut to three-quarters of a mile from heavy rain, according to reports.
Currier flew over the beating ocean searching for the fishing vessel. Guided by only the voice of his hoist operator, Currier lowered a basket to the deck of the vessel several times, pulling up eight of the 10 fishermen.
As the basket lowered to pick up the final two men, the ocean swept them overboard. Currier maneuvered the basket into a position in the water so the men could fall into it and lifted them to safety.
"The guy is a Coast Guard legend," said Maj. Gen. Mike Lehnert, USMC (Ret), a MOAA Life Member who was active alongside Currier with MOAA's Northwestern Michigan Chapter. "He flew out and not only found them, he rescued every single person. He brought every soul back alive."
The heroic feat was honored with the prestigious Harmon International Aviation Trophy, which is presented annually to an aviator for the most outstanding international achievement in the field. Past recipients include Air Force Brig. Gen. Charles Lindbergh, Air Force Gen. James Doolittle, industrialist Howard Hughes, retired Air Force Brig. Gen. Chuck Yeager, and astronaut (and retired Air Force Col.) Edwin "Buzz" Aldrin.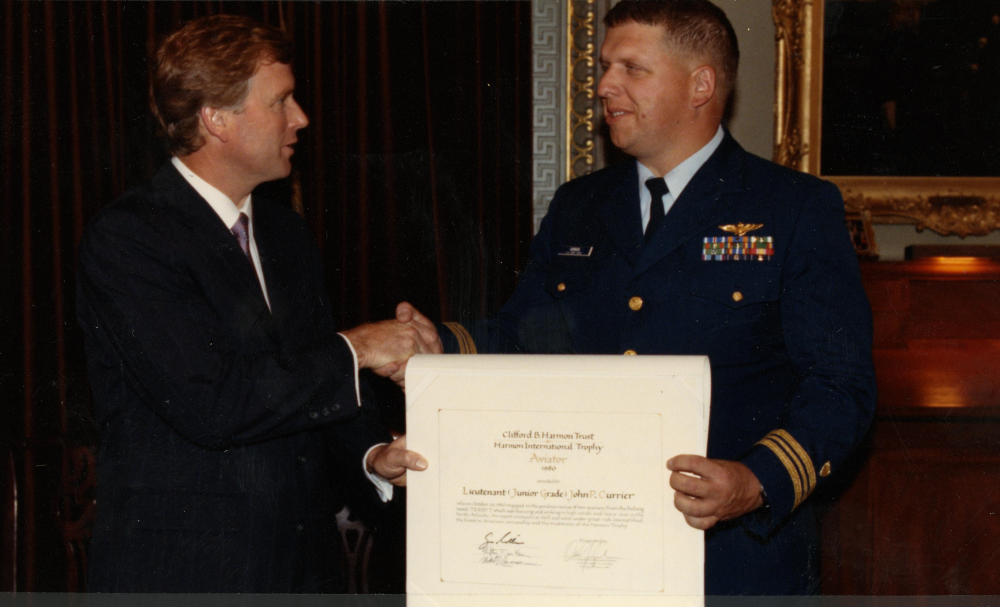 Vice President Dan Quayle, left, presents an overdue award to John Currier for a rescue effort Currier performed years earlier, while a lieutenant junior grade. (Photo courtesy of Coast Guard Historian's Office)
Currier wasn't notified of the award, apparently due to an administrative error. His parents, while visiting the Smithsonian Air and Space Museum in Washington, D.C. six years later, reportedly saw his name engraved on the trophy. It took another four years of action by headquarters and an association of Coast Guard aviators before Currier received the award from then-Vice President Dan Quayle.
Over the span of his career, Currier would accumulate more than 6,000 flight hours in Coast Guard and Navy fixed and rotary-wing aircraft. He developed a technique to execute rescue missions from cliffsides, and he was admired by servicemembers, Lehnert said.
"Troops respected him because he was the kind of leader they wanted to follow," Lehnert said.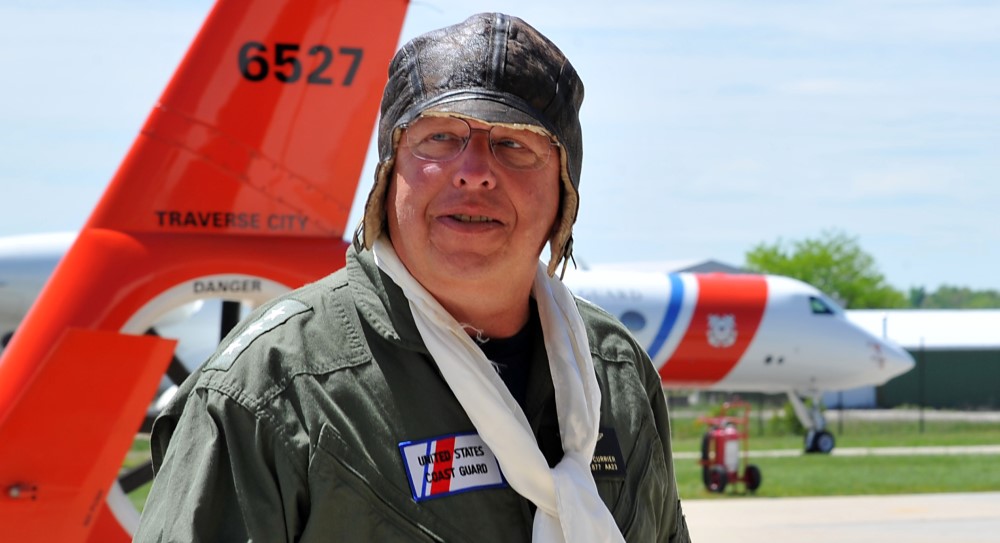 Vice Adm. John Currier, USCG, wearing the gear of his service's Ancient Albatross, arrives at Air Station Traverse City, Mich., in 2014, shortly before being relieved as Ancient Albatross by Rear Adm. John H. Korn. (Photo by Petty Officer 2nd Class Patrick Kelley/Coast Guard)
Coast Guard Commandant Adm. Karl Schultz spoke at Currier's memorial ceremony and shared some of his thoughts via social media.
"The only thing Vice Adm. Currier loved more than the Coast Guard was his family," Schultz wrote, "and I hope the Currier family can take some comfort in knowing that John's courage, dedication and indomitable spirit lives on in the many lives he touched over the years, including mine."
Currier served as deputy program manager of engineering for the Coast Guard and Navy joint helicopter acquisition at Naval Air Systems Command and chief of search-and-rescue operations/director of auxiliary of the Coast Guard's Ninth District. He was promoted to vice admiral in 2005, serving as assistant commandant for acquisition at Coast Guard Headquarters, then served as commandant of the 13th District in the Pacific Northwest.
He was named vice commandant in May 2012 and served in the position until his retirement in May 2014. From July 2011 through his retirement, Currier served as the 23rd Ancient Albatross, an honor carried by the longest serving Coast Guard aviator on active duty.
Currier was active in his community in Traverse City, Mich., were he served on the Board of the International Affairs Forum and as a parishioner and catechist for St. Joseph Church – Old Mission.
He was also a MOAA Life Member, who regularly participated in panel discussions on national security and military service. He was a faithful supporter of the MOAA Scholarship Fund.
"John led by example," Lehnert said. "He made other people want to be like him. He had absolute integrity and was an extraordinarily humble man."